Castleford Tigers v Saints
Saints got their playoff charge off to a perfect start as they beat Castleford 26-12.
Justin Holbrook's men handed the Tigers their first defeat of the year on their own midden – and rose to third in the Betfred Super League in the process.
James Roby bagged a brace in an excellent performance, suitably aided by the outstanding Luke Thompson and, in the second half, the returning Matty Smith.
If they say defence wins Championships too then the display also sent a message to the rest of the league that Saints are well in the hunt.
Tenacious and desperate at times it halted the Tigers' marauding attack and laid the platform for some scintillating tries.
That attitude was more than evident in the first 10 minutes when they stopped Cas scoring on back-to-back-to-back sets.
Zeb Taia then broke the deadlock with a try of real quality.
The potent left hand side had already looked lively in the opening stages and it was a fine pass from Theo Fages that set the big second rower off – dancing through tackles and stepping the full back on his way.
Mark Percival then knocked over a penalty to make it 8-0 and Saints were unlucky not to have increased the lead further.
Kyle Amor touched down a ball that ricocheted but it was called back for a knock on that not many in the ground saw.
Cas then had one chalked off by the video official for offside before Saints defended their way out of trouble on numerous occasions.
Ryan Morgan's last gasp tackle on the line typifying the approach.
That continued in the second half until Cas gained good field position on the back of penalties and astute kicking from Paul McShane.
Adam Milner burrowed over from close range and Luke Gale, who was quiet throughout, tagged on the conversion to make it game on.
But Saints hit back with a moment of real class.
The ever improving Morgan Knowles made a wonderful break in midfield and drew his man to get Thompson away.
Fages was next up, but a simple pass from Smith found a darting James Roby who flew in under the sticks.
More defence followed – Lomax stopping a certain Jy Hitchcox try with a wonder tackle on 60 minutes – before Saints scored again.
Thompson was again at the hub; clearing his lines and winning a penalty before some superb offloads from Taia and Jon Wilkin saw Smith produce a slide rule kick for Lomax to win the race.
Joel Monaghan pulled one back with an acrobatic finish in the final stages but anything other than a Saints' win would have been a travesty.
So when Roby darted over once again in the final minute it was celebration time.
Even though the video ref took an eon to give it!
Match Summary:
Tigers:
Tries: Milner, Monaghan
Goals: Gale (2 from 2)
Saints:
Tries: Taia, Roby (2), Lomax,
Goals: Percival (5 from 5)
Penalties Awarded:
Tigers: 10
Saints: 6
HT: 0-8
FT: 12-26
REF: R Hicks
ATT: 6849
Teams:
Tigers:
1. Zak Hardaker; 21. Joel Monaghan, 2. Greg Minikin, 4. Michael Shenton, 25. Jy Hitchcox; 16. Ben Roberts, 7. Luke Gale; 10. Grant Millington, 9. Paul McShane, 15. Jesse Sene-Lefao, 34. Alex Foster, 12. Mike McMeeken, 14. Nathan Massey.
Subs: 11. Oliver Holmes, 13. Adam Milner, 18. Matt Cook, 20. Larne Patrick.
Saints:
1. Jonny Lomax; 2. Tommy Makinson, 3. Ryan Morgan, 4. Mark Percival, 28. Regan Grace; 6. Theo Fages, 24. Danny Richardson; 13. Louie McCarthy-Scarsbrook, 9. James Roby, 16. Luke Thompson, 36. Zeb Taia, 18. Dominique Peyroux, 12. Jon Wilkin.
Subs: 7. Matty Smith, 8. Alex Walmsley, 10. Kyle Amor, 20. Morgan Knowles.
Saints Line up
| | |
| --- | --- |
| 6 | Jonny Lomax |
| 2 | Tommy Makinson |
| | Ryan Morgan |
| 4 | Mark Percival |
| 5 | Regan Grace |
| 7 | Theo Fages |
| 7 | Danny Richardson |
| 15 | Louie McCarthy-Scarsbrook |
| 9 | James Roby |
| 10 | Luke Thompson |
| 11 | Zeb Taia |
| 12 | Dominique Peyroux |
| 12 | Jon Wilkin |
| 7 | Matty Smith |
| 8 | Alex Walmsley |
| 18 | Kyle Amor |
| 13 | Morgan Knowles |
Castleford Tigers Line up
| | |
| --- | --- |
| 1 | Zak Hardaker |
| 2 | Joel Monaghan |
| 3 | Greg Minikin |
| 4 | Michael Shenton |
| 5 | Jy Hitchcox |
| 6 | Ben Roberts |
| 7 | Luke Gale |
| 8 | Grant Millington |
| 9 | Paul McShane |
| 10 | Jesse Sene-Lefao |
| 11 | Alex Foster |
| 12 | Mike McMeeken |
| 13 | Nathan Massey |
| 14 | Oliver Holmes |
| 15 | Adam Milner |
| 16 | Matt Cook |
| 17 | Larne Patrick |
Last updated 3 Aug 17 22:00:24
Fages with a class run to clear his lines
Goal
Mark Percival for Saints
Took an age to give it, but the correct call!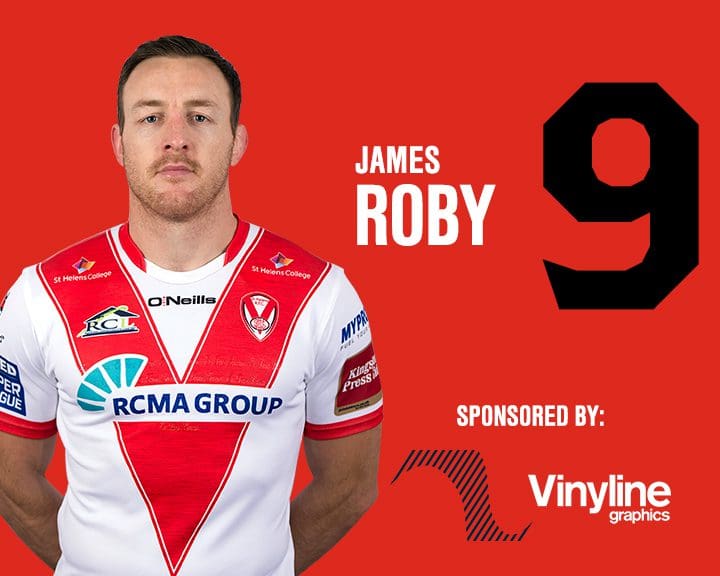 Try
James Roby for Saints
Roby over… we're heading upstairs, but that's a try surely?
Percy wins Saints a drop out
Try
Joel Monaghan for Castleford Tigers
Game on? Monaghan over in the corner.
Heading upstairs for a Cas try…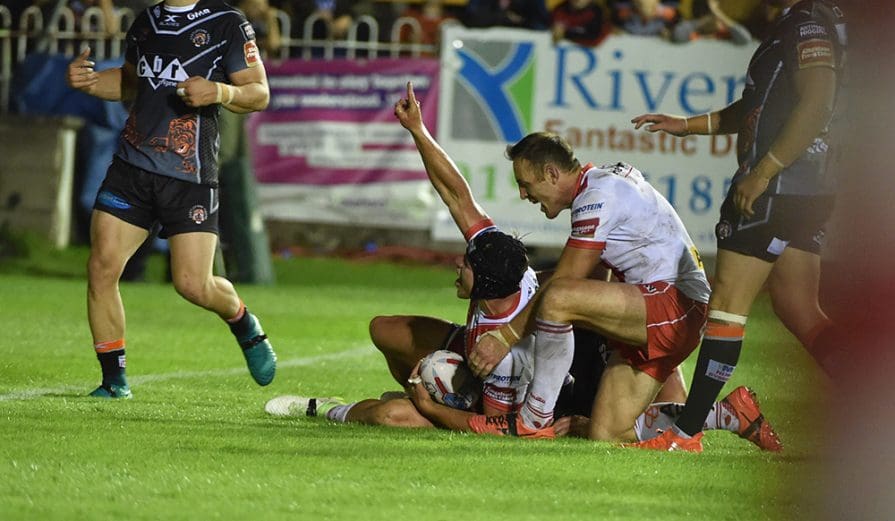 Goal
Mark Percival for Saints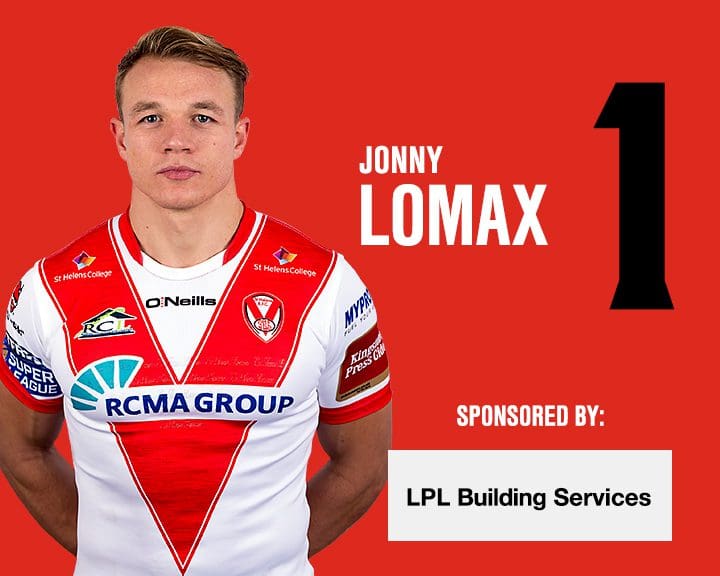 Try
Jonny Lomax for Saints
What a kick! Smith slides it through and Lomax wins the race
A rare Saints penalty is incoming…
Ball goes dead from Gale's kick. Saints come away with it. They lead 14-6
Penalty to Cas gets them within metres once again
Superb tackle on Hitchcox stops a certain try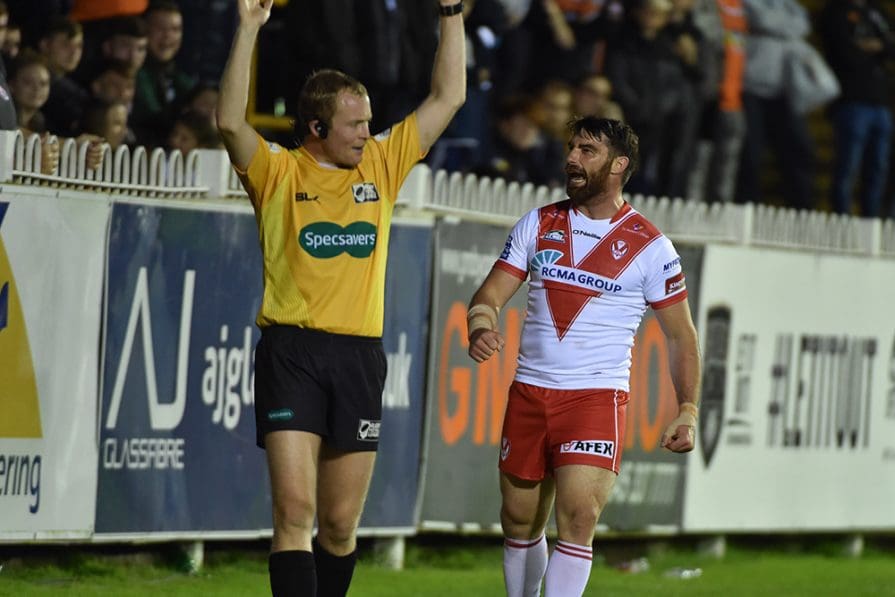 Saints win a penalty as Cas fail to play it properly.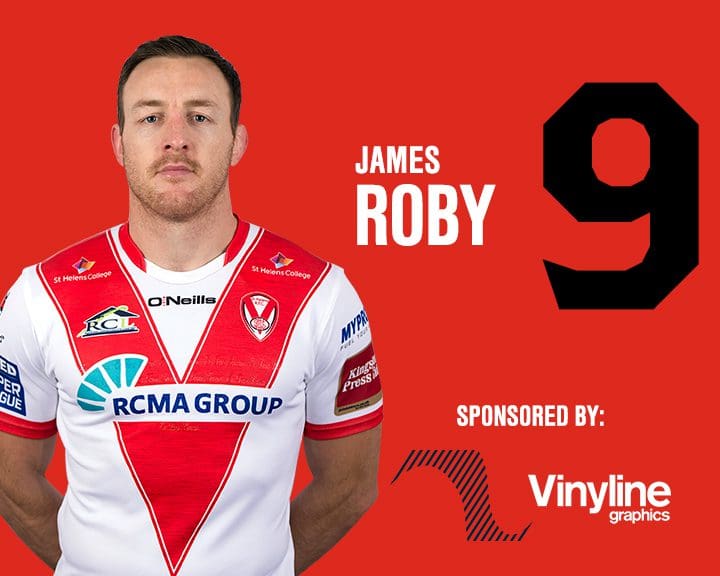 Try
Luke Thompson for Saints
Given! Class break from Knowles and Thompson sets it up. Saints lead 6-14
break from Thompson, Fages takes it on, Roby over?
Lovely kick from Matty Smith – Cas back in their own 20 now.
Doesn't look like Danny Rich will be back – concussion check becomes a 'sub'
Goal
Luke Gale for Castleford Tigers
Gale with the extras. Two point game here. 8-6 to Saints.
Try
Adam Milner for Castleford Tigers
And another penalty follows and Cas dart through.
Penalty heads Cas way… Can Saints hold on here?
Grace knocks on in Saints half… tackle looked a little high from up here. Saints defending again
Saints hold firm once again.
Ball out on the full from the restart. Saints have defending to do early.
Big second half coming up for your Saints. They lead 8-0 and will get this second half underway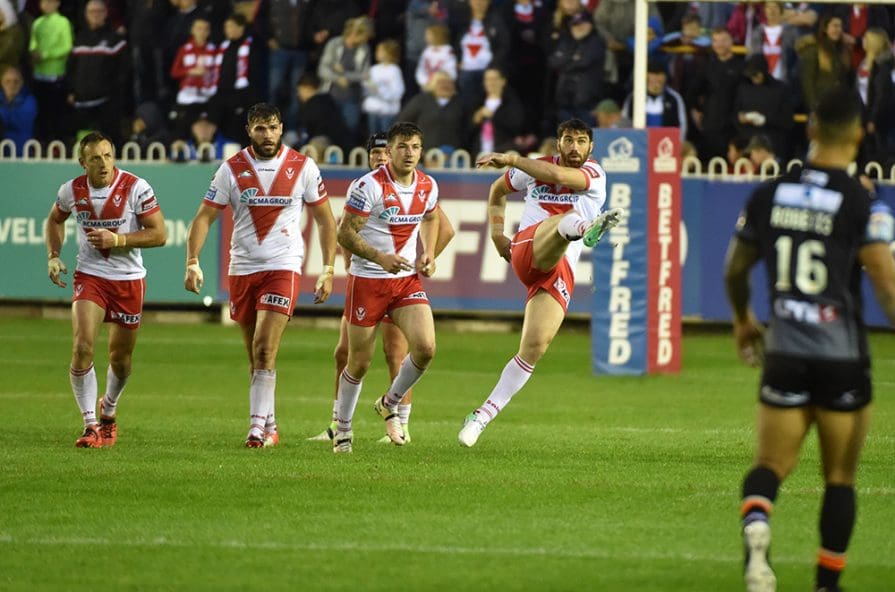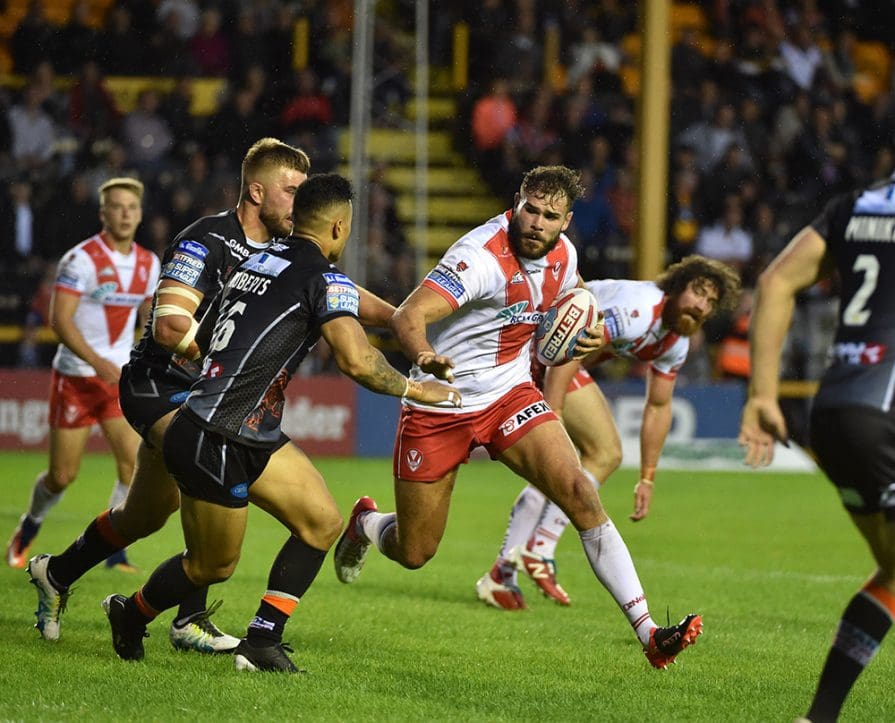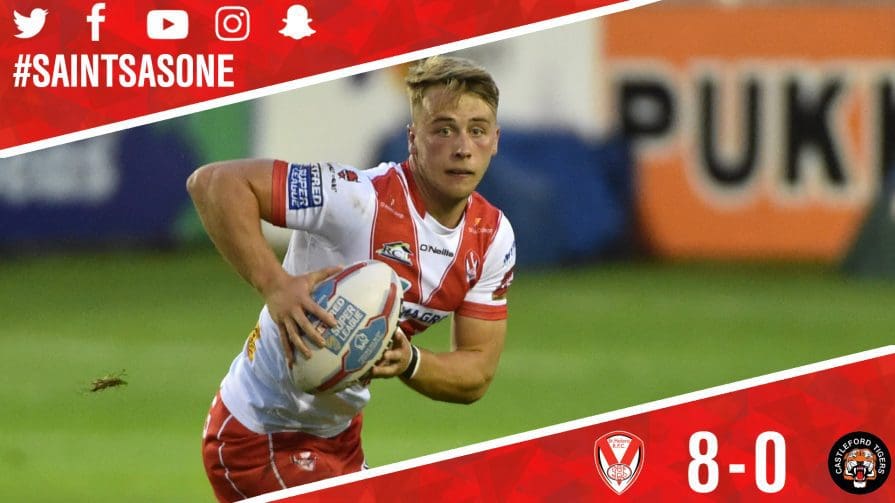 Afters in back field here… some great D from Saints to keep their line intact.
Morgan makes an important tackle to stop a certain Cas score…
Cas have the ball on Saints' line…
More good D from the Saints there – bundling the player into touch.
kick early in the count for Tommy Mak to chase and Saints have a drop out.
Cas having no luck down Saints' right hand side – visitors shut the door again.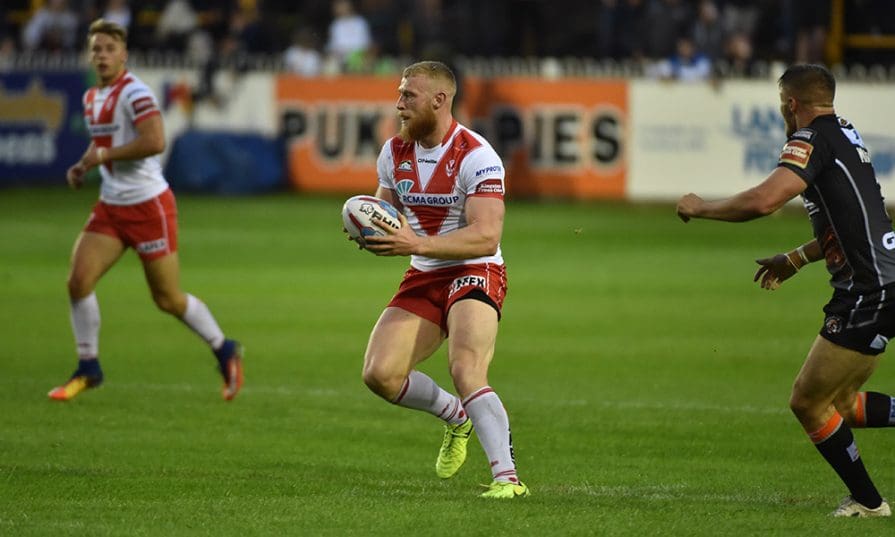 Saints come away with the ball
Mistake from Saints and Cas have the ball outside their opponent's 40
Heading up for a Cas try… suggestion is chasers in the ten
Amor denied by the screen.
Saints in again here? We're heading upstairs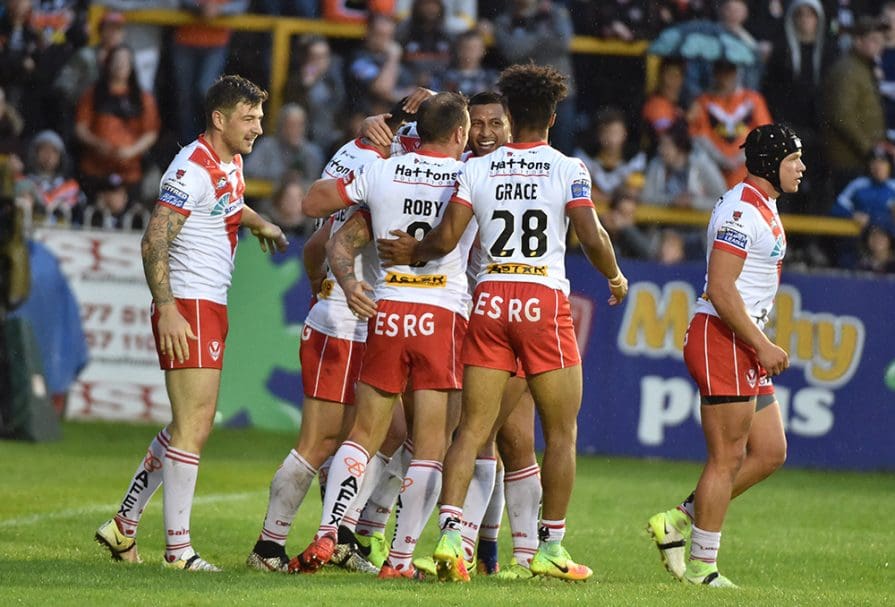 Goal
Mark Percival for Saints
Saints win a penalty and we'll take the two
Saints force an error and they are right in Cas territory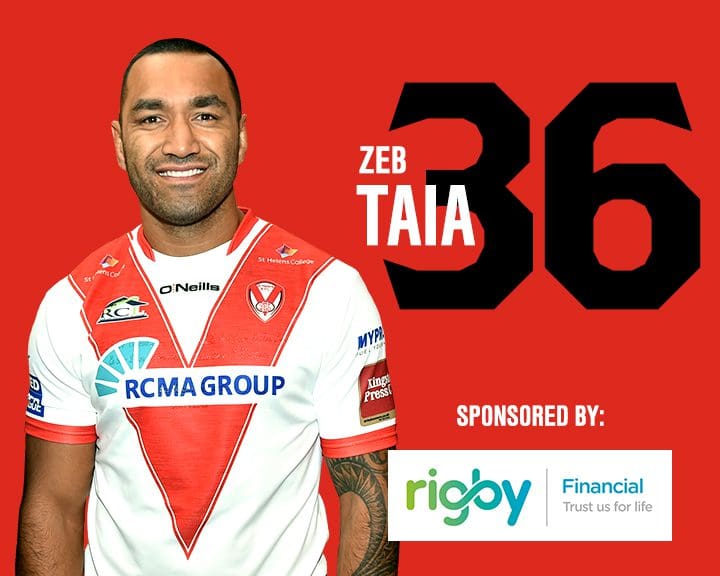 Try
Zeb Taia for Saints
Ball goes left and Taia dances through! Saints lead 6-0
Which they do. Tense one at present this.
Danny Rich went away with the ball to towards the line – now Saints have to defend.
Ball adjudged to have come off Makinson giving Cas another set. Replay suggests otherwise.
Back to back great clearing runs from Makinson and Grace. We see you lads!
Fages kick on the last but Cas up to it.
Richardson tries to break through on a free play but his pass is forward. Saints ball though.
Good D from the Saints keeps Cas at bay and then they win a penalty
And Cas have another set after a kick on the last…
Another penalty to Cas as Morgan obstructs the chase on the last
Saints too keen in the tackle and Cas have a penalty
Last tackle option too strong from Danny Rich and Cas come away with it.
Fages hit late as he kicks the ball. Penalty to Saints
Cas will get this one underway