Saints v Huddersfield Giants
Saints moved up to fourth with a 40-16 win over Huddersfield Giants.
Jonny Lomax grabbed a brace in the victory that also saw Mark Percival notch 16 points.
But it was Ben Barba that stole the show – having a hand in most of Saints tries and securing a well deserved Man of the Match award.
Huddersfield didn't come to make up the numbers though and fought back in the second half.
Before then, Lomax got Saints on the board after just four minutes as he latched on to a nice Danny Richardson grubber.
Six minutes later a lovely break from Barba saw him draw his opposite number and put Regan Grace over.
Saints continued to press and should have had another 22 minutes in – but Zeb Taia's effort was chalked off for a forward pass that no one else saw in the build up.
Ryan Morgan went close on a cross field kick but on the half hour mark Oliver Roberts pulled one back for the visitors from close range.
Danny Brough's conversion taking the Giants to within six points.
The advantage was restored pretty quickly with a touch of class from Regan Grace.
The winger made a wonder break from well inside his own half before being stopped by a desperate Darnell McIntosh tackle.
But a quick play the ball saw it go through hands for the Lomax to go over untouched.
Saints then crossed again; great handling seeing a massive gap open up for Percival.
And it could have been more a just before at half time Barba's deft kick almost unlocked the defence after a superb Dom Peyroux break.
Saints were well on top and didn't hang around in the second half to increase their lead.
After a solid opening from the Giants, Brough gave away two penalties in quick succession and the ball was sent left for Barba to show a clean pair of heels from distance.
Next up Jon Wilkin put Peyroux through and he produced a juggle and wonder offload for Ryan Morgan to score in the corner.
Huddersfield battled and scored twice through Ryan Hinchcliffe and Jordan Rankin but Saints had the last laugh as Louie McCarthy-Scarsbrook darted over from a short pass at the death.
Match Summary:
Saints:
Tries: Lomax (2), Grace, Percival, Barba, Morgan, McCarthy-Scarsbrook
Goals: Percival (6 from 7)
Giants:
Tries: Roberts, Hinhcliffe, Rankin
Goals: Brough (2 from 3)
Penalties Awarded:
Saints: 8
Giants: 7
HT: 24-6
FT: 40-16
REF: G Hewer
ATT: 9419
Teams:
Saints:
37. Ben Barba; 2. Tommy Makinson, 3. Ryan Morgan, 4. Mark Percival, 28. Regan Grace; 1. Jonny Lomax, 24. Danny Richardson; 14. Luke Douglas, 9. James Roby, 16. Luke Thompson, 36. Zeb Taia, 20. Morgan Knowles, 12. Jon Wilkin.
Subs: 6. Theo Fages, 8. Alex Walmsley, 13. Louie McCarthy-Scarsbrook, 18. Dominique Peyroux.
Giants:
35. Jordan Rankin; 2. Jermaine McGillvary, 30. Alex Mellor, 34. Jordan Turner, 24. Darnell McIntosh; 4. Lee Gaskell, 6. Danny Brough; 8. Sam Rapira, 31. Adam OíBrien, 17. Ukuma Taíai, 16. Oliver Roberts, 13. Michael Lawrence, 9. Ryan Hinchcliffe.
Subs: 14. Kruise Leeming, 18. Paul Clough, 20. Daniel Smith, 22. Tyler Dickinson.
Saints Line up
| | |
| --- | --- |
| 23 | Ben Barba |
| 2 | Tommy Makinson |
| | Ryan Morgan |
| 4 | Mark Percival |
| 5 | Regan Grace |
| 6 | Jonny Lomax |
| 7 | Danny Richardson |
| 14 | Luke Douglas |
| 9 | James Roby |
| 10 | Luke Thompson |
| 11 | Zeb Taia |
| 13 | Morgan Knowles |
| 12 | Jon Wilkin |
| 7 | Theo Fages |
| 8 | Alex Walmsley |
| 15 | Louie McCarthy-Scarsbrook |
| 12 | Dominique Peyroux |
Huddersfield Giants Line up
| | |
| --- | --- |
| 1 | Jordan Rankin |
| 2 | Jermaine McGillvary |
| 3 | Alex Mellor |
| 4 | Jordan Turner |
| 5 | Darnell McIntosh |
| 6 | Lee Gaskell |
| 7 | Danny Brough |
| 8 | Sam Rapira |
| 9 | Adam O'Brien |
| 10 | Ukuma Ta'ai |
| 11 | Oliver Roberts |
| 12 | Michael Lawrence |
| 13 | Ryan Hinchcliffe |
| 14 | Kruise Leeming |
| 15 | Paul Clough |
| 16 | Daniel Smith |
| 17 | Tyler Dickinson |
Last updated 15 Sep 17 21:45:02
Sponsors' man of the match is Ben Barba.
Goal
Mark Percival for Saints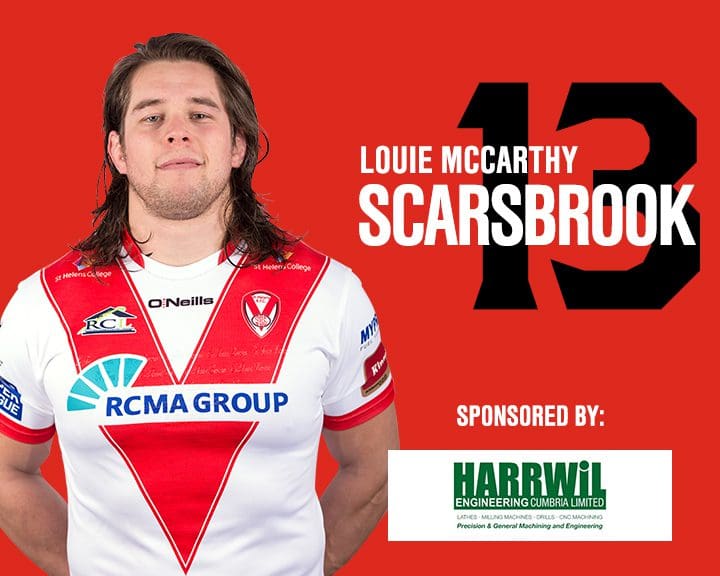 Try
Louie McCarthy-Scarsbrook for Saints
Yes they can. LMS on the burst
Saints win a penalty, can they finish with a flourish…
Brough misses the kick so it's 34-16
Try
Jordan Rankin for Huddersfield Giants
Nice move from the Giants sees Rankin go in.
Huddersfield force a drop out
Getting a little scrappy here as we get closer to full time – couple of penalties head the Giants' way.
Goal
Danny Brough for Huddersfield Giants
Try
Ryan Hinchcliffe for Huddersfield Giants
Short ball and it's easy for the '13.
Saints stop a Huddersfield move down the left with a gang tackle. All in it together on that one!
Giants knock on in their own 30… Saints have the ball
Fair play to the group of @giantsrl fans that have not stopped singing all game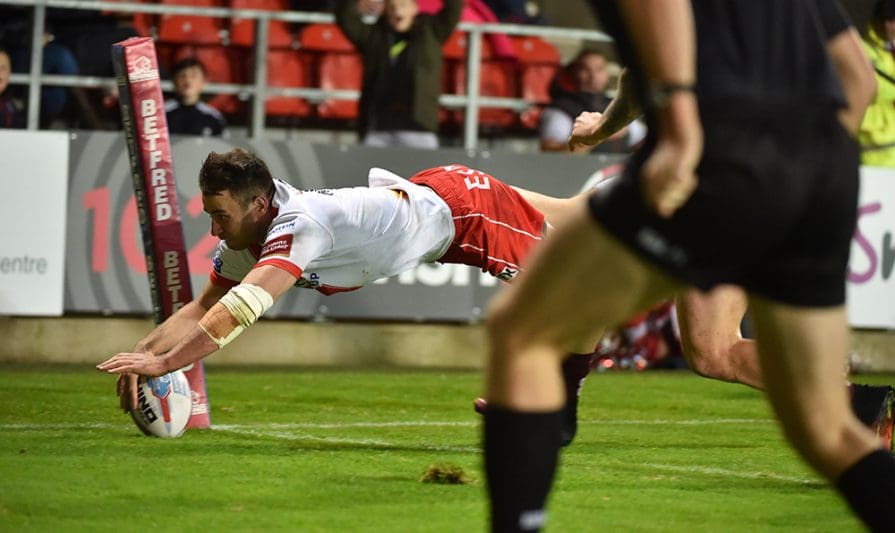 Percival short with the touchline conversion – Saints lead 34-6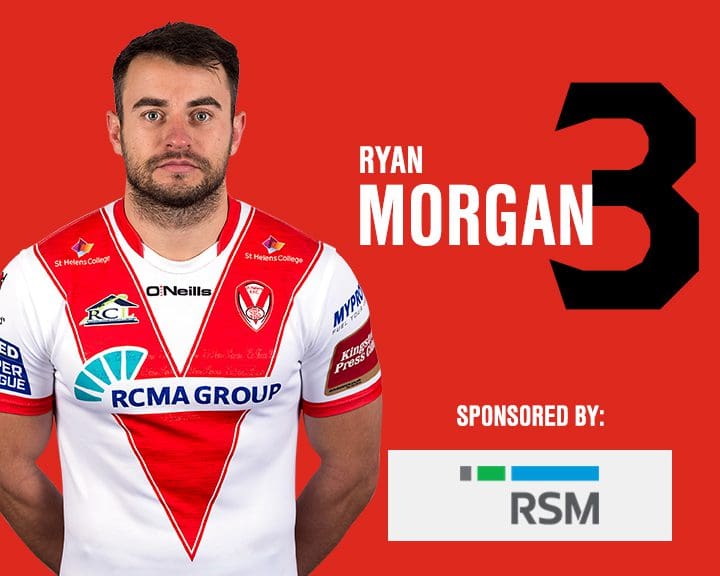 Try
Ryan Morgan for Saints
Wilkin to Peyroux and he produces a juggle and wonder offload for Morgan to go over
Hudds forward pass after they clear a huge Richardson kick on the last. Saints ball on half way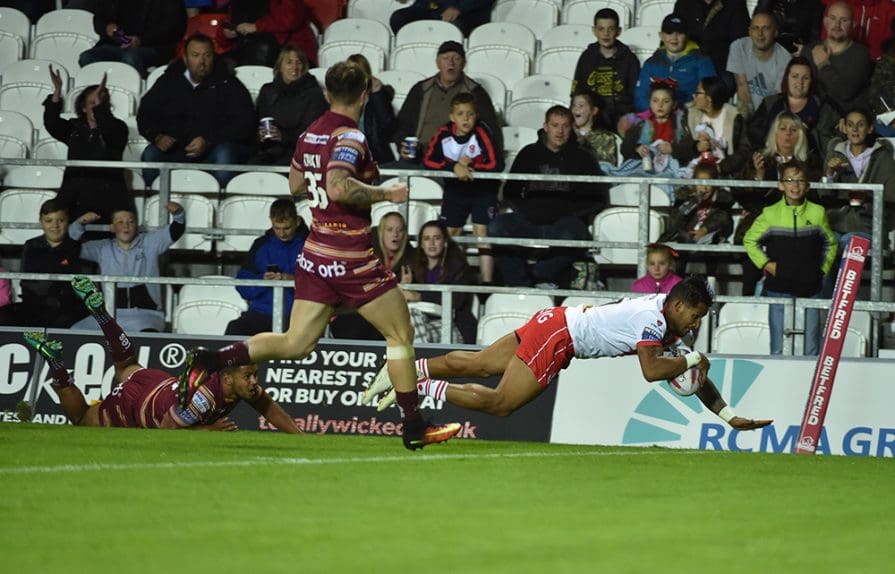 Goal
Mark Percival for Saints
Off. The. Touchline. For 30-6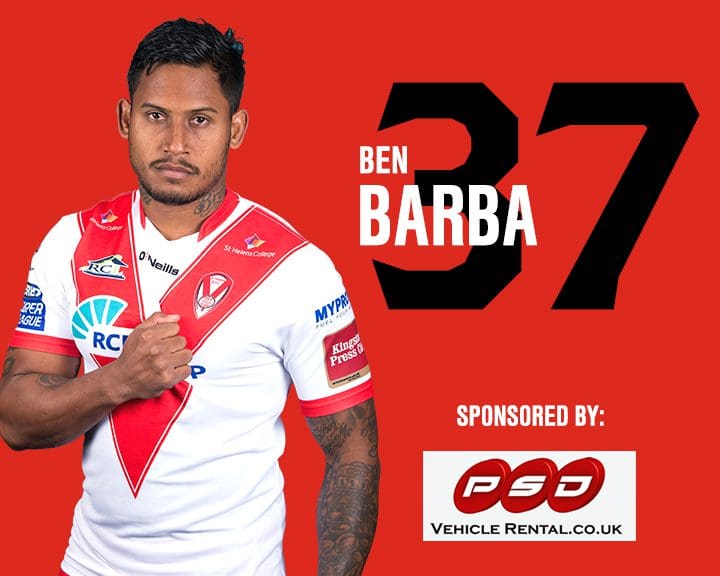 Try
Ben Barba for Saints
Saints don't hang around, ball goes left and Barba shows a clean pair of heels from distance
Richardson takes Brough's kick on the last – gets hit high by Brough and then Brough gives away 10.
Forward pass from the Saints then Brough wins a penalty by playing the ball onto Percy on the floor.
LMS taken high by former Saint Paul Clough – Saints turn for good field position
But they lose the ball and Saints will have it.
Giants earn a penalty and will have a set in good field position
Huddersfield will get the second half underway – Saints lead 24-6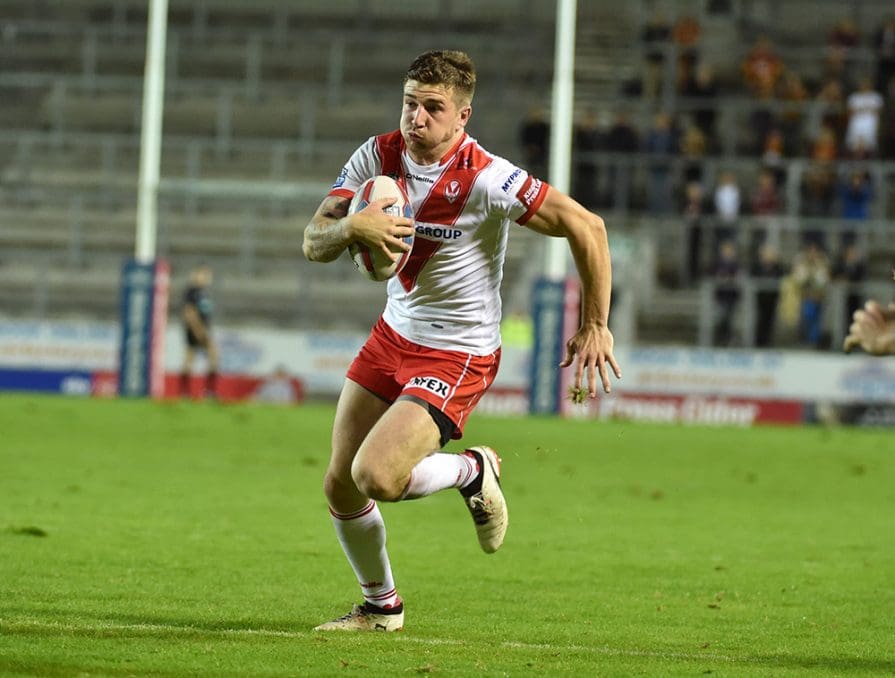 Saints lead 24-6 at half time
Lovely break from Peyroux sets Barba free but his deft kick is cleared by the Giants defence
Goal
Mark Percival for Saints
Percy makes it 24-6 to the Saints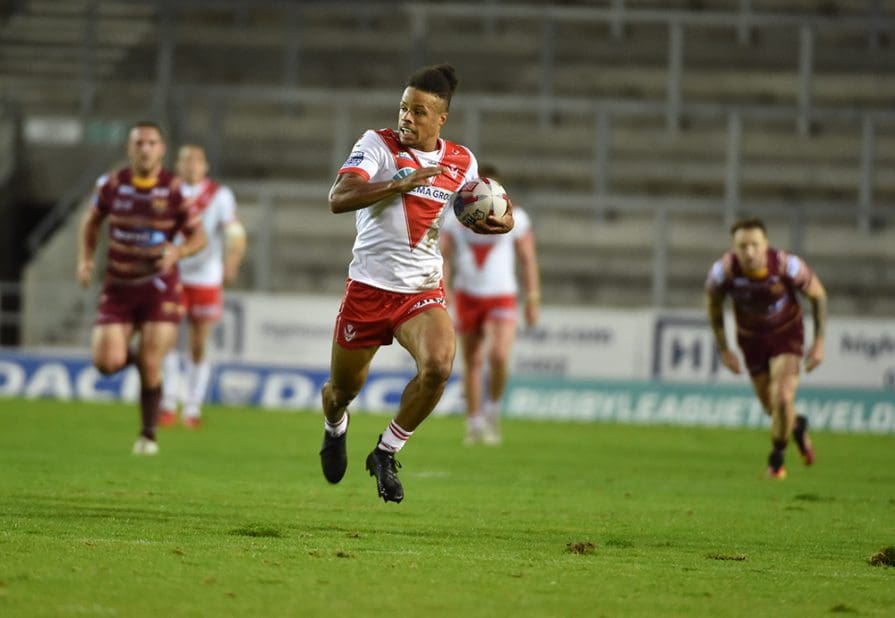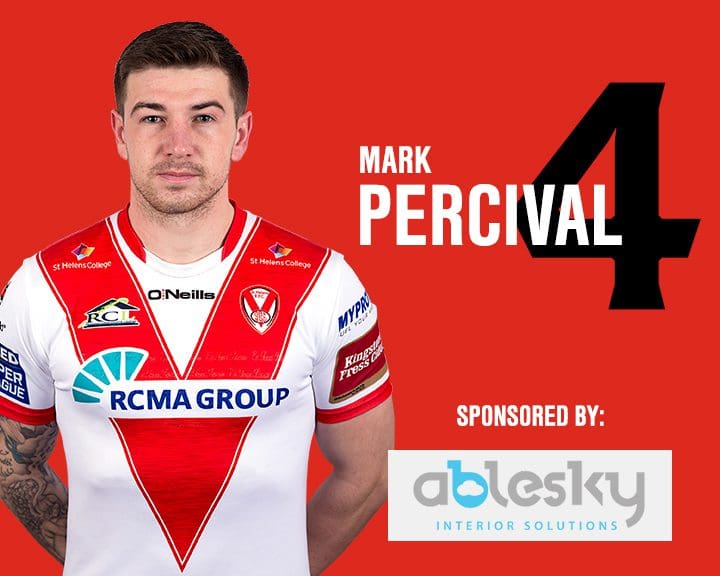 Try
Mark Percival for Saints
huuggggggeee gap sees Percival increase the lead.
Sheer class from Regan great – a wonder break that McIntosh did well to cover in the end.
Goal
Mark Percival for Saints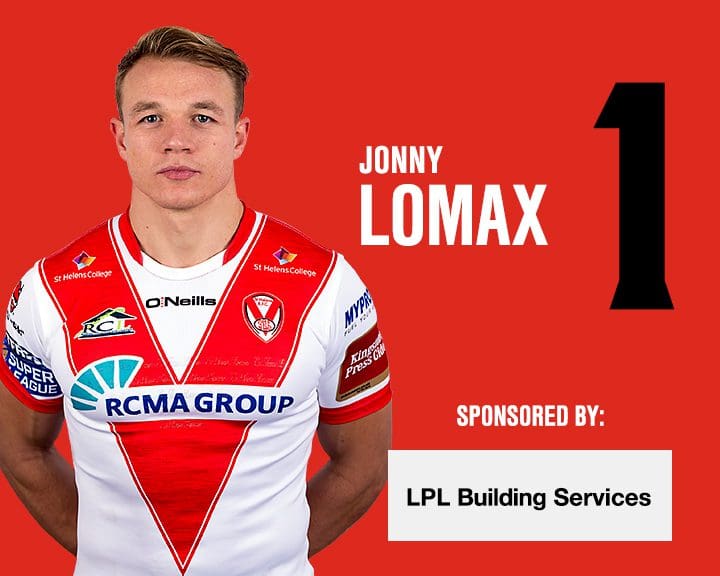 Try
Jonny Lomax for Saints
… takes Saints to Giants 20 – ball goes right and Lomax in for his second.
What a break from Grace – from well inside his half..
Goal
Danny Brough for Huddersfield Giants
Try
Oliver Roberts for Huddersfield Giants
Saints lose the ball on their 40 and Roberts pushes his way over from close range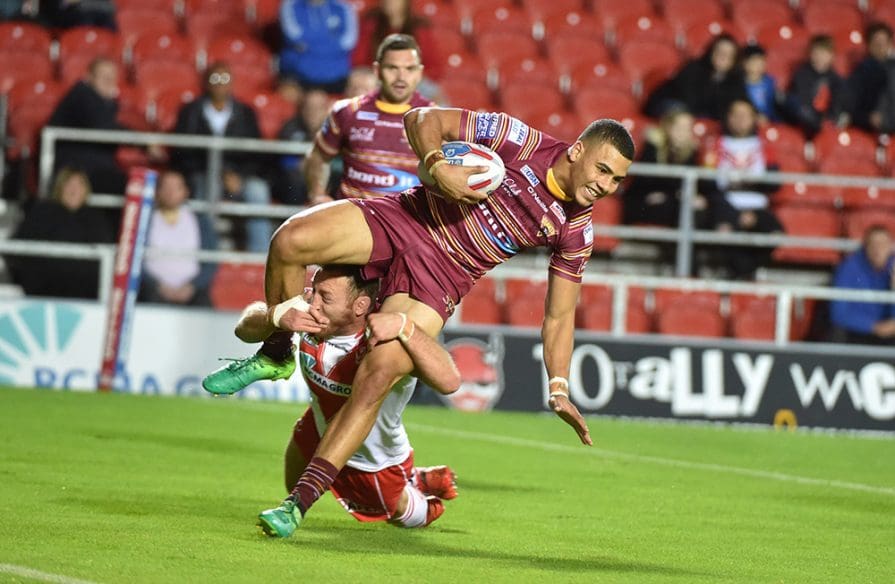 Ryan Morgan close in the other corner after a high kick
Roby kick, excellent chase; the Giants will drop out.
Barba comes up big on another chip through, it remains 12-0
Grace saving Saints' try line there and grounding it – but the Giants have the ball.
And at the other end – Saints just do enough after a Giants' kick. They will drop out.
Saints have one chalked off for a forward pass – fans and players alike looking at each other for that one!
Hudds ball, in their own 40 – they'd steadied the ship since those early tries.
But then lose the ball on their set. Saints ball, 40 out.
Percival comes up with a little improvisation on the last tackle – Giants do enough to stop it
Barba clears up at the back following Gaskell's chip – and wins a penalty
Lomax comes up with the ball on a 1 on 1 steal… but he's penalised!
Saints penalty on half way – they lead 12-0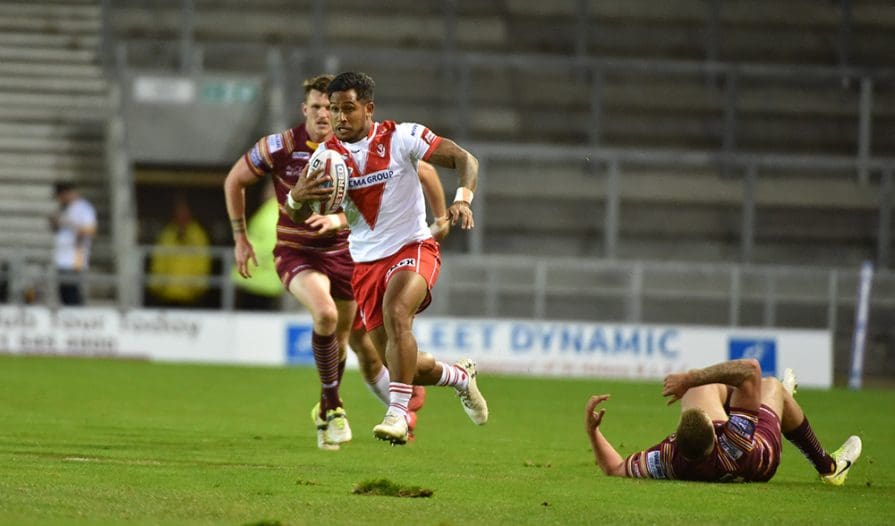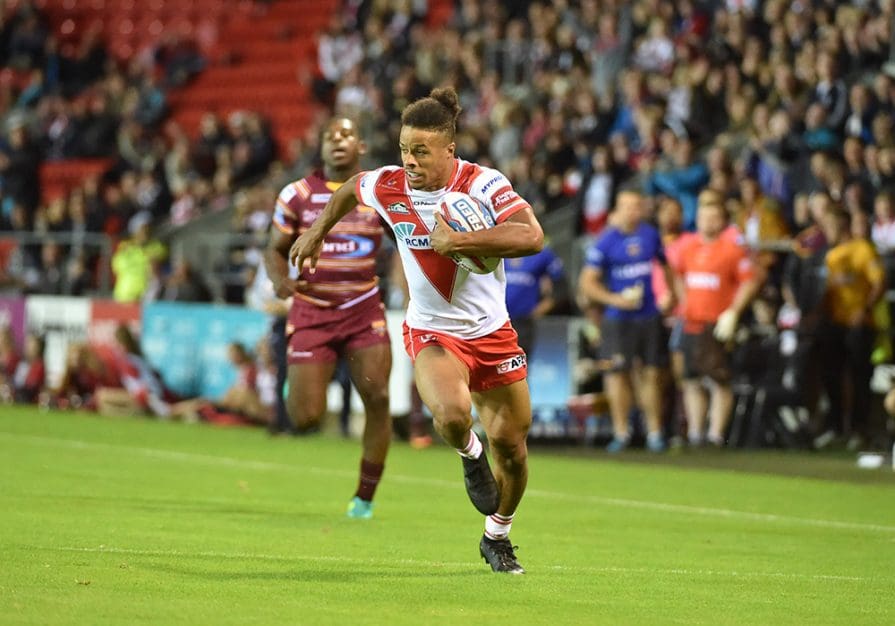 Goal
Mark Percival for Saints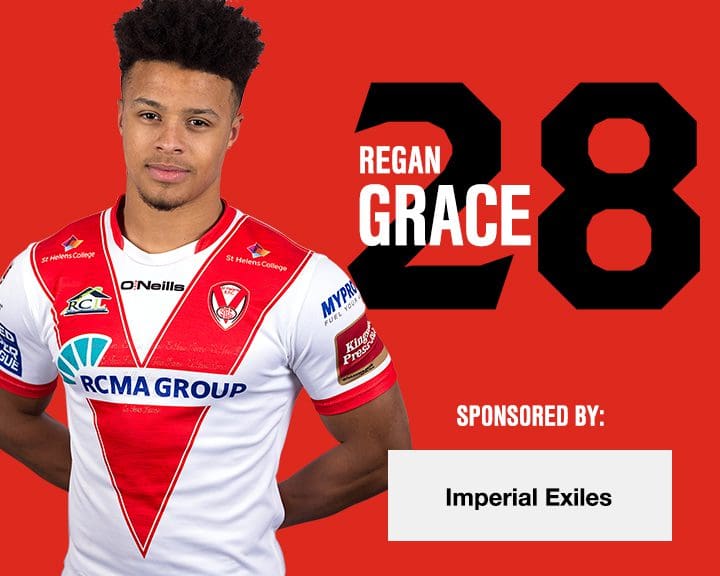 Try
Regan Grace for Saints
Gorgeous break from Barba sees him draw his man and Grace is in
Saints get the ball back inside their own 40 – both teams wanting to give it some air tonight.
Saints called for a forward pass on the last. Giants ball on their own 40.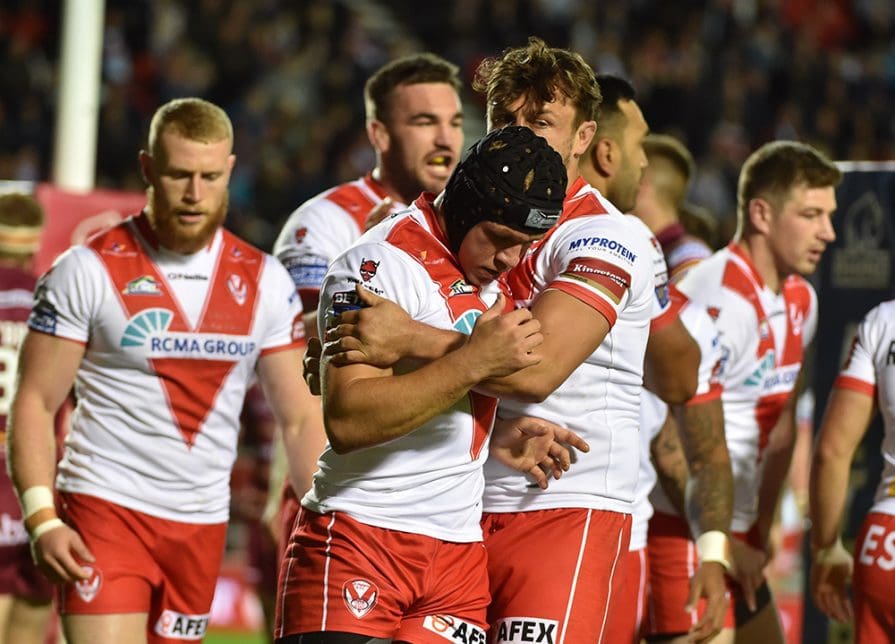 Goal
Mark Percival for Saints
Percival makes it 6-0. Good start from the lads.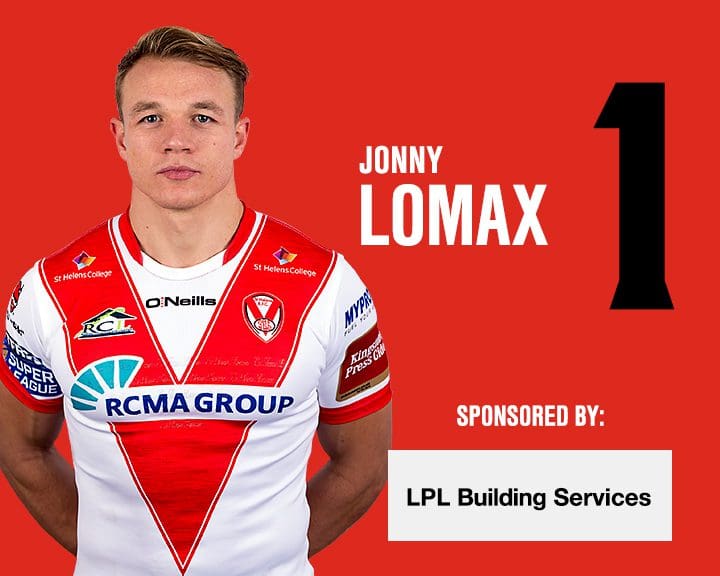 Try
Jonny Lomax for Saints
Lovely kick from Richardson and Lomax pounces
Strong runs from Grace and Makinson gets Saints on the front foot.
Taia looking for an early offload – high ball from Richardson well taken.
Saints will get this one underway