Saints' quest for a top four spot took a serious dent as they were downed 26-16 by Wigan at the Totally Wicked Stadium.
Ben Barba scored on a first outing for the club but his side couldn't overhaul a 14-0 deficit early in the first half.
The visitors got off to a perfect start when, on their very first set, Joe Burgess found a way down the left hand side and fed Oliver Gildart for the easiest of tries.
Seconds later, Ryan Morgan overran a pass and Gildart picked up the loose ball to cross again.
And it got better for the visitors as on 14 minutes George Williams tagged on a penalty after Kyle Amor failed to clear the ruck – a harsh one as the ball was played into him.
James Roby broke through on 16 minutes to set up a Jon Wilkin high kick – but Zeb Taia's effort was chalked off because of Mark Percival knocked on.
But five minutes later, Barba made the sort of introduction the fans have been waiting for since he signed in May.
Morgan had bundled Joe Burgess into touch and from the scrum, Lomax found the former Dally M Winner on the outside and he put down under pressure.
The video referee taking an eon to give it.
Moments later, Saints should have scored again.
Percival scorched away on the left hand side and found Grace on his outside.
The winger went past his man his ease but with only fullback to beat, and with Lomax on his right, he opted to go round Sam Tomkins instead of picking the pass.
The chance going begging after an important cover tackle.
On 27 minutes, Willie Isa was lucky to stay on the field after he came in 'third man' on LMS' standing leg – the second rower placed on report.
No penalty was forthcoming but on the very next play one did, and Saints almost went over in the corner.
Barba combined with Morgan on the right hand side – but the latter's pass to Tommy Makinson ended up in touch.
Saints' defence held firm to the next two Warriors' attacks before another home chance went begging as the hooter sounded.
Holbrook's men needed to score first in the second half if they had any chance of taking home the points.
Barba went close before Jonny Lomax chipped through early in the tackle count and was clearly obstructed – but nothing was forthcoming.
And as so often happens in sport, Wigan hit straight back – and it was a double whammy.
The ball was swept right and Gelling took a simple pass to cross in the corner.
Then, a minute later, Williams did the same to score on the far side.
Taia pulled one back with just over 20 to go and then some sublime handling saw Makinson go over on the far side.
Game on.
Morgan Knowles unlocked the defence on 63 minutes but Barba just couldn't weight his last tackle kick for Grace to chase.
Saints then tried to work their way into another scoring position but found Wigan's defence right on the money.
Tempers boiled over in the final stages as two scuffles broke out – Isa seeing yellow probably more than 50 minutes too late.
Match Summary:
Saints:
Tries: Barba, Taia, Makinson
Goals: Percival (2 from 3)
Warriors:
Tries: Gildart (2), Gelling, Williams
Goals: Wiliams (5 from 6)
Penalties Awarded:
Saints: 5
Warriors: 8
HT: 4-14
FT: 16-26
REF: R Hicks
ATT: 15,248
Teams:
Saints:
37. Ben Barba; 2. Tommy Makinson, 3. Ryan Morgan, 4. Mark Percival, 28. Regan Grace; 1. Jonny Lomax, 7. Matty Smith; 10. Kyle Amor, 9. James Roby, 16. Luke Thompson, 36. Zeb Taia, 12. Jon Wilkin, 20. Morgan Knowles.
Subs: 8. Alex Walmsley, 13. Louie McCarthy-Scarsbrook, 14. Luke Douglas, 18. Dominique Peyroux.
Warriors:
1. Sam Tomkins; 35. Liam Marshall, 3. Anthony Gelling, 4. Oliver Gildart, 5. Joe Burgess; 6. George Williams, 7. Thomas Leuluai; 8. Frank-Paul Nuíuausala, 9. Michael McIlorum, 15. Tony Clubb, 14. John Bateman, 12. Liam Farrell, 13. Sean OíLoughlin.
Subs: 16. Sam Powell, 17. Taulima Tautai, 20. Willie Isa, 28. Jack Wells.
Saints Line up
| | |
| --- | --- |
| 23 | Ben Barba |
| 2 | Tommy Makinson |
| | Ryan Morgan |
| 4 | Mark Percival |
| 5 | Regan Grace |
| 6 | Jonny Lomax |
| 7 | Matty Smith |
| 18 | Kyle Amor |
| 9 | James Roby |
| 10 | Luke Thompson |
| 11 | Zeb Taia |
| 12 | Jon Wilkin |
| 13 | Morgan Knowles |
| 8 | Alex Walmsley |
| 15 | Louie McCarthy-Scarsbrook |
| 14 | Luke Douglas |
| 12 | Dominique Peyroux |
Wigan Warriors Line up
| | |
| --- | --- |
| 1 | Sam Tomkins |
| 2 | Liam Marshall |
| 3 | Anthony Gelling |
| 4 | Oliver Gildart |
| 5 | Joe Burgess |
| 6 | George Williams |
| 7 | Thomas Leuluai |
| 8 | Frank-Paul Nu'uausala |
| 9 | Michael McIlorum |
| 10 | Tony Clubb |
| 11 | John Bateman |
| 12 | Liam Farrell |
| 13 | Sean O'Loughlin |
| 14 | Sam Powell |
| 15 | Taulima Tautai |
| 16 | Willie Isa |
| 17 | Jack Wells |
Last updated 1 Sep 17 22:00:04
Goal
George Williams for Wigan Warriors
Isa sees yellow for pushing LMS.
Scuffle breaks free. Ref trying to stop it.
Leuluai caught in possession, but Saints in their own 20
Clearing kick from Wigan and Saints will have to come off their own line.
Entering the final 10 minutes, Wigan have an eight point lead.
Saints come again… great take by the Wigan rearguard from a high kick.
Saints come again… great take by the Wigan rearguard from a high kick.
D to the fore for both sides now.
Repeat set for Wigan on Saints line – but they lose the ball.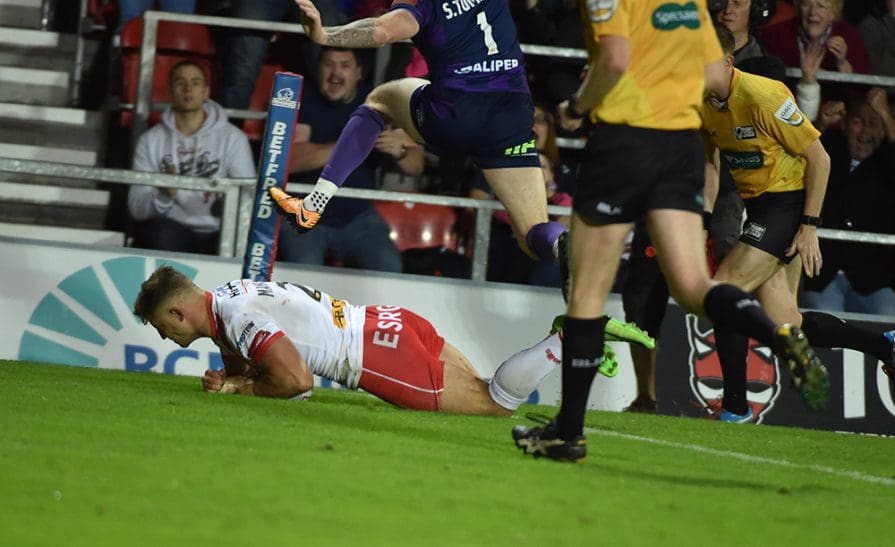 Goal
Mark Percival for Saints
Off the touchline for 16-24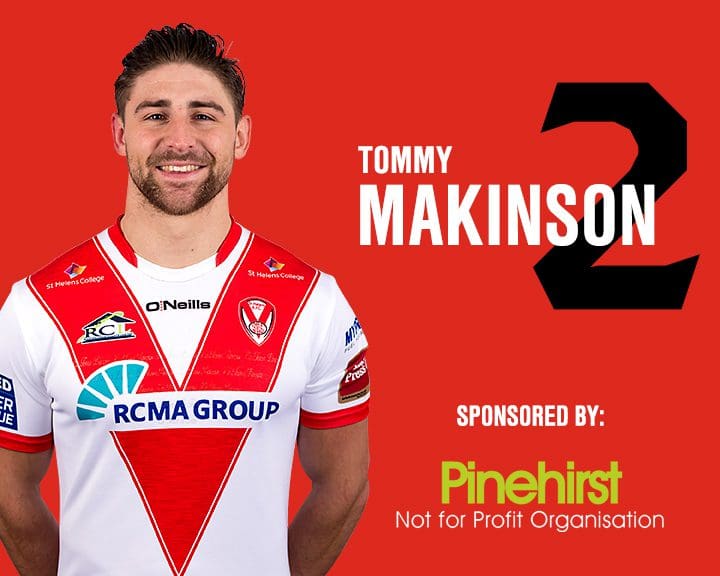 Try
Tommy Makinson for Saints
Fantastic handling and Saints are in again – Makinson over in the corner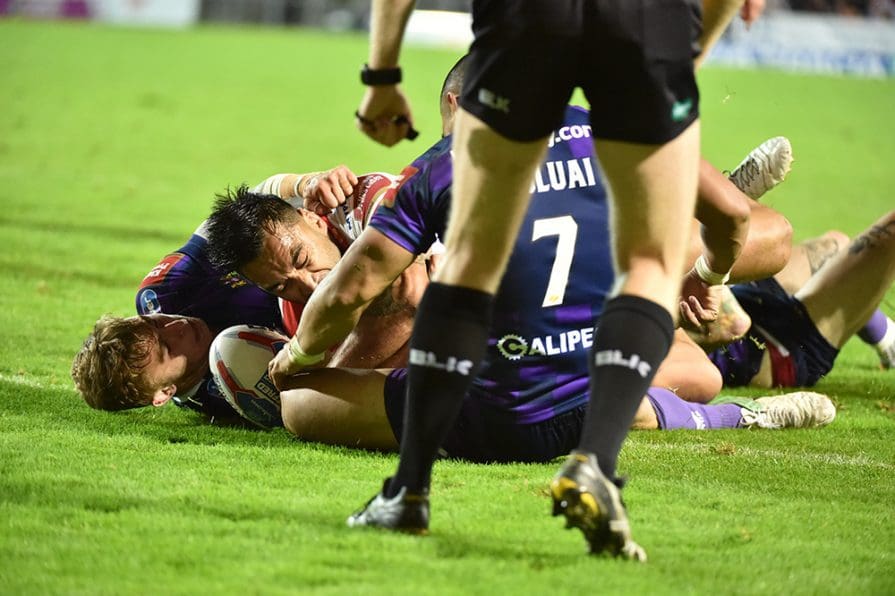 Goal
Mark Percival for Saints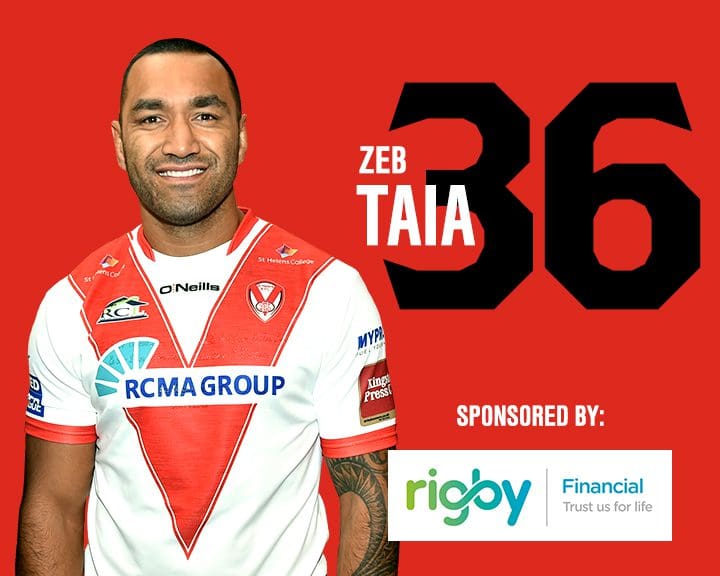 Try
Zeb Taia for Saints
Simple drop off pass and he shows his strength
Another chip through, another obstruction? Nothing forthcoming. Wigan will drop out.
Goal
George Williams for Wigan Warriors
Try
George Williams for Wigan Warriors
Left hand side exposed and Williams takes a simple pass.
Williams misses the kick and it is 4-18
Try
Anthony Gelling for Wigan Warriors
Ball sweeps right and the centre increases Wigan's lead.
Wigan ball, about 20 out from the Saints line.
Saints break the line again but Lomax can't haul in the offload.
Lomax chips, clearly obstructed, nothing given
Barba close again. Saints camped on Wigan's line.
Walmsley close then Wigan lose the ball on their set.
Saints penalty on half way as Tautai lifts the player
Ryan Morgan the man replaced for Matty.
Smith back on after his concussion check for the second half.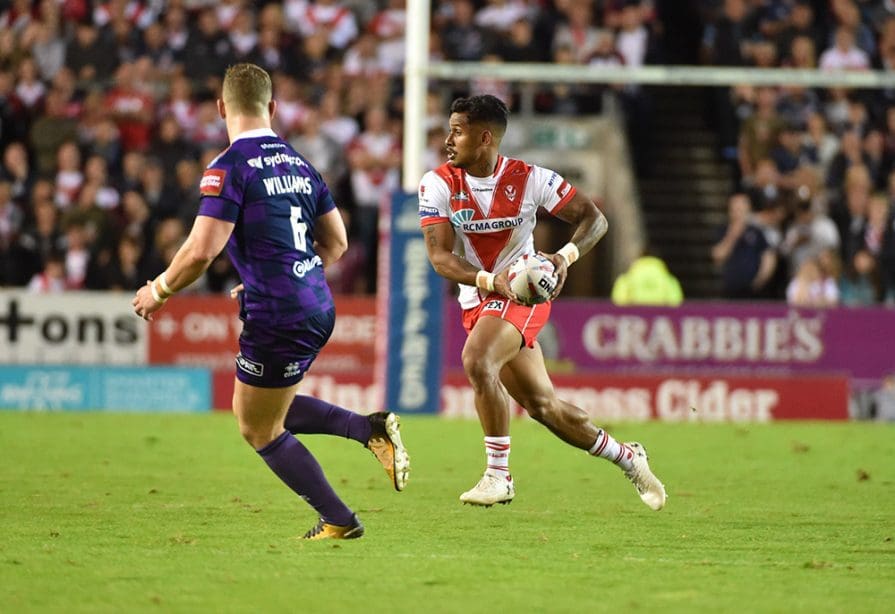 Saints have a set in Wigan's 40 with just over a minute remaining.
More good D from Saints stops Wigan extending their lead.
Ryan Morgan forces an error as Wigan attack – Saints come away with it.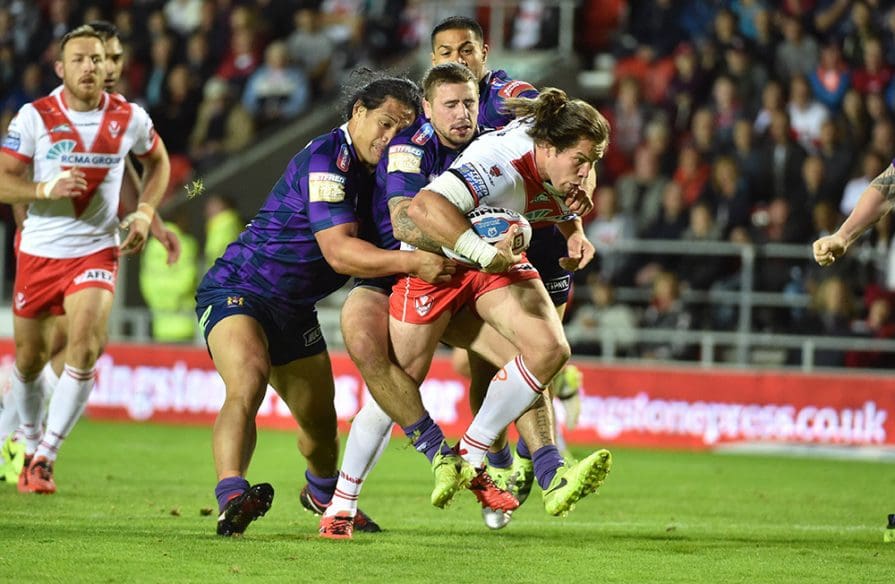 Wigan win a penalty after the ball comes loose from a Roby tackle. Looked harsh!
Barba to Morgan, but the latter's pass to Makinson is in touch.
Saints win a penalty on next tackle.
Placed on report – didn't look too clever on the replay that one. And no penalty either.
LMS in some trouble after a tackle – looks like a third man came right when he was stood up.
Farrell pass ends up in touch from a high kick.
Wigan camped on Saints' line…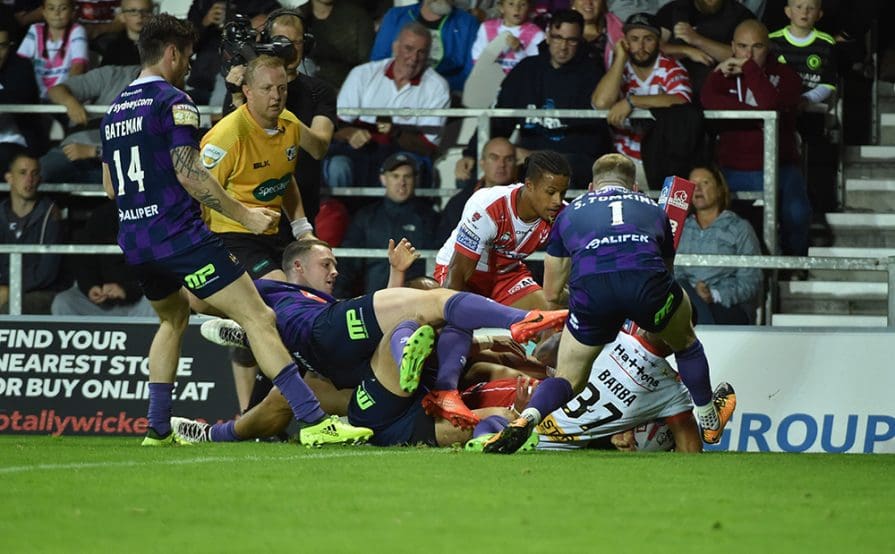 Percy sends Grace down the left hand side – he has Lomax on his right but opts to go for it and is in tackled.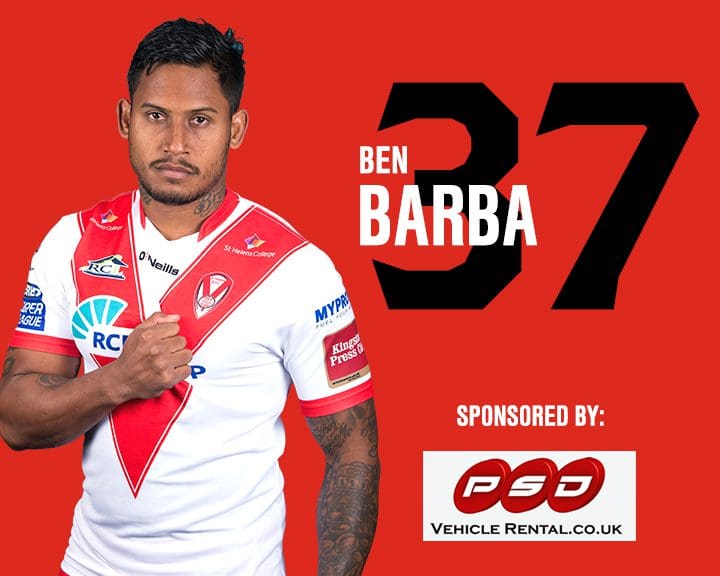 Try
Ben Barba for Saints
On day-booooooooooo! Gets on the outside and the video ref gives the score.
Barba with the effort – video ref taking an age to rule it in or out.
heading upstairs for a Saints try…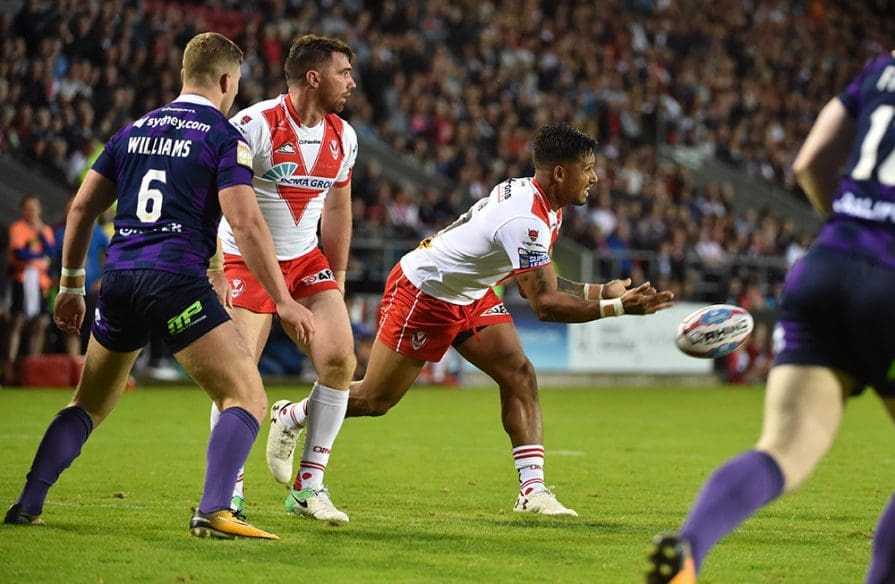 Chip through sees Ryan Morgan put Burgess into touch. Big set in Wigan's 20.
Lomax, Taia and Percy combine to set Grace away, but Saints can't make it pay
It's no try… but pressure at last from the Saints.
Going upstairs for a Saints try…
Goal
George Williams for Wigan Warriors
Williams slots it for 14-0
Amor is on the floor and can't get out the way – Wigan get a penalty and they'll take the two.
Wigan win a drop out then Saints hold them out.
Simple chip take for Wigan – and then they gain a penalty
Saints win a penalty on Wigan's 40
Goal
George Williams for Wigan Warriors
Try
Oliver Gildart for Wigan Warriors
Chalks up his second after Saints lose the ball in their own 40.
great first run from Barba – takes three to get him down.
Goal
George Williams for Wigan Warriors
Tags on the extras – Wigan lead 6-0
Try
Oliver Gildart for Wigan Warriors
Burgess gets away down the left and turns it inside to his centre
Short kick on the last from Saints – Taia wraps up the Wigan defender.
Wigan will get this one underway
Jon Wilkin leads the team out in his 450th career game – what an atmosphere too!