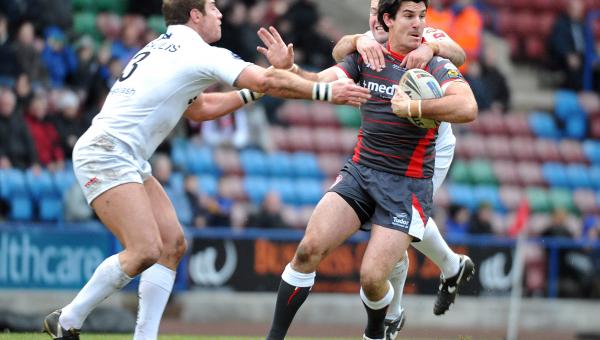 CHRIS Flannery is aiming to be back for this Friday's trip to Salford after missing out on Millennium Magic.
The 31-year-old forward enjoyed a clean pre-season but rolled his ankle in the week leading up to the clash with Wigan.
He had a fitness test on Saturday morning, but Saints' Coach Royce Simmons thought it was best to leave him out.
"We have been talking for a few weeks about the Wigan game and all our build up was about that match," he said. "But I went over on my ankle during thr week and the best decision was to let it rest for another week.
"It was fine yesterday (Tuesday) and so I should be ready for Friday."
Flannery recently signed a one-year contract extension at Saints and is looking forward to the club's transition to the new stadium and their prospects on the field too.
The pack, in particular, has been transformed, with Louie McCarthy-Scarsbrook coming in with Josh Perry and Simmons altering the back-rowers' roles a little.
"Yeah, it looks like I will swap with Jon Wilkin and Sia in the second row this season," the former Sydney Rooster said. "I know Sia came in as a centre but I think he was always going to end up in the forwards. I think he will stay on the right side with me and Wilko on the left. Jon has that left foot kicking game too so you don't want to lose that.
"I'll be probably doing 80 minutes with Sia being spelled. He is a big man to stop and adds a bit more grunt to the pack.
"I know a lot of people are tipping us to be around the top four and not as high as previously… and that's perhaps a good thing as we can get on with the job. But if you look at who we have to come into the side, then I think things will go well. They key is to keep everyone fit as there is real competition for places.
"Royce isn't looking to pack the bench with forwards as by the end of the season he wants his back rowers to be doing the full 80. But when you have Andy Dixon and Marry Ashurst knocking at the door you need to make sure you play well and pull your weight."