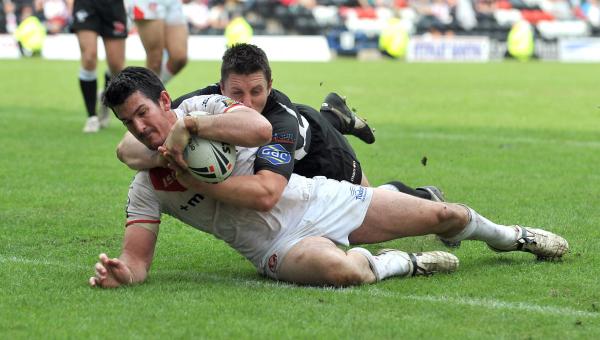 SAINTS progressed to the Fifth Round of the Challenge Cup courtesy of a 52-26 win over Sheffield Eagles… but are once again counting the cost.
Injuries to Andrew Dixon, Kyle Eastmond and Nathan Ashe took the gloss off the victory and the trio are unlikely to play in next Saturday's trip to Huddersfield.
"Dicko has a hip injury – it is bruised and we couldn't get him back on," Royce Simmons said. "Kyle has a groin strain and had to come off and Nathan a knee problem which flared up again."
He continued: "You have to give credit to Sheffield – they can play some footy and like running the ball. They have also been playing well so we were wary of them.
"We comfortably led but seemed to try to survive the last few minutes to avoid injuries and they ran in some points.
"We had great field position in the first half and they had to come off their line a lot. But that wasn't the case in the second half. You have to give them a big rap for their effort. They had nothing to lose and came to play that way.
"I thought Jon Wilkin and Francis Meli did well. Jon does things at speed and gets results. You cannot fault his workrate and he's still learning to be a half back.
"Franny did some good things again today. Generally you know if your centre is playing well because your winger is scoring. Jamie Foster is doing that at the moment and a lot of that is off the back of Franny's work."
The Cup Draw is after the Halifax-Bradford match on Sunday.