Here is your 2021 Home Shirt and it's available to pre-order now with delivery in early December!
In partnership with O'Neill's Sportswear, the long-standing Saints tradition of a white shirt with a RedV returns to more 'cleaner' look for 2021…
Following the hugely successful design for the current 2020 campaign, the brand-new 2021 edition features a return to a more modern, predominantly white feel with a 'dipping' RedV design.
The shirt also features a stylish red gradient pattern from the edges of the RedV. This blends from the chest and into the white sleeves that also runs up each side panel, under each arm and down the torso into the predominately white shorts.
It also sports a new, slightly deeper style, vee shaped collar and red piping around the sleeve hems.
The full kit look is complete with white shorts and red socks piped with white.
The reverse of the shirt also has a red gradient design at the top of the shoulders.
The Saints crest is of course, proudly emblazoned on the left chest and 'Ex Terra Lucem' the Town's motto, printed inside the collar.
Each replica shirt also has a special '60 YEARS OF THE REDV' motif towards the lower hem, which contains a QR code linking to some of the history of the famous design first worn in 1961 and adorned by your Saints through to the present day.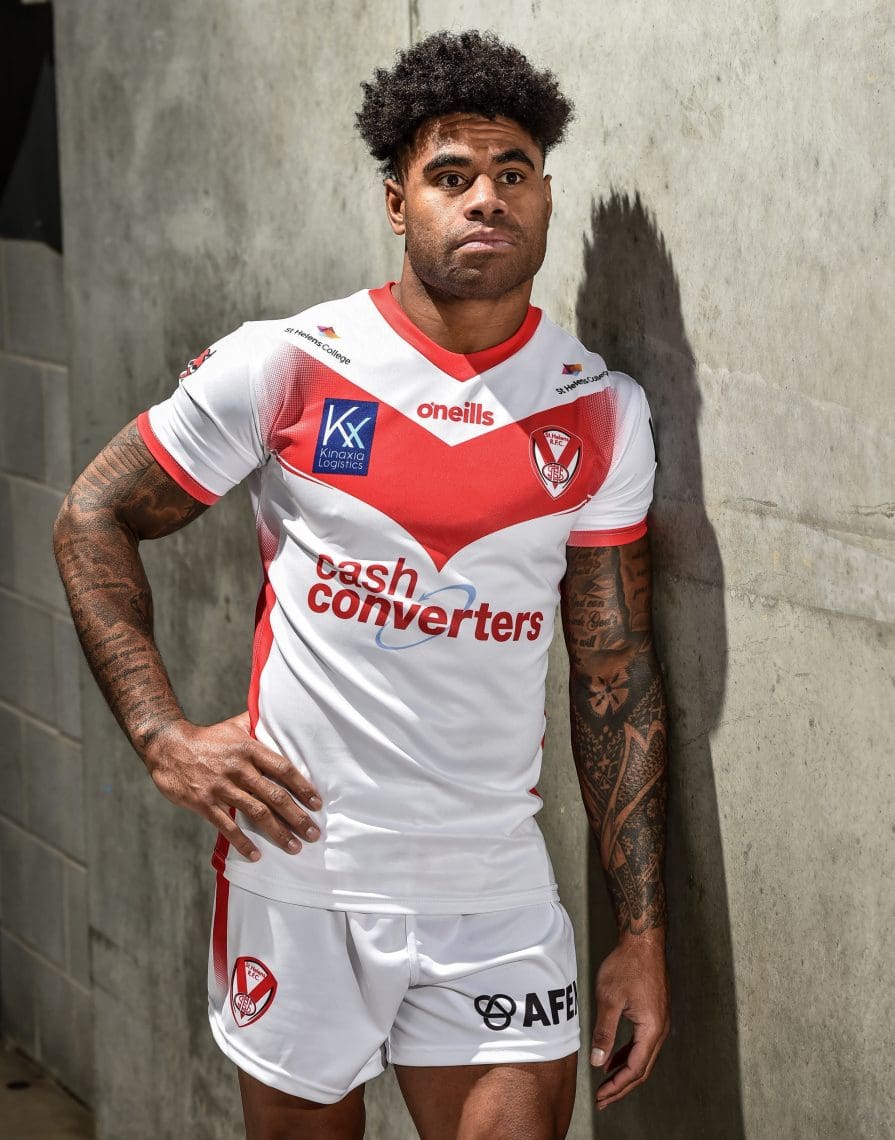 Our principal home shirt partner is once again Cash Converters.
As in previous seasons there is also a player-fit version of both shirts, which is the exact spec of the first team playing shirt with a slim fitting style and reinforced stitching on all seams and a rubber chest gripper.
Personalisation of player names and numbers for the full 2021 squad will be available shortly, once confirmed and released. Squad numbers 1-9 are available to add to pre-order as these will remain the same for 2021. Letters and numbers on the home shirt will again be in red with the away once again in white.
Prices:
Adult Replica shirts are available in sizes X-small through to 7XL and are priced at £50.
Player-fit shirts are available in sizes X-small through to 3XL and are priced at £70.
Ladies shirts are available in sizes 8 through to 20 and are priced at £50.
Children's shirts are available from age 5/6 years through to 13/14 years and are priced at £38.
Baby shirts are available in sizes 0-6 months and 6-12 months only and are priced at £32.
Infant kits, for ages 1 to 2 and 3 to 4 are on sale for £42 and include shorts and socks.

How to Buy: 
Here's how you can get your hands on the 2021 Home and Away Replica Kits.
They are both available to pre-order online now at saintssuperstore.com, we anticipate collections and postage of pre-orders (depending on your selection) to begin week commencing Monday 7 December.
You can Click & Collect for free from the Saints Superstore collection point located at the Totally Wicked Stadium – all details are here.
You can also order for UK home delivery for just £2.50 per order or FREE when you spend over £50 (t&cs apply)

All 2020 Members can get 10% off either or both of the 2021 replica kit in November and December (t&cs apply, subject to availability) 
As the Saints Superstore at the stadium is currently closed this discount can only be applied when purchasing online using the following process: 
Login into your Saints Superstore online account, your email address used MUST match the email address associated with your 2020 Membership to be able to access the discount. This will then be automatically applied at checkout on 2021 kit only.
PLEASE NOTE: If the discount is not visible then your email address on your Superstore account does not match that recorded against your 2020 Membership. Our retail and ticketing systems have been forced to adapt as best they can to the circumstances of the CV-19 restrictions and this is the most practical way we can deliver a discount to our Members online whilst the Superstore is closed.
In this instance please click here to submit a query – please ensure you include your NAME, MEMBERSHIP NUMBER AND EMAIL ADDRESS and we will endeavor to answer your query as soon as possible.

Unfortunately we are not able to take telephone orders at this time.
>>> 2021 Home Shirt