Saints face local rivals Leigh Centurions here at the Totally Wicked Stadium on Thursday evening with kick off at 7:45pm and you can find out everything you need to know right here in our Match Preview story!
BACKGROUND…
Now that we have had time to recover after St. Helens' outstanding performance, in their defeat of Wigan, at the DW Stadium, last Friday, our thoughts turn to tonight's home encounter with the Leigh Centurions. They too arrive at the Totally Wicked Stadium, this evening, on the back of a fine win – having beaten the Salford Red Devils, last Sunday; the first of their Super League XXVI campaign.
Saints come into proceedings in 2nd position on the Super League ladder having won 13 of their 16 matches, for a total of 26 points and a win percentage of 81.25%. Leigh, are at present lying at the foot of the table, having won just one of their 17 games for a total of two points and a win percentage of 5.88%.
Despite their contrasting positions in the league standings, this encounter has been eagerly anticipated since the fixtures were published at the start of this year. With only a couple of miles separating these two famous old rugby towns, this is a traditional 'local derby' and local bragging are at stake amongst the teams' loyal supporters.
LAST TEN MEETINGS:
Leigh 12, St Helens 22 (SLR5, 30/4/21)
St Helens 28, Leigh 6 (SLR12, 28/4/17)
Leigh 24, St Helens 16 (SLR2, 24/2/17)
Leigh 4, St Helens 78 (SLR26, 4/9/05) (at Hilton Park)
Leigh 20, St Helens 27 (SLR22, 22/7/05) (at Hilton Park)
St Helens 60, Leigh 16 (SLR9, 8/4/05) (at Knowsley Road)
Leigh 21, St Helens 4 (SBC, 23/1/94) (at Hilton Park)
St Helens 34, Leigh 16 (SBC, 19/9/93) (at Knowsley Road)
St Helens 64, Leigh 9 (SBC, 6/1/93) (at Knowsley Road)
Leigh 11, St Helens 6 (SBC, 11/11/92) (at Hilton Park)
21 MAN SQUADS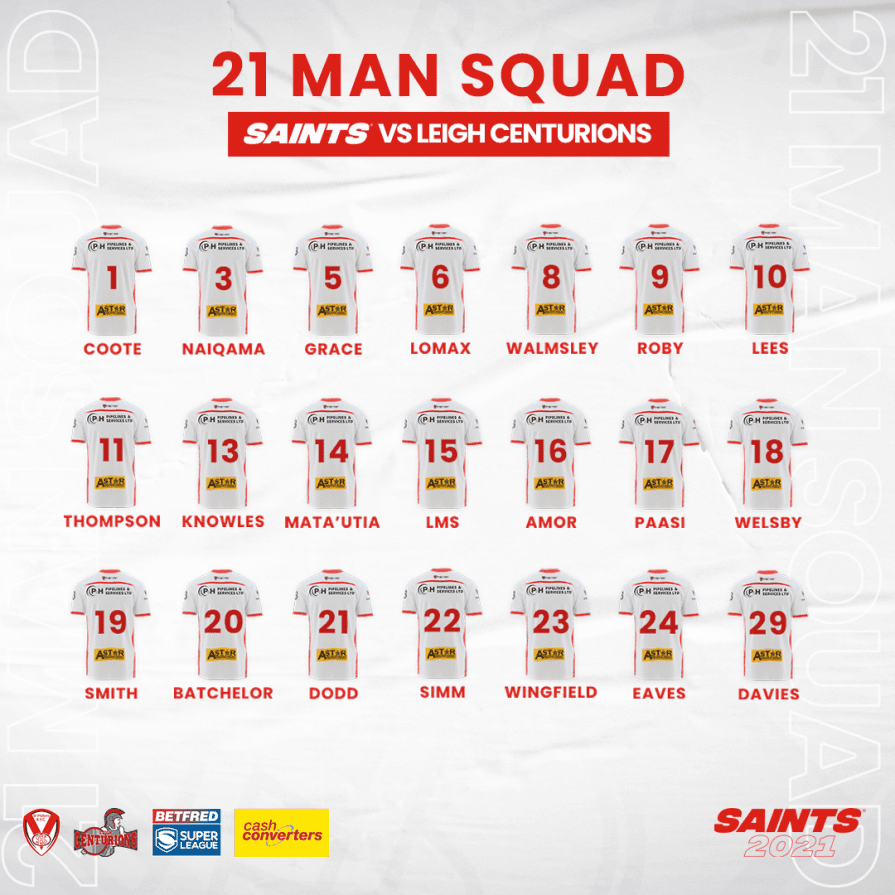 COACHES PREVIEW
Head over to Saints TV to hear Kristian Woolf's thoughts ahead of the game, whilst Joel Thompson also talks up the game and reflects on an "unreal" experience against Wigan.
MAN IN THE MIDDLE
Tom Grant will be the referee.
KIT?
Saints are the home team and so will play in our traditional red and white kit.
CAN I STILL BUY TICKETS FOR THE MATCH?
Tickets are still available online here until 12noon Thursday.
Cash turnstiles are available on the West Stand (standing terrace) only, for any seated tickets, these are only available via the Ticket Office.
The Ticket Collection Point located next door to the Ticket Office is the place to collect your pre-ordered ticket.
WHAT TIME DO THE TURNSTILES OPEN?
Gates open at 6.15pm with kick-off at 7:45pm. The RedV Cafe Bar at the stadium is open from 5pm.
REMEMBERING THOSE WE HAVE LOST…
As has become a continued tradition towards the end of each regular season, we will once again be celebrating the lives of Saints players and fans who have sadly left us in the last year. Name's of those fans and past players who have departed will be read out in the stadium before the match and also included in our matchday e-programme below. There will also be a minute's applause before kick-off.
CAN I BUY FOOD AND DRINK?
Our food & drink kiosks are now fully operational, with a range of food and drink options available including our RedV Smooth Bitter and Carling on draught. Plus we now have Strongbow Cider and original and Dark Fruit Cider on all kiosks!
We are beginning a transition towards a cashless operation in our Kiosks in the near future – contact-less card payment is now available on all tills with cash payment only available on the left hand single till at each kiosk.
SAINTS SUPERSTORE
The Superstore at the stadium will be open from 9am up until kick-off – our Champions Trainingwear Range has now been re-stocked.
MATCHDAY PARKING
Click here to read where you can park on matchdays.
I CAN'T ATTEND – WHERE CAN I FOLLOW THE GAME?
The game is NOT teleivsed.
Supporters can also follow the game on our official Twitter, Facebook and Instagram accounts as well as on our Live Match Centre.
Reaction will follow the Full-Time whistle on our website and social media channels whilst the highlights and the full 80 minute replay will be on Saints TV on Monday for subscribers.
MATCHDAY E-PROGRAMME
Download the next 2021 edition of the Club's official e-programme, a solely digital version of the traditional matchday programme, which is now available to view for FREE HERE!
The Club recently linked up with MatchDayInfo who have now re-branded as Zeeon, the global providers of digital match day programmes, which will see the Saints Matchday E-Programme available to view on an App and new-look 'GameHub' platform.
Alternatively just scan the QR code with your phone camera below. (To download click on the three dots and click 'Download PDF file').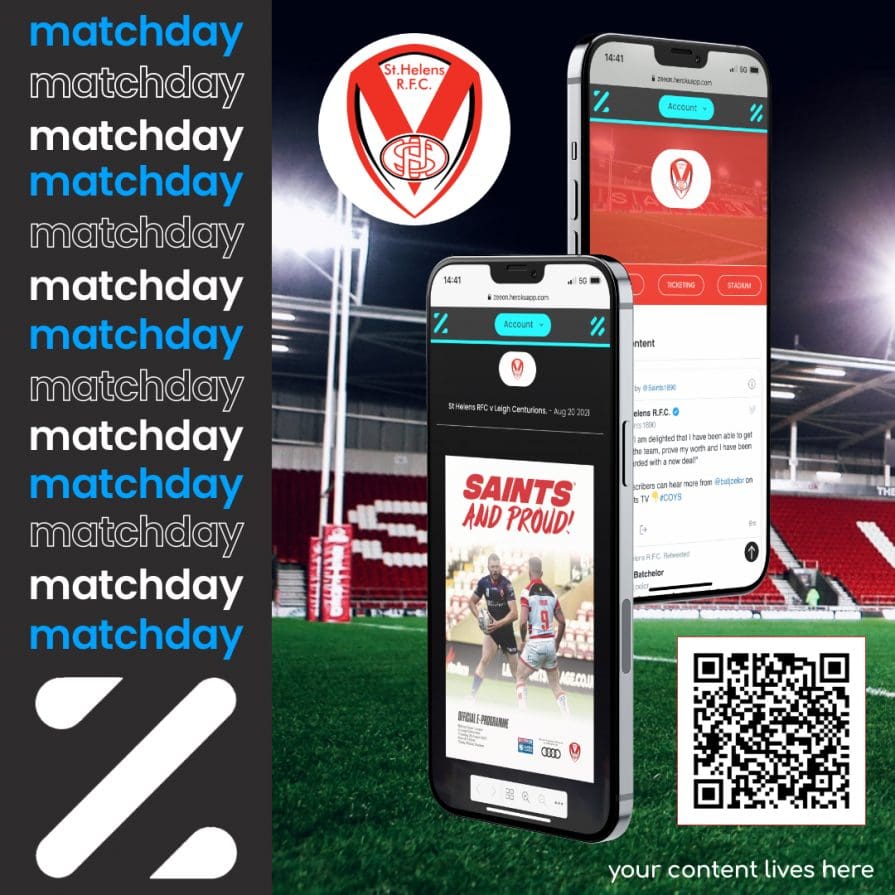 Fans can also download the MatchdayInfo App for FREE to their Android or iPhone device. Once you have downloaded the FREE MatchDayInfo App on your Android or iPhone device select 'St Helens' as your Club and you will receive a push notification as soon as we upload the latest edition of our e-programme to the App! Also available on the App is the full set of 2019/20 issues which you can enjoy.
In today's edition we have an interview with Joe Batchelor who signed a new deal recently. Plus read an update from Head Coach Kristian Woolf on all things the Club. We have a look back in time thanks to Saints Heritage Society. We also have all the low-down on Leigh Centurions plus our special Remembrance list of names who have sadly left us in 2021. Don't forget to CLICK the links to watch the videos and find out more about all our partners through their adverts.
RIVALS WATCH
Wednesday:
Wigan vs Leeds Rhinos – 7.45pm – Sky Sports
Thursday:
Salford Red Devils vs Catalans Dragons – 7.30pm
St Helens vs Leigh Centurions – 7.45pm
Huddersfield Giants vs Warrington Wolves – 7.45pm
Hull FC vs Castleford Tigers – 7.45pm – Sky Sports
Hull KR vs Wakefield Trinity – 7.45pm