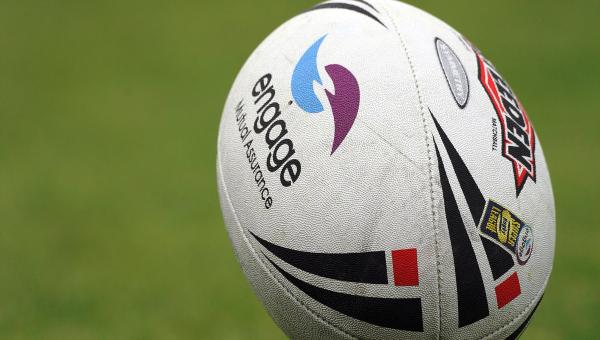 York City Knights 34 v 30 St Helens U20's Team
By Graham Henthorne, Team Manager
A Saints Reserve side containing no fewer than 15 players still eligible for U18s Academy duty took on a full strength City Knights team led by ex Super League and Parramatta player Chris Thorman and came away disappointed at having lost out by the odd try in 11.
Twice behind by three scores the Reserves showed a lot of resilience in fighting back into contention and finishing both halves on the attack.
The Saints were understandably slow out of the blocks and the City Knights took advantage to pummel the Saints. But it was a freakish injury to influential half back Nathan Ashe which turned the first period in the home sides favour. Hit accidentally when executing a pass, Ashe had to leave the game with numerous loose teeth. As the Saints were re-organising the defensive line ex-Leeds centre Tom Bush was put through a yawning gap by Thorman to open the scoring.
Two more tries followed in quick succession in a nightmare five minute spell for the Saints and with Thorman's trusty boot the lead was soon out to 18. But the introduction of Ant Walker steadied the ship and his partnership with fellow prop Carl Forster started to bring the Saints back into it. Adam Barber was run into touch just short of the line after a good short side drive from Scott Hale and Tommy Makinson was denied a try for a forward pass. Then Ben Karalius put the speedy Danny Jones through from 40 metres with a peach of a pass only for the referee to rule a double movement and you could sense the tide turning.
Sure enough three sets of six on the home sides line proved to be too much as Forster grabbed the first try of this campaign. Walker and Josh Jones had been stopped short before Forster charged over.
Minutes later the increasingly influential Karalius broke down the middle putting the supporting Tommy Makinson away. He took it on to the fullback before feeding debutant Kenny Hughes whose sideway run gave enough space to Dan Brotherton to hand off his opposite number and rounding him to score in the corner.
The call at half time was for the Reserves to believe in themselves but the reality of open age rugby league was brought home with a bang as the home side scored twice in the opening three minutes to again open up a dominant lead.
But back came the resilient Saints and drives from Hale and Jordan Hand and another short pass from Karalius put Makinson through 40 metres out. He duly rounded the full back and scored under the black dot.
On the next set first Joe Greenwood and then Forster were held up over the line but the pressure came to nothing and the Knights again pulled clear as their outstanding player hooker Jack Lee dummied his way over.
Superior fitness started to tell and the Saints were all over the home side in the final quarter. Makinson was again held up over the line but this time a good kick chase produced a repeat set. Drives from Jordan Case and Samir Tahrouai got the Saints close and Danny Jones got his reward for an impressive show breaking free to score.
On the next set Karalius made a 50 metre break from his own half and on reaching the full back fed the long striding Greenwood for a great long range try. Makinson's fifth from five attempts set up the Grandstand finish but somehow the beleaguered home defence managed to hold out.
Any poor, long suffering Saints supporter who made the painful journey to Keighley last year will be rightly heartened by this scoreline. Whilst there were some negatives there were many more positives from this all round team display against a Knights side who in the words of Coach Dave Woods "expect to surprise a few people this year".
The loss of Nathan Ashe so early on put more responsibility onto the shoulders of Kenny Hughes in his first match in Saints colours, but the Thatto Heath prospect showed he is more than at home at this level with a great partnership with Karalius and the returning Aaron Lloyd.
This was a good start for a team that can only get better as it grows in experience and togetherness.  
| | | | |
| --- | --- | --- | --- |
|   | York City Knights |   | St Helens U20s |
|  1 | James Haynes | 1 | Tommy Johnson |
| 2 | Dave Sutton | 2 | Adam Barber |
| 3 | Duane Straugher | 3 | Josh Jones |
| 20 | Tom Bush | 4 | Tommy Makinson |
| 5 | Danny Wilson | 5 | Dan Brotherton |
| 6 | Chris Thorman | 6 | Nathan Ashe |
| 7 | Jonny Presley | 7 | Ben Karalius |
| 8 | Jack Stearman | 8 | Samir Tahrouai |
| 9 | Jack Lee | 9 | Kenny Hughes |
| 10 | Alex Benson | 10 | Carl Forster |
| 33 | Jordan Rice | 11 | Danny Jones |
| 12 | Matt Barron | 12 | Scott Hale |
| 24 | Mark Barlow | 13 | Warren Thompson |
| 4 | Lee Waterman | 14 | Ste Yates |
| 21 | Dennis Tuffour | 15 | Ant Walker |
| 22 | Ed Smith | 16 | Jordan Case |
| 23 | Paul Stamp | 17 | Aaron Lloyd |
| 27 | Scott Woods | 18 | Jordan Hand |
| 29 | Joe Hemmings | 19 | Joe Greenwood |
| 19 | Joe Gartside | 20 | Joe Bate |
York City Knights:
Tries: James Haynes, Duane Straugher 2, Tom Bush, Jack Lee, Alex Benson.
Goals: Chris Thorman 4, Lee Waterman.  
St Helens U20s:
Tries: Tommy Makinson, Dan Brotherton, Carl Forster, Scott Hale, Joe Greenwood.
Goals: Tommy Makinson 5.  
Half Time: 12-18
Full Time: 30-34