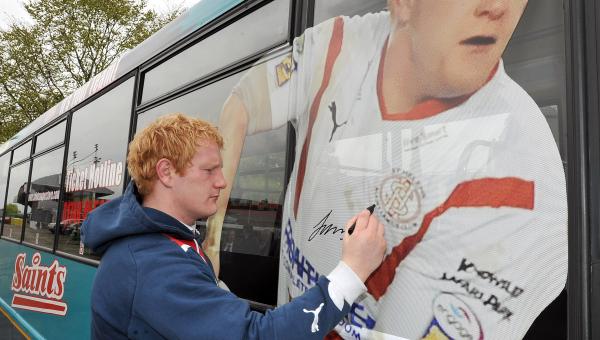 BUS season tickets are now on sale for 2011 travel to Widnes!  
Priced at just £40 and FREE for all under 16 season ticket holders, they offer great value for money as Saints tackle Super League XVI.  
Saints have teamed up with Arriva to provide a direct service from St Helens town centre to The Stobart Stadium in Widnes – the club's temporary home in 2011.  
This prepaid service will pick up and terminate at Hall Street in St Helens – with the frequent service beginning three hours before kickoff and ending 45 minutes before kickoff.   After the final whistle, the service will operate from The Stobart Stadium in Widnes back to St Helens town centre with the last bus leaving an hour after the final whistle – giving fans plenty of time to enjoy their post match celebrations.  
The bus season ticket will also permit travel on any Arriva bus service from a journey start point within the borough on any scheduled service to Hall Street and return.  
To buy, head into the Saints Superstore in St Helens Town Centre, call 01744 455 052 or log on to the Saints Superstore.  
If you want a FREE JUNIOR BUS TICKET, you will need to head to the store to receive the Bus Season Ticket.   Saints can then work with Arriva to make sure as many bus runs can take place as possible for its loyal fans.  
The club can also confirm that Merseytravel's number 17 service will operate on its normal timetable before and after kick off meaning those with access to free bus travel can use that service.  
No cash will be taken on the Saints Arriva Bus Service with routes and services subject to demand. Normal Arriva bus regulations also apply.  
Details for the Hattons Travel 'per match' service will be confirmed shortly – fans can buy those tickets up to 48 hours before each home game. Cost will be £4.