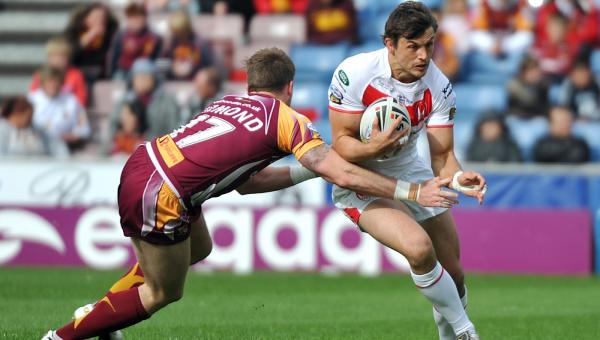 HUDDERSFIELD Giants handed Saints a 40-18 defeat at the Galpharm Stadium on Saturday.
Nathan Brown's side took advantage of Saints depleted ranks to run in seven tries – four coming in the space of 10 second half minutes.
But Saints rallied late on to emerge with some credit from yet another tough encounter.
Saints were 12-0 down in the first half but showed enough to suggest they weren't out of it.
They lost Chris Flannery in the warm up and held their own despite tries from Eorl Crabtree and Danny Brough.
In the second half, Louie McCarthy-Scarsbrook latched on to a James Roby chip, before the Giants pulled away and secured the points with four tries in the space of around 10 minutes.
With the troops very slowly coming back, only Paul Wellens made a welcome return to Saints' depleted ranks, whilst Chris Flannery, who was also a surprise inclusion after being omitted from the 19 man squad, limped off in the warm up.
That meant a late call-up for Tom Armstrong with Tommy Makinson filling his slot as substitute.
Nathan Ashe and Jon Wilkin took up the half back berths – and there was a debut for forward Scott Hale off the bench.
Huddersfield also lost a player in the warm-up – Luke O'Donnell, forcing Nathan Brown to call up Jamie Cording.
Both sides adopted lengthy kicking games to keep each other at bay early doors, but Huddersfield opened the scoring when Earl Crabtree used all his strength to stretch over.
Danny Brough with the extras.
It was a blow Saints could have done without, obviously, but they regrouped and began to put some pressure on the Giants.
But Huddersfield were making too many yards on their sets and Saints had both Ashe and Makinson to thank in quick succession in keeping scoreline tight.
Scott Hale came on for his debut on 28 minutes and put in some good hits and runs.
But on 34 minutes, Danny Brough outpaced Saints' rearguard to stretch their lead.
Half Time: Huddersfield 12 Saints 0
Saints needed half time to regroup and begun on the front foot with a strong set.
And on their next set a piece of brilliance from Roby saw them get over.
Right on the last, he chipped through – initially for himself – but Louie McCarthy-Scarsbrook was ever alert and touched down. Foster with the extras.
Rocked, Huddersfield twice looked like restoring their 12 point advantage – but Saints held firm.
Yet, when Thierry Alibert penalised Francis Meli for a high tackle, Kevin Brown took full advantage.
Brough adding his third of the night.
Michael Lawrence then scored a spectacular try to increase the lead further.
And when Crabtree added his second then Joe Wardle got on the outside of Meli it was game over.
Saints were resilient though and Matty Ashurst pulled one back with around 15 minutes to go before Ade Gardner racked up his eighth of the season.
Foster goaling both.
Scott Grix added Huddersfield's seventh score in the final ten minutes to complete a comprehensive home victory.
Saints will move on from this match – and the kids that played will grow too – and the cavalry is coming…
Match Summary:
Huddersfield:
Tries: Crabtree (2), Brough, Brown, Lawrence, Wardle, Grix
Goals: Brough (6 from 7)
Saints:
Tries: McCarthy-Scarsbrook, Ashurst, Gardner
Goals: Foster (3 from 3)
Penalties:
Huddersfield: 3
Saints: 4
HT: 0-12
FT: 18-40
REF: Thierry Alibert
ATT: 7844
Teams:
Huddersfield:
1. Scott Grix; 20. Jermaine McGillvary, 29. Joe Wardle, 2. Michael Lawrence, 3. Leroy Cudjoe; 6. Kevin Brown, 7. Danny Brough; 8. Eorl Crabtree, 9. Luke Robinson, 10. Darrell Griffin, 4. Lee Gilmour, 37. Dale Ferguson, 17. Danny Kirmond
Subs: 13. David Faiumu, 14. Shaun Lunt, 18. Larne Patrick, 26. Jamie Cording.
Saints:
1. Paul Wellens; 2. Ade Gardner, 3. Michael Shenton, 5. Francis Meli, 22. Jamie Foster; 27. Nathan Ashe, 12. Jon Wilkin; 10. James Graham, 9. James Roby, 8. Josh Perry, 4. Sia Soliola, 18. Matty Ashurst, 21. Shaun Magennis.
Subs: 15. Louie McCarthy-Scarsbrook, 24. Tom Armstrong, 27. Thomas Makinson, 29. Scott Hale.