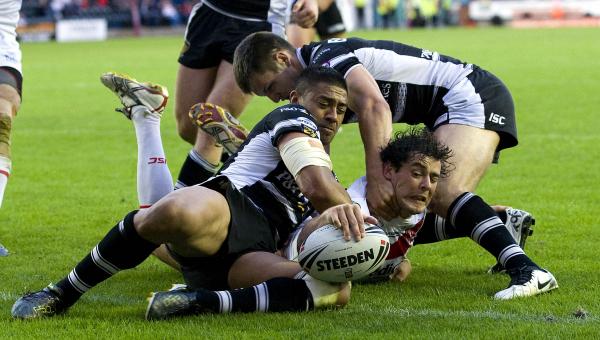 PAUL Wellens is hoping the "penny has dropped" as Saints prepare to travel to Wakefield this Sunday.
Speaking ahead of the clash which kicks off at 3.30pm, the joint club captain wanted his teammates to show calmness and patience in breaking teams down.
"It was a tough game on Friday and I know Royce was frustrated with our ball control and the need for us to be smarter.
"It is an area we keep letting ourselves down in. When we control the ball we score points but for some reason we try and do a bit too much and can be too flamboyant.
"That isn't a bad thing sometimes as it shows we have the confidence to try things out, but sometimes we have to try and rein it in.
"We are a young team with new combinations, but we need to learn pretty quickly that we need to calm down a little.
"We can't score from every play and we need to be patient and build pressure. Teams aren't going to roll over anymore. Hopefully, the penny has dropped now with the players."
Wellens admits that it's important they continue to build on the performance of the Warrington game, and the win over Hull FC, as there are plenty of teams behind the Saints waiting to pounce.
"Most teams are looking forward but are also looking over their shoulders too," he continues. "That's good for the competition though. If you have two wins or two defeats you can find yourself in a different position.
"We need to build on last week's performance and move forward. You need to get into the top four but wherever you finish you are likely to have a tough game.
"It's always difficult to go to Wakefield as the crowd gets behind them. Over the years we have struggled at Belle Vue and have produced poor performances. In the last couple of seasons we have given them respect and come out with good performances.
"Jon Kear's teams are always competitive and he will have them fired up.
"They aren't just playing for two points and the playoffs, but for survival too. Players could be playing for their livelihoods and that makes them desperate and dangerous.
"We need to respect that."