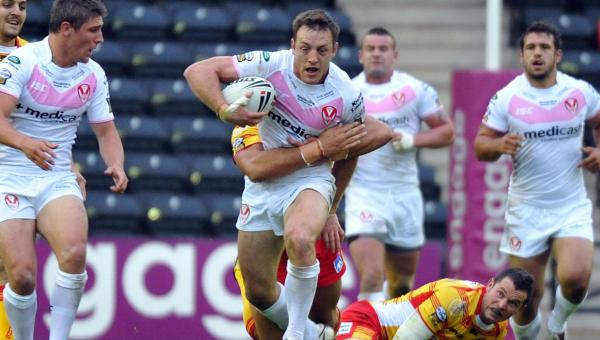 ROYCE Simmons was all smiles after Saints 40-18 win over Catalans as he believes his charges are finally going in the right direction.
The victory was Saints third in a row – and they climbed to third in the table putting two points into the Dragons in the process.
"I was happy to get the win," he said. "We played a side that has won 11 of its last 13 and played well.
"I thought we were always going to win the game but a couple of times there was ricochets from kicks that didn't go in our favour and we came off second best from it. That was a little concern.
"Our defence has been good recently, but I think we let in some soft tries… we didn't work them hard enough and they didn't need to build up pressure. But, our ball control went in the right direction and we scored some good tries too."
He continued: "We got a good 20 minutes from Leon and his experience will be valuable to us for the rest of the year. But you can't take too much away from the other halves as they have done a great job.
"Getting him back to fitness is a work in progress and we don't want to go too crazy with him. We'll sit down and see what is best to do with him now for the next few weeks.
"Jamie Foster played well tonight and his goalkicking was really good – he doesn't miss too many. He is scoring tries too but you have to give credit to Francis Meli. He works in restricted areas and the opposition has to worry about him, then he has that clip pass. Jamie is doing well and Franny is assisting him too.
"One guy that hasn't had the plaudits since about the first ten weeks is James Roby. He sets the bar so high that perhaps people look over the top of him. If he hasn't run 180+ metres and done 40/50 tackles tonight then I would be surprised.
"I didn't know he was this good before I came in – I didn't know how someone could be so fit. His defence is superb. He sits you on your tail and puts in massive hits.
"He is very close to the complete player and has added a kicking game to that too. He is right up there with the Cameron Smiths and Robbie Farahs. This year he has been given some leadership roles and jobs and it has made him a better player.
"You'll see that in his rep football this year – he will lead more and bring forwards on to the ball. He learnt off the best and is close to becoming one of the best."