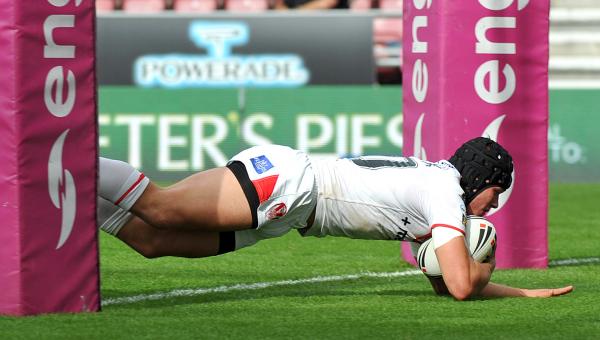 JONNY Lomax says a Grand Final winners' medal would cap off a surreal season.
The 21-year-old has already achieved his goal of playing one more game than his total last season – and won the Engage Super League Young Player of the Year on Monday night.
Now his focus is on Old Trafford and a battle with Leeds Rhinos.
"Not much can be said about the final!" he said. "I am looking forward to it. It will be a tough encounter and a massive occasion. You don't get many chances to play in a game like this so you need to take the opportunity when it comes and also enjoy the day.
"It's been a surreal year. My goal was to play 17 games – one more than last year – and I think I have missed three all season. Now playing scrum half at Old Trafford will cap if off for me.
"I've really enjoyed it. When we played Leeds away that was a turning point for both my and Lee Gaskell. We'd been in awe of these players and asking ourselves 'should we really be here'. But when we played at half back then I said to Gasky 'you know what, we do belong here'. Our confidence kicked on and it's been great.
"I was calling the plays and yelling at Jammer to get himself there. When something went wrong I lost my rag and then apologised to them! Jammer told me that was exactly what they needed and they would back me.
"That makes you feel part of it and my confidence has shot up. Jammer and Leon were great with me really and I have to thank them. They used to whisper in conversation with me until I decided to talk louder. I thought it was out of order at first but it really brought me out of my shell."
Now Jonny and Lee will have the opportunity to show Super League what they can do on the biggest domestic stage of all.
"We know how good Leeds are. They have strike players all over the pitch. From one to 17 we will need to bring our best," he continued. "I played last year and watched us lose to Leeds in the finals before. It was gutting but you need to take the positives out of it. I don't want to feel that again and I want to do best to try and achieve. It spurs you on watching the other team celebrating because you want to do it.
"To win would cap a very surreal season."
That surreal season took another twist on Monday when he was named Engage Super League Young Player of the Year – and Jonny was quick to thank the people that helped him win such an accolade.
"I'd like to thank the people at Orrell St James – my amateur club – and the lads I played with," he continued. "The Youth Development team at Saints have been excellent since I have been at the club – especially Mike Rush and Derek Traynor who have always supported me.
"Rugby League is a team game and therefore it would be wrong not to thank all the players I have lined up with this season too. Royce Simmons and Keiron Purtill have shown a lot of faith in me and I will always appreciate that.
"Finally, my mum and dad are people I will always be truly thankful for. My dad Ian coached me from the age of seven and quite clearly without them I wouldn't have even been in with a chance of winning this award."