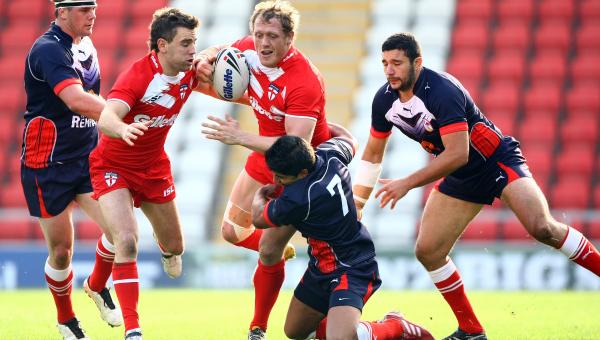 ENGLAND'S newest representative team the England Knights got off to a winning start in their inaugural game against a strong France international team that toiled hard but always seemed to be short of true class.
The Knights got away to the best possible start when the outstanding Richie Myler scampered twenty metres to touch down after first initiating a break with Warrington team mate Ben Westwood down the left. Although the ball then broke loose, quick thinking from Salford pair Jodie Broughton and Stefan Ratchford saw the ball played back inside and the pace of Myler did the rest.
Wigan's Josh Charnley tagged on the first of four goals to make it 6-0.
France enjoyed a spell of dominance following the opening score, but the Knights defence held firm under heavy pressure preventing the likes of Remi Casty and David Ferriol making an impact.
The scores looked likely to remain at 6-0 at half-time before an improvised Myler kick was taken out of play by the French defence. Saints Paul Clough pushed within a couple of metres of the tryline before busy hooker Danny Houghton dummied left and dashed right. The Hull player had built up enough momentum to cross the line and Charnley goaled to make it 12-0.
Just before the interval France made a spell of pressure tell and the industrious Gregory Mounis plunged over for Thomas Bosc to goal. Then deep into first half stoppage time, a flash of brilliance from Myler turned the game as he half dummied a defender, scurried round another and hit overdrive before Broughton finished his final pass. Charley maintained his good start with the boot to open an 18-6 advantage.
The game was as good as over inside the first twelve minutes of the second half as the Knights cut loose. First Josh Charnley climbed higher than Cyril Stacul to claim Matty Smith's hanging kick to the corner and dash inside and the youngster showed his try poaching ability just a couple of minutes later when Smith went for a 40-20 and debutant French full-back Dane Chisholm did his level best to keep the ball in play before inadvertedly palming the ball to the onrushing Charnley who quickly claimed his second try.
England looked capable of scoring with every possession and Kris Welham almost cut down the middle from a scrum before Smith and Myler combined for Ratchford to ghost across the defence and then scyth through. Ben Westwood slotted the extras for a 32-6 lead.
The introduction of Eloi Pellisier sparked the French attack near the end and when he darted in from dummy half and Bosc tagged on the extras, there were hopes of a fight back, but the England defence stood firm until some magic hands from Ferriol released Stacul and he claimed a brilliant individual try.
As the clock ticked down, England further confirmed their superiority when Harlequins Luke Gale sold a dummy and motored through to the posts for Charnley to complete a 16 point haul and leave the final score 38-18 in favour of the Knights.

Teams:
Knights:
1  Stefan Ratchford (Salford City Reds)
2  Josh Charnley (Wigan Warriors)
3  Joe Arundel (Castleford Tigers)
4  Kris Welham (Hull Kingston Rovers)
5  Jodie Broughton (Salford City Reds)
6  Richie Myler (Warrington Wolves)
7  Matty Smith (Salford City Reds)
8  Ben Harrison (Warrington Wolves)
9  Danny Houghton (Hull)
10 Lee Mossop (Wigan Warriors)
11 Joe Westerman (Hull)
12 Ben Westwood (Warrington Wolves)
13 Liam Farrell (Wigan Warriors)
Subs:
14 Luke Gale (Harlequins)
15 Paul Clough (St Helens)
16 Mike Cooper (Warrington)
17 Liam Watts (Hull Kingston Rovers)
Tries: Myler (5), Houghton (30), Broughton (40), Charnley (45, 47), Ratchford (52), Gale (76).
Goals: Charnley 4/6, Westwood 1/1.

FRANCE
1  Dane Chisholm (Melbourne Storm)
2  Vincent Duport (Catalans Dragons)
3  Jean Philippe-Baile (Catalans Dragons)
4  Sebastien Raguin (Catalans Dragons)
5  Cyril Stacul (Catalans Dragons)
9  Thomas Bosc (Catalans Dragons)
7  Maxime Greseque (Pia Donkeys)
8  David Ferriol (Catalans Dragons)
6  Gregory Mounis (Catalans Dragons)
10 Remi Casty (Catalans Dragons)
11 Olivier Elima (Bradford Bulls)
12 Cyrille Gossard (Catalans Dragons)
13 Jason Baitieri (Catalans Dragons)
Subs:
14 Eloi Pelissier (Catalans Dragons)
15 Jamal Fakir (Catalans Dragons)
17 Mickael Simon (Catalans Dragons)
19 Kane Bentley (Leizignan)
Tries: Mounis (38), Pelissier (60), Stacul (71).
Goals: Bosc 3/3.
Referee: Thierry Alibert.
Attendance: 2,071