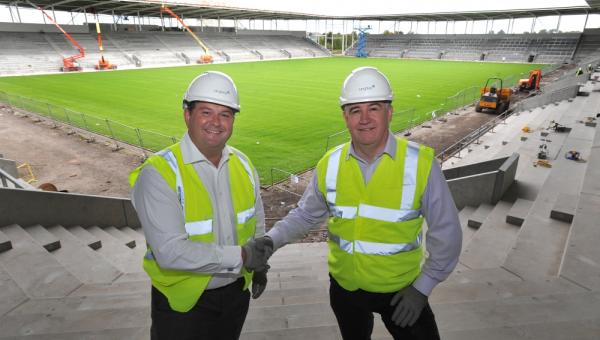 AFTER ten years of loyal sponsorship and support for the Saints, Hattons Solicitors are pleased to announce a new five-year deal with the club.
Hattons have renewed their rear shirt sponsorship as well as the naming of the home supporters terrace stand to the West of the new Saints ground and the adjacent seated family stand.
Previously, the Hattons Solicitors stand at Knowsley Road worked to create a positive awareness for the solicitors in the St Helens community and Hattons hope to build upon this.
Bruce Hatton, Senior Partner at Hattons Solicitors said: "The 2012 rugby season is an exciting time to be in partnership with the mighty Saints.
"We've sponsored Saints since we opened in 2001, this year celebrating our tenth anniversary, and we wanted to make sure we supported the club through the transition to its new home and stadium. I understand the massive passion of the fans, and to be honest it's great personally as a fan to sponsor the club through such a momentous time.
"The longevity of our Saints sponsorship has greatly contributed to Hattons general awareness in St Helens and the North West, leading thousands of people to contact us with a vast array of legal issues. We've worked hard to develop the business and stay ahead of the competition, whilst building a strong reputation. In fact a huge amount of our business comes through recommendations from previous clients, showing the high level of service our team offers."
Hattons Solicitors are real favourites in the Rugby League community offering support and sponsorship from children's rugby and kid's health initiatives to international partnerships with Ireland in the last World Cup and at all levels of the adult game. Their association with Saints is however the link with the sport they are perhaps best known for.
Tony Colquitt, CEO of Saints said: "We are delighted to continue our partnership with Hattons Solicitors. The relationship between both parties has been long established and as we enter a new era we are pleased they are on board.
"We look forward to enhancing the relationship in the future and pursuing other avenues that will be mutually beneficial."
Hattons Solicitors innovative approach to legal services can be seen not only through their rugby league sponsorship, but also by how they were the first solicitors firm in St Helens to get the Law Society Lexcel Accreditation. Hattons were also one of the first firms to invest in an online file management system, which also allows clients to view their cases online at www.hattonslaw.com
If you have a legal issue that you need advice with from compensation claims to business legal advice call their friendly team on 08000 111 560.