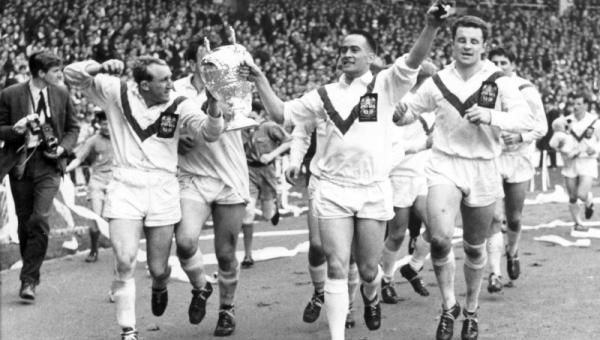 CLUB Historian, Alex Service, pays tribute to a Saints legend…
It was with great sadness that I heard of the passing of Lenny Killeen. As a schoolboy, he was a particular hero of mine and 'Lenny the Lion' on the left wing was an integral part of a Saints' team that virtually swept the board, with four trophies in the 1965-66 season.
Lenny, of course, was a prodigious kicker, who took on the responsibility in earnest following Kel Coslett's broken ankle and did the job supremely well, topping the goal-kicking chart in 1965-66 with 120. He was also sensational with the ball in his hands too. Indeed the 'four cups' season saw Lenny as the league's leading try-scorer, goal-kicker and points-scorer, a fantastic achievement. He went on to top the overall points' charts for three successive seasons (1964-65; 1965-66; 1966-67) – a measure of his terrific ability.
Signed from South African rugby union in 1962, Lenny was a natural sportsman and a born entertainer. So laid back and almost matter-of-fact, he could do most things supremely well, although it is true to say that tackling was not a great forte of his! Mind you, he had a crash-tackler supreme, Billy Benyon, as his centre, who would deny his opposite number the chance of getting it to the wings!
"He was a real one-off," Billy remembers. "He was so confident and self-assured. When we went to Wembley in the 1966 Challenge Cup final we went to visit the stadium beforehand and he put the ball down about ten yards from the half-way line and said 'If I get the opportunity tomorrow, this is where I'm going to have a go from.' True to his word, he managed to do just that and will always be remembered for it."
Lenny won the Lance Todd trophy as the Saints destroyed Wigan that day, largely on the strength of that mighty penalty goal, but he scored a brilliant try in the corner too.
"When I first went to Saints we were told that kicking was out," recalls Billy. "But there was a chance for me to put him through with a chip kick and he touched down brilliantly – a great moment for both of us!"
He was a true hero for the Saints' fans after that and he followed it up with a brilliant hat-trick of tries against Halifax a week later at Station Road in the Championship final.
Lenny was a great entertainer and would always attempt to do something unorthodox to score a try. He could intercept, had great pace, swerve and one of his specialities was to beat the full-back by kicking over him and re-gaining before going under the sticks – the work of a true genius.
"There was a lot of Jamie Lyon in him," recalls former team-mate Peter Harvey. "He had brilliant footwork and became a real points-scoring machine. Many people wouldn't know this…but one time Bobby Charlton came down to training [he was good friends with Alex Murphy] and we kicked a soccer ball around. Bobby reckoned that Lenny kicked just as hard, if not harder than a professional soccer player.
"That says it all about him – a tremendous talent. He was a great personality to, the sort of person who would light up a room when he came in!"
It was a sad day when Lenny left Knowsley Road to join the Balmain club in Sydney, but several years later we heard that the Tigers had won the Grand Final after beating South Sydney.
In fact, Lenny was inducted into Balmain's Hall of Fame not too long ago. For a certain generation, he was truly the bees knees!
I remember we all used to try and emulate his kick and re-gather in Thatto Heath Park during countless hours of tick rugby. Sometimes, by luck rather than judgement, we succeeded but Lenny could do it on the big stage, very often when the chips were down.
His near length-of-the-field touchdown saved Saints from possible embarrassment in the 1966 Challenge Cup semi-final against Dewsbury, just when it was needed.
Lenny played 187 times for the Saints, with115 tries and 408 goals, a total of 1161 points.
In later years the club brought out a replica of the 1966 Wembley jersey, with the number five on the back.
For the next few days I will be wearing mine as a mark of respect for the great man – a true Saints' legend!