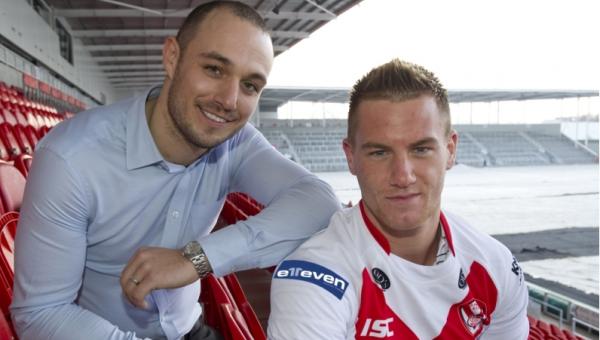 SAINTS would like to welcome our newest shirt sponsor Eleven Sports Media.
Eleven will be replacing Hunters Land Rover Chester on the sleeve for the rest of the 2012 season.
Eleven are a Manchester based sports marketing company that have assisted Saints in the sales of perimeter boards and other advertising channels over the past three seasons.
As well as having a huge presence in Super League, currently working with eight of the clubs, Eleven also work with many Football clubs throughout the UK.
In recent months these have included Everton FC, Norwich FC and Glasgow Rangers.
After recently launching a selection of new media/advertising products Eleven decided Saints would most benefit from Eleven's new stadium TV concept.
Fans will notice new plasma TVs installed around the stadium in both the concourse and hospitality areas. These screens will not only give them the chance to keep their eyes on other scores whilst having a pint but will also be a vital communication tool between the Club and the fans throughout the coming seasons at Langtree Park.
As well as delivering this concept Eleven have also secured more than 50 board sponsorships between local businesses and Saints which can all be seen at high visible locations around the pitch and viewing gantries within the stadium.
Director Matthew Cairns (pictured left with Jamie Foster) who headed up the projects at Saints said: "Eleven have enjoyed a healthy relationship with Saints over the past few years across various projects.
"When the opportunity came along to be on the shirt for such an historic season in a brand new stadium for the Saints, it was an easy decision to make.
"It will certainly be a great privilege to see the famous White and Red shirt sporting the Eleven brand throughout the first season at Langtree Park."
Head of Sales and Marketing at Saints Steve Davies commented: "With the Saints starting a new era at Langtree Park, it's fitting that a forward thinking new media company such as Eleven Sports have joined forces with us.
"Their expertise will help us not only maximise advertising opportunities at Langtree Park but also enhance the matchday experience for fans by the provision of the TV screens around the stadium."

Eleven have also kindly donated 2,000 Eleven badges to the fans of saints to replace the Hunters Landrover badge following the end of that deal. So if you are keen to keep your new Saints strip up to date then please ask at the shop for your complimentary sew-on Eleven badge. Please be aware these are subject to availability and should be in store towards the end of February.