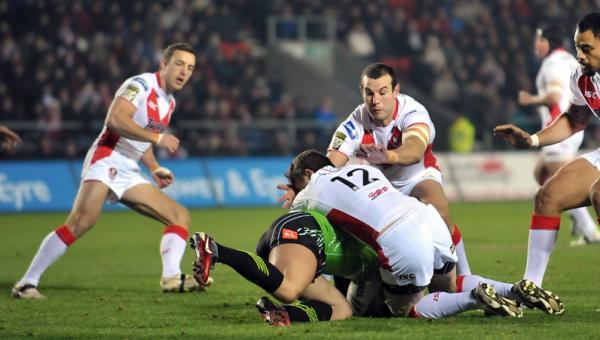 ROYCE Simmons thought Saints got caught up in the emotion of the occasion last night but did the right things in the second half.
His side scored seven tries to overturn a 10-0 deficit to win 38-10.
"For a month now or more everyone has been talking about this opening and how it is special, the crowd will be massive and all that. Although I think the players turned up with the right attitude and wanted to do their best out there, I think they wanted to do it more as individuals.
"We had blokes coming out of the line to make big hits and missing people and making individual plays and when you do that your ball control suffers and that's what happened. Our ball completion was 50 per cent in the first half and they were in the high 80s.
"At half time talked about believing in each other a bit more. Our training session on Thursday was fantastic and I said let's get back to that. We went back out there we got some of those things right. Our kicking game in London was poor but today we got repeat sets and hit the ground with the ball. Our kick return was good in the second half too.
"We know we have to fix a few things up though. We bombed a few tries with poor selection. We'd hit the lead runner instead of going out the back. But our second half was a massive improvement on the first."
Andrew Dixon took his try tally to three in two games and Simmons paid tribute to the forward.
"We spoke with Dicko at the end of last season and asked him to bring more to his game. He was a good steady first grader but wasn't winning any Man of the Match awards, his defence wasn't bruising and he wasn't scoring enough.
"He's now running better lines and angles and bringing grunt to his defence. Last week his attack was good but he was disappointed with how he defended. Well tonight he got both right.
"He is a tremendous young man and is getting the rewards for training hard."