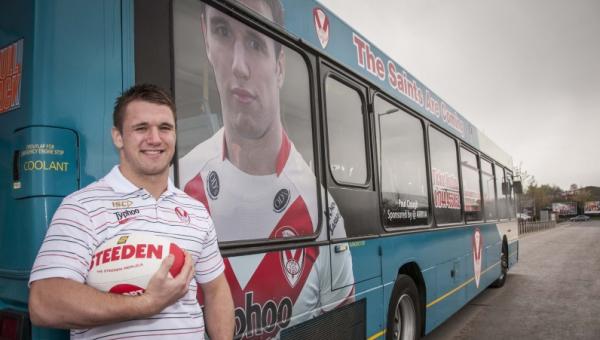 SAINTS have teamed up with Arriva to make supporting your club even easier.
For just £1.50 (single fare), Season Ticket Holders can travel to St Helens Bus Station on the routes below on matchday only.
All you need to do is show your season ticket to the driver and you can access the great rate… it's then just a short walk over the Saints Way to Langtree Park!
"We are delighted to continue our partnership with Arriva," Saints Marketing Manager Mark Onion said. "Not only do we have five branded buses on prime routes around the town but now we can offer fans great value on travelling to Langtree Park."
Rob Cheveaux, general manager, Arriva St Helens, added: "As a local business, Arriva St Helens is proud to be associated with the Saints, and the buses are a great way to show our support for the team.
"The buses are well known in the area and this year we feature four first-class players, and a special 'legends' bus – see if you can spot them all!"
Bus Routes:
Ashton Town Centre 320 – 620
Billinge Stork Inn or Makins Corner 352
Bradlegh Road 20
Broadway 37
Brookbridge M57 10 & 10A
Bulls Head, Newton Le Willows. 34
Cable Way Prescot 89
Chain Lane 36 – 36A
Clinkham Wood 32 – 32A
Clock Face 32A
Downall Green 156
Earlestown 20 & 34
Four Acre Lane 32 – 33 – 33A
Gillars Green 35
Haydock 20 – 320 & 620
Haydock Ind Est. 920
Parr 31 & Parr Moss House 329
Rainford 38 – 356
St Helens Junction 35 – 920
Sutton Heath 33 – 33A
Sutton Manor 32 – 33 – 33A – 920
Wilmere House 33A
To find out more log on to www.arrivabus.co.uk