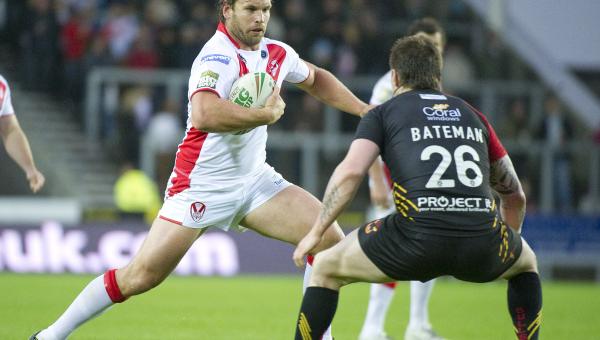 ST.HELENS OF VIEW THAT BRADFORD ARE A "MUST" TO THE FUTURE OF SUPER LEAGUE
St.Helens have followed the example of Leeds Rhinos and have donated the proceeds of the away tickets from their most recent home match against the Bulls to the Bradford club.
Saints Chairman, Eamonn McManus stated:
"We, along with the rest of the game, hope that a positive outcome to the future of Bradford Bulls is in the offing with the administrator.
As long as the new owner of the Bulls is fit for purpose then we are strongly of the view that they retain their Super League licence on an ongoing basis and not merely for the balance of the season. They are a powerhouse of rugby league and have been a massive contributor to the commercial and playing success of Super league over much of the last 16 years; we would be a lesser entity without them. They are a world renowned sporting brand in their own right and a core component of Super League. They have the key platform to long term commercial success: a loyal supporter base of over 10,000 passionate and knowledgeable fans, which is the envy of many existing Super League clubs who only aspire to that. Those fans have shown an enormous commitment to the cause in very distressing circumstances in recent months and have more than shown Bradford to be a city that wants and totally deserves Super League.
I have been a proponent for some time of creating a higher quality and higher intensity Super League with less than 14 teams, as I personally believe that this is necessary to its commercial success at this paricular stage of its development and evolution. But regardless of whether it remains at 14 teams or is reduced in number, I strongly believe that Bradford are a key and essential member in any scenario as long as they are under the right ownership and management. The game, with hindsight, has possibly expended too much resource and time attempting to take it to new areas and to fans who have shown some reluctance to support in numbers. How can we possibly now dispense with a club which has a ready- made and entrenched supporter base which is capable of forming a strong foundation to a viable long term business which in time could take it back to the very top.
The continuance of Bradford's licence would enhance the sale process out of administration and into to the right hands. It is also critical to the future of Super League, which would be a much weaker collective body without Bradford. Certainly, not too much store should be placed on the individual views of other Super League clubs as there are glaring conflicts here with some clubs being interested in their players, and even in their spectators and sponsors. A practical and commercial solution for Super league as a whole is paramount.
Many clubs, including ourselves, have been loss making in recent years. Bradford have been more unfortunate only in that they have not been financially underwritten by directors or shareholders when other Super League clubs, whose underlying position is the same or worse, have – it is a "there but for the grace of god" scenario. Super League, and the overall game, is currently looking seriously and constructively at its governance and commercial structures and plans ; any future initiatives adopted to improve individual and collective commercial performance will have a much better chance of succeeding with Bradford Bulls than without them. With the right structure and commercial policies, Super league is more than capable of producing a very healthy commercial performance for all clubs including ,and even particularly, Bradford.
I hope that our financial donation to Bradford and our general show of support helps them and helps the game."