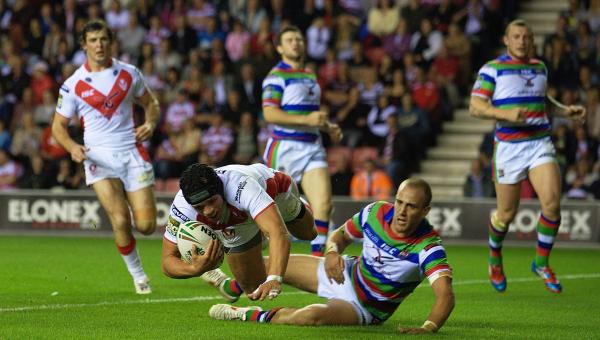 MIKE Rush was proud of his players after they beat Wigan 26-18 in their final regular season match of the Stobart Super League season.
The result, the first win over the auld enemy this season, means Saints will travel to Warrington next Saturday barring a mathematical miracle from Catalans.
"This wasn't just about winning; it was about building momentum and getting our mindset on playoff football," he said. "We knew we had to up the ante and with our options in attack and defence. We got better this week but we know we have to be better.
"There is a great rivalry between the clubs and both are proud of their history so when both clubs meet they want to win these big games. We did that tonight and I am very proud of the lads.
"We wanted to put a marker down and we did that. Now we want to get to a Grand Final."
One of the game's pivotal moments was when Michael McIlorum was sent off for a late and high shot on Anthony Laffranchi.
"To be honest," Mike continued. "I didn't watch the replay nor did I worry about what might happen. We were deciding if Anthony Laffranchi had got a head knock then we could get a change and we were making sure our bench would understand that. We were worried about ourselves.
"I was also proud in how we defended as they are still a very good side; they aren't the league leaders for nothing. We know we still have to improve as we threw it away a couple of times and played touch and pass a little.
"It was always going to be a close scoreline because it was a local derby – they wanted to win and it showed. But I am really proud of our performance, but we need to be more consistent.
"It will be tough next week. Warrington are a good side and have done well to come off the back of a Challenge Cup with a win. We will have confidence, but we will be up against a good side."
Ticket details for that Warrington match are here.