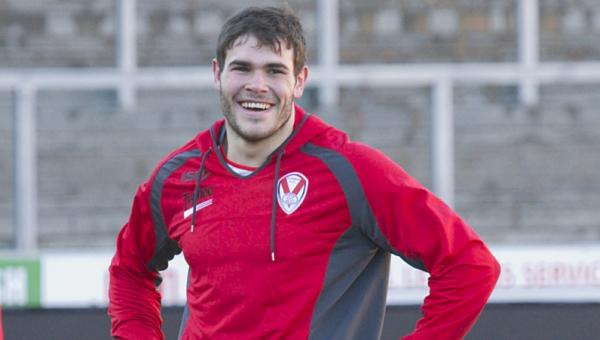 ALEX Walmsley is targeting this Friday's friendly against Huddersfield as a chance to stake a claim for the rest of the season.
The big prop, who signed from Batley, says he can't wait to get some minutes under his belt and hopefully show Saints fans what he can do.
"It's been a good, tough and harsh pre-season," he told Allan Rooney at Radio Merseyside, "but enjoyable and a good place to be. The lads have been really welcoming but also the coaching staff too.
"I've made some big strides… I went from amateur to Batley, had a good season and that was a massive shock to me. I then got picked up by Saints and I'm relishing getting going."
The 22-year-old is in his first pre-season as a full pro after joining the club from Batley on a three-year contract.
He played for GB Students and Dewsbury Celtic before attracting the attention of the Bulldogs and won the Championship Young Player of the Year last season.
He will be dual-registered with his former club in 2013 and is full of praise for what they, and in particular John Kear, have done for him.
"John was fantastic and guarded me well," he added. "There were a few clubs interested but when I came down to Saints I knew it was the place for me really. They were the most positive club with great facilities and there was a good warmth about them. Now I have completed my degree and I can concentrate on rugby and look to have a good season.
"There's a great bunch of lads at Batley and it wouldn't be bad at all if I played with them again this season, but personally I know I want to get a few minutes under my belt and get into the first team here. I know there are good players in my position though so I will have knuckle down and hope for the best.
"I am learning a lot here as the facilities make the difference. You have all day to do as much as you want training wise and that is good. At Batley you had to jam everything into a couple of hours. Now it's more intense but you have the time to make sure you get things right.
"It's all about finding those little things to get better and it's good. At the end of the day though I am an out and out prop. Give me the ball and I will run!"
Alex and Saints will take on Huddersfield on Friday January 11 with an 8pm kick off.
You can buy your tickets from the ticket office at Langtree Park, by calling 01744 455 052 or by logging on here.
Radio Merseyside's try time is on from 6pm to 7pm every Thursday.