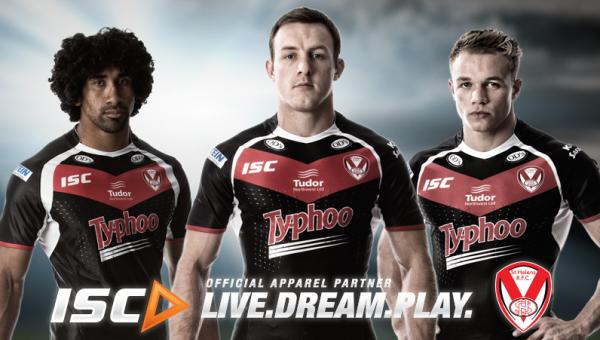 WE'RE Back in Black!
Saints are delighted to announce the launch of their brand new 2013 Away Kit in store and online
Designed and created in association with ISC, the Away kit is styled the same as the successfully launched 2013 Home Kit but with the body and trim colours reversed, whilst keeping the iconic Red Vee across the chest to produce a striking looking shirt.
Ty-phoo are once again our front of shirt Sponsor. The sleeves are sponsored by Knowsley Safari Park and MyProtein, whilst the Collar is once again sponsored by OD's Menswear with Tudor Northwest Ltd at the centre of the upper chest.
Hattons Solicitors and thepsdgroup.co.uk logos sit proudly on the reverse of the shirt.
"We are delighted with the look and quality of this new 2013 Away kit," Merchandising Manager Steve Law explained. "Once again ISC have come up with a functional players shirt which the squad are excited about playing in, and a stylish and practical replica shirt for fans to show their colours home and away.
"There has been an awful lot of anticipation, speculation and excitement looking forward to the launch of this year's kit, so we are sure the fans will be pleased with the final design. It is sure to be recognised everywhere it goes and we know the players and fans alike will wear it with pride."
As with recent ISC Replicas the shirt is designed to be close fitting and slightly shorter than other suppliers so please ensure you order larger sizes if you prefer a looser fit.
Shirt Prices; Adults (XS – 4XL) – £44.99, Adults (5XL -7XL) – £47.99, Ladies (L8-L18) – £44.99, Kids (Age 6-Age 16) £34.99, Toddlers (Age 1 -Age 4) £29.99.
Matching Shorts and socks are also available.
Get your new kit today from Saints Superstore at Langtree Park, or online at www.saintssuperstore.com
Jon Wilkin, Tommy Makinson and Ade Gardner will be in store on Saturday from 12.30pm.