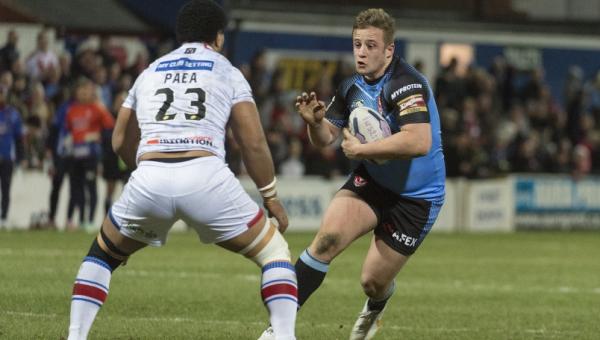 KEIRON Cunningham is hoping Saints continue to display the type of resolve that has them four from four so far this season.
His side travel to Widnes on Friday following a 'backs to the wall' 20-16 win over Wakefield that saw them roll with just one fit sub for close to an hour.
"The players were phenomenal," he said. "You could tell what it meant to them at half time. You could see the looks on everyone's faces, the words that were spoken. They knew what they wanted to do.
"We went there on the back of great preparation; we were physically and mentally right and I'm sure we would have posted a big score because the boys were that ready. But we lost players and it was backs to the wall. They responded well to adversity.
"They demonstrated the sort of stuff you can't do on a training field and displayed true grit and determination.
"We're lucky to have players who can play in numerous positions. At half time we tried to do what we could to make the second half as comfortable as possible in terms of our attacking structures. On the defensive side it was all about pure heart and determination.
"They did a superb job and I think they should have scored a few more points too. We had one brain explosion which made the game closer.
"I thought the whole forward line were phenomenal. To do what they did – Greg, Mose, big Al, Vea, Greenwood and Mark Flanagan – with Louie in the centres – was superb."
Saints will be without Jonny Lomax and Mark Percival this Friday after they sustained injuries in the win. They were due to have scans on leg injuries on Monday.
Luke Thompson has a chance provided he passes the relevant head tests, but Mark Flanagan is more than likely to miss the clash.
He had an operation on a blocked tear duct following a challenge Cunningham says should have been dealt with.
"I have spoken to the officials at the Rugby League," he added. "Mark needed surgery after the game and when you watch it back it is direct contact to the head with the shoulder.
"The pundits on Sky TV were applauding saying it was the best tackle they had seen all year. For me I think that is ridiculous. No one is up on a charge, no one gets anything said and I lose another player through something malicious. I'm sure if it was one of my players it would be different.
"It will be a tough old game at Widnes regardless of who is fit of not. The boys are looking forward to the challenge. They enjoy having their backs to the wall. We are comfortable with our team and squad. The front row is good, the backs are good, they know how to attack and defend with each other.
"If we turn up on the day, with the correct mental attitude then we will give Widnes a good game."
Tickets for Friday match remain on sale from the Ticket Office at Langtree Park, by calling 01744 455 052 or online here.