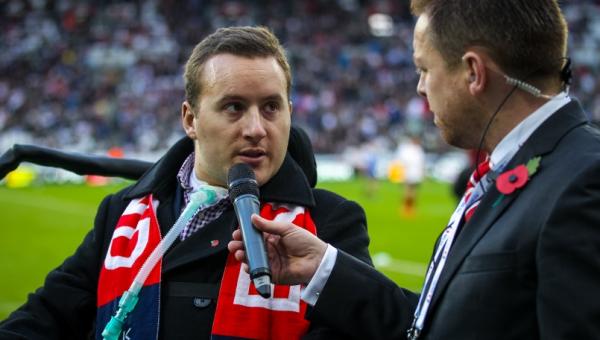 IN what has been a very sombre week for our sport, two people who have themselves endured the most terrible personal tragedy are joining forces to take on a huge challenge in support of Rugby League Cares.
The inspirational Matt King OBE is preparing for more sporting heroics by completing the 2016 Great North Run.
Ten years after he first made history by crossing the finishing line in the iconic half-marathon, Matt is taking to the road again to shatter even more preconceptions about disability.
Matt, 29, was left paralysed from the neck down as a teenager while playing Rugby League for the London Broncos Academy after severing his spinal cord in a tackle.
Since then, with support from the RL Benevolent Fund, he has gone on to achieve a first class honours degree in law, qualified as a lawyer, developed into an accomplished mouth artists and motivational speaker – and completed some amazing physical challenges.
As well as the 2006 and 2007 Great North Runs, Matt became the first person with his level of disability to complete a marathon when he crossed the New York finish line in November 2007, a feat he achieved with help from the Christopher Reeve Foundation.
Now, Rugby League's own Superman is reuniting many of his original 12-strong support team from 2006 to take to the streets of the North East and complete an amazing ten year treble.
Alongside Matt in his team of 12 will be none other than Lizzie Jones. Lizzie, who lost her husband Danny Jones, the Keighley Cougars & Wales international to an undiagnosed heart defect in May 2015, has never run any distance before but describes herself as honoured to have been asked to take part.
Talented songstress, and Mum to twins Bobby and Phoebe, Lizzie touched millions of TV viewers with her appearances at the Challenge Cup final and BBC Sports Personality of the Year. She will have her sister Stephanie training and running with her in preparation for massive challenge ahead on September 11.
In February of this year Lizzie launched the Danny Jones Defibrilator Fund, the aim being to ensure all rugby league clubs, from grassroots to Super League, have a defibrilator as part of their medical facilities.
It is hoped some of the funds the team raises for RL Cares will be passed on to the DJDF.
It is rather poignant that Matt and Lizzie are coming together in the same team. Danny Jones was in the Halifax academy side that took the field against London Broncos academy on April 4 2004, the game in which Matt suffered his injury.
Sadly, some of Matt's 2006 can't be contacted or are unable to take part due to injury or illness and Matt is looking for a couple of volunteers – if you would like to join his team, please email [email protected] asap
To sponsor Matt & Lizzie's valiant effort to complete a ten year treble of Great North Runs, please visit www.justgiving.com/fundraising/tenyeartreble and follow Matt on Twitter @tenyeartreble or his Facebook page TenYearTreble