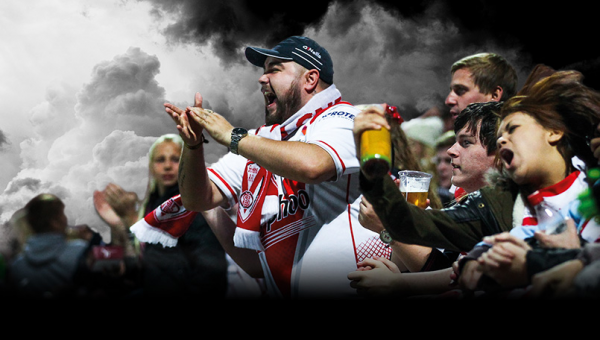 IT'S time to be in that number for 2017!
Strength in Numbers Memberships are now on sale – and we have FROZEN prices across the board.
For 2017 we have expanded our Strength In Numbers Membership scheme, introduced this season, to include even more benefits and to bring you closer than ever to your Saints.
You will receive exclusive news plus Club and local partner discounts directly to your inbox.
All of this in addition to all your First Utility Super League and Super 8s home games – up to 15 in total, the cheapest way to follow your Club.
We have created a Membership scheme that replaces your old Season Ticket. As a Member you will be closer to, communicated more with and feel more a part of your Club.
So if you want to attend every game religiously or support from afar, we have a Membership that all can be involved in.
We even have a Membership for fans that can't attend games!
And, you could win a trip to State of Origin in 2017! Click here to find out more.
We Are #SAINTSASONE.
Log on to our Membership site at www.mysaintsmembership.com to find out more.
Direct Debit Payment Plan
It's now even simpler for you to split your Membership into 10 easy monthly payments so you don't have to worry about paying out for the total price up front all in one go.
For example, this means a Hatton's Solicitors West Stand renewal is less than £24 per month!
Or a Family Membership of x2 Adults x2 Juniors in either of the Family Stands to watch every home game, including the Super 8s, starts from under £50 per month!
The 10 month plan is available from the launch date to the Renewal Deadline – October 31.
For a full breakdown of monthly payments for each Membership price please log on to www.mysaintsmembership.com to download a pdf version.
And now for the first time Members who are renewing their Membership can apply for the payment plan online without the need to fill in any forms! Visit www.mysaintsmembership.com for more info.
New Members must complete a paper version of the form.
Dates for Your Diary
RENEWAL DEADLINE & 10 MONTH DIRECT DEBIT CUT OFF – OCTOBER 31 2016

EARLY-BIRD DEADLINE – DECEMBER 24 2016

GENERAL SALE: DECEMBER 25 2016 ONWARDS
How To Buy
VISIT US – Call into the Ticket Office at Langtree Park (Mon – Fri 9am – 5pm / Sat 10am – 4pm)

BUY ONLINE 24/7 – New fans visit www.saintssuperstore.com, existing Members can find out details of how to renew online at www.mysaintsmembership.com

CALL US – 01744 455 052