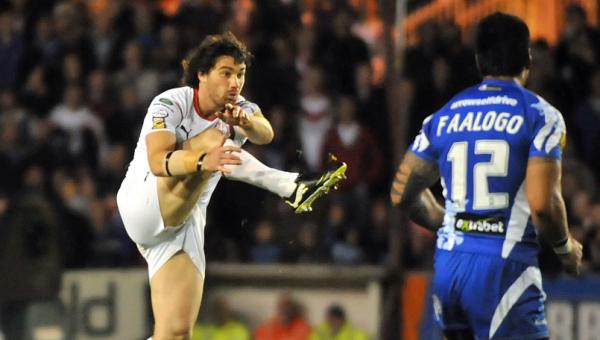 SAINTS are delighted to announce that Matty Smith has inked a three-year contract with the club.
The Grand Final winning International half-back arrives with more than 250 top flight games to his credit and a plethora of honours.
He has won two Grand Finals and was named Lance Todd winner in the Warriors' 2013 Challenge Cup win.
The 29-year-old has also played four times for England – in the 2014 Four Nations and 2015 Test Match series against New Zealand – and been named in the Dream Team twice.
Head Coach Keiron Cunningham said: "I'm delighted to have secured the services of Matty. He a class scrum half who possesses a fantastic kicking and passing game as well as being an accomplished goal kicker.
"He has excellent leadership qualities and composure in big games after having experienced several over the course of his career.
"Having come through the system here he understands the club's ethos and culture and has had a lot of success at the Warriors.
"This is a perfect opportunity for us to bring his experience and professionalism to the Saints to not only guide the side around the park but help nurture the youngsters we have here.
"His partnership with Theo Fages will be an exciting one to watch."
This is Matty's second spell at the club after he originally made his debut for Saints in 2006 – after signing from Blackbrook.
He moved to Widnes on loan in 2008 and then Salford, but was recalled by the Saints to play in the 2010 Grand Final run in.
Smith signed for Salford in 2010 but halfway through 2012 moved to Wigan – just a couple of days after playing for England against the Exiles.
At Wigan, Matty continued his development as one of the top 7s in the British game.
He was named Lance Todd Trophy winner in Wigan's cup success over Hull FC in 2013 and played in the Super League Grand Final victory over Warrington in the same year.
And, he won the Grand Final with the Warriors in 2016.
Matty Smith said: "I am thrilled and honoured to be back at my hometown team.
"It should be a seamless transition as I have come through the system at Saints and know the key staff and players as well as the club's culture.
"I am committed to bringing silverware back to the club and look forward to helping the younger players develop."
Smith joins Luke Douglas and Ryan Morgan in putting pen to paper for 2017 and beyond at the club.