Saints face Leeds Rhinos in Round 19 of the Betfred Super League this evening with the game kicking off at 7:45pm and there is tons for you to enjoy here at the Totally Wicked Stadium, on our Armed Forces themed night!
What's On:
Turnstiles – Open at 4:45pm.
DERBY DAY Curtain Raiser – Our U19s are in derby day action as they face Wigan Warriors with the game kicking off at 5pm.
Red Vee Cafe Bar – Opens at 5pm for you to enjoy a pre-match drink (or two).
Match Ball – The match ball, sponsored by O2 Business Centre Rainford, will be delivered by special guests of the Veterans of the Foundation as part of our Armed Forces themed match.
Bucket Collection: A pre-match bucket collection for the Armed Forces will take place.
Crabbies Passing Cage – Come over and visit our Crabbies promotional bus and passing cage located opposite the ticket office and Saints Superstore.
Club Face Painters – These will be operating in the Hattons Solicitors Family Stand and the Totally Wicked North Stand from around 6:30pm … come along and get your face painted in Saints colours for free!
Member Offers – We have two great offers for you – Any pie or hotdog & hot drink just £4. Any Pie & any alcoholic beverage just £6 and we also now have Nachos & Cheese available on selected kiosks! Just show your membership card at the kiosk to access the offers.
Carling Bar in the Totally Wicked North Stand – Fans in the North Stand can now join West Stand supporters in enjoying a 500ml Carling PETs from our new bottle bar in the concourse. Price is £4.
Contactless Payment – Will be available in the Karalius, Popular Side, Marching Inn, and Murphy's bars to speed up your service.
The A-Star Saints Angels – Will be performing several new performances before the game and at half time.
Half Time Entertainment – Our armed services in partnership with Saints Community Development Foundation's Veterans of the Foundation will form a guard of honor and parade the pitch at half-time. The half-time entertainment will be sung by military band 'Liverpool Scottish' and the Our Cash Dash Saints Lottery will be drawn.
Sponsors:
The Match is sponsored by Fleet Dynamic, the Match Ball sponsor is O2 Business Centre Rainford whilst the Man of the Match will be selected by Bidfood.
Team News and Match Preview:
Justin Holbrook named his 19-man squad ahead of the match and he previewed the clash here. There was also an interview with the returning Regan Grace who says he is refreshed and raring to go!
Tickets:
Tickets for the game are available from the Ticket Office at the Totally Wicked Stadium or by calling 01744 455 052. There will be cash turnstiles on the Hattons Solicitors West, Totally Wicked North and East Stands. If you require a South Stand ticket then you need to head to the Ticket Office. Tickets are available online until 5pm.
All ticket collections should be made from the Ticket Collection Point located next to the Ticket Office.
Saints Superstore:
The Saints Superstore will be open until kick-off and for 45 minutes after the final whistle. Check out the brand-new 2019 Summer Trainingwear range now in-store.

Programme:
The programme, sponsored by Warrington Audi, is based on a retro design from 1990. Priced at £3, it features an interview with Aaron Smith as well as an interview with Regan Grace whilst you can also hear from Lachlan Coote, James Roby, Justin Holbrook and Eamonn McManus.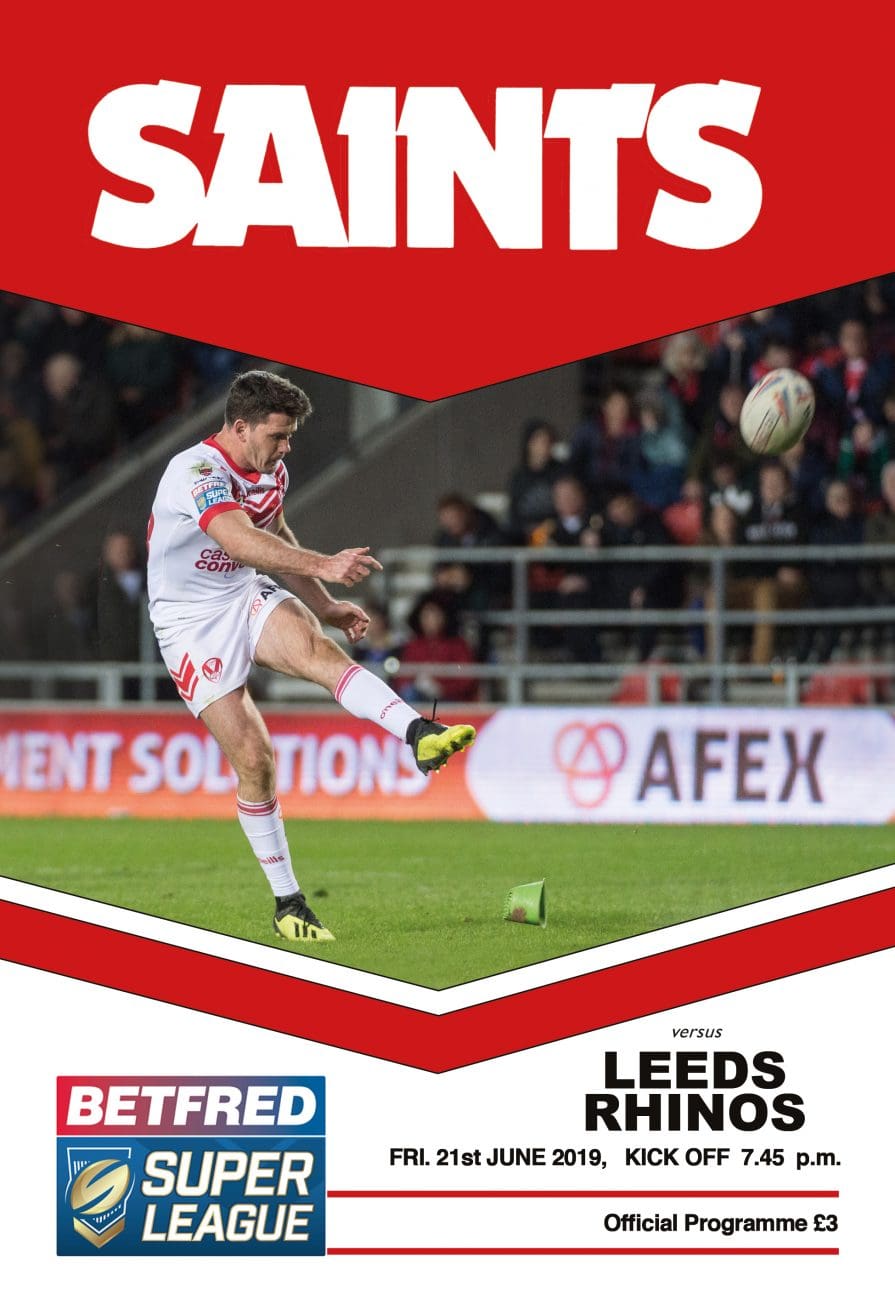 Please note: Anyone caught throwing beer, or any other liquid, alongside smoke grenades or flares, risks being banned for a period of games, and/or having Memberships tickets rescinded.