This weekend is the last one before the Coral Challenge Cup Final and we have extended the Saints Superstore opening hours in the run-up to the big match to make sure you are fully kitted out for Wembley!
The Superstore at the Totally Wicked Stadium will be open on Saturday 10am-4pm, and will now also be open on Sunday 12-4pm.
We are also open from 9am-7pm on Thursday 22 August.
At the Saints Superstore we have everything you need to kit yourself out and to show your colours with pride at the 2019 Coral Challenge Cup Final.
The staple item of choice, is of course, the 2019 home shirt, sporting the famous RedV, which the players will be wearing for the Final itself. This is available in Toddlers and Juniors all the way through to Women's and Men's sizes up to 7XL.
There is also our incredibly popular 2019 Away shirt. The blue design has been a revelation with fans this season, and has so far been one of our biggest selling shirts of recent years.
We also have our range of Summer Trainingwear including, polo shirts, t-shirts, caps and vests, again following the blue colour palette of the away shirt design.
We also secured a brand new range of special Wembley 2019 products including t-shirts, polos shirts and a scarf.
We even have a new range of tees to celebrate our full full-back…. Lachlan Coote!
And what trip to a huge final would be complete without foam hands, jester hats, wigs and new flags!
Click here to browse through our New Arrivals category for all the new ranges on offer.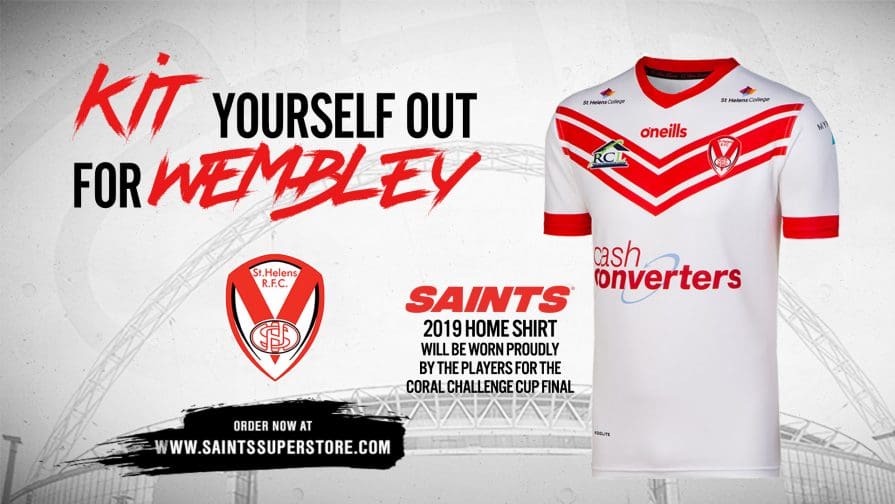 Wear that RedV with pride at Wembley!