Fresh from the news, St.Helens R.F.C. has linked up with MatchDayInfo, the global providers of digital match day programmes, we want to give one lucky fan a prize simply for downloading our Matchday Programme App!
The club turned to matchday e-programmes last season after seeing first hand the unsustainability of the traditional printed versions. The new digital first approach, which is clickable, printable, environmentally friendly and available FREE of charge for all fans, saw readership and engagement numbers increase and the Club has now taken the next step to improve that service once again thanks to MatchDay Info.
As revealed last week, ahead of the 2021 Betfred Super League season, our e-programmes will now also be uploaded to the MatchDayInfo App the day before each home fixture kicks-off, ready for fans to download for FREE to their Android or iPhone device.
Ahead of the new campaign we are encouraging fans to download the FREE MatchDayInfo App on your Android or iPhone device so you can get to grips with how it will work, including reading all of last years' issues ahead of viewing our first E-programme prior to our opening Betfred Super League fixture against Salford on Friday 26 March.
We are therefore giving one lucky fan a chance to win a £50 voucher to spend at the Saints Superstore either online or in-person once government restrictions allow.
COMPETITION
All you need to do is:
1. Download our new E-Programme App powered by MatchdayInfo (download links below):
Apple: http://apple.co/2lHlmqX
Android: https://bit.ly/2mbYkc3
2. Once the App has downloaded. Select St Helens as your Club
3. RT or share our social media post on Twitter/Facebook/Instagram and tag a friend in the comments.
The winner will be announced on social media on Friday 5 March!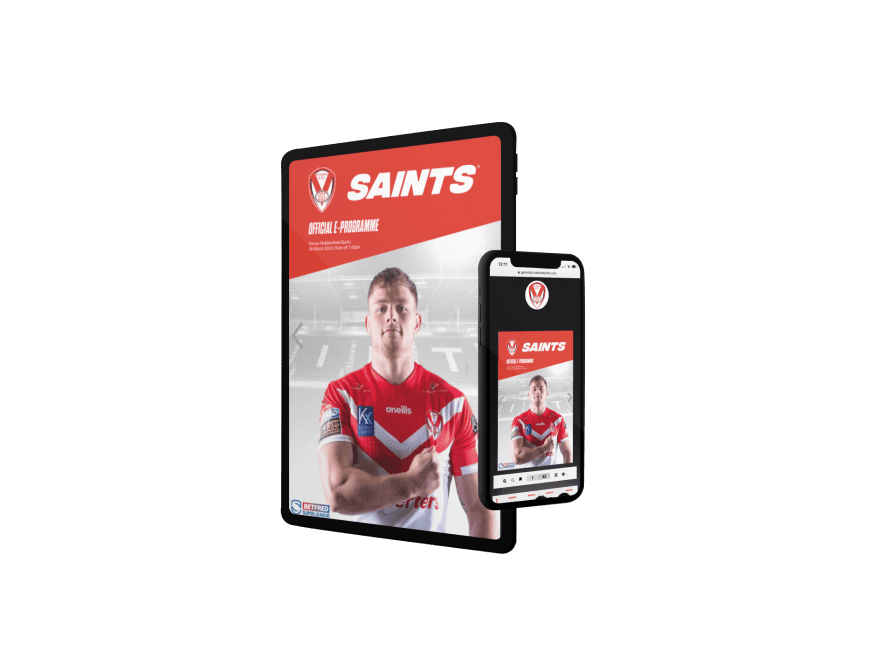 Our e-programme will also be available to read, download and print in our personalised branded official club 'GameHub' – powered by MatchDayInfo. Launching ahead of our first Super League game against Salford Red Devils, the 'GameHub' is a fully interactive matchday guide, bringing you all the latest news from the club, including the best and only place to view our matchday programme.
The GameHub is available across multiple devices, both handheld and desktop, making it easier than ever before to read our E-programme!
Follow the links below to view all our programmes from last season in our new-look GameHub.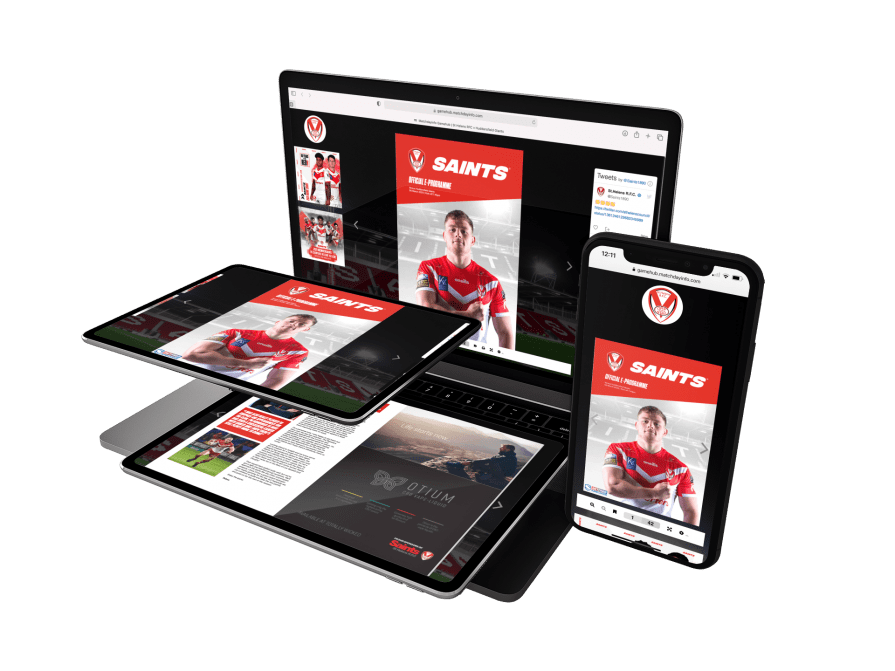 A Step-by-step guide to download our e-programmes on the MatchdayInfo App:
Firstly, for iPhone/iPad and Android users, please go to your respective app stores.
Search 'MatchDayInfo' or 'Match Day Info' – either search should see the app appear. Alternatively, you can click the links below to download the app on either Apple or Android:
Apple Download – apple.co/2lHlmqX
Android Download – bit.ly/2mbYkc3
Once the App has been downloaded, the fan has the opportunity to make an account and sign up via Email, Facebook or Twitter. (They can also opt to be push-notified when their favourite team(s) uploads new content onto MatchdayInfo).
Once logged in, the user will land on the Home Page, which will show the featured event of that day (which will be the Saints programme)
Clicking on the featured picture will take you to the event programme – where fans have the opportunity to purchase the programme quickly and simply.
The programme will then appear in front of the user. If they wish to exit, they can find their programme in the 'Downloads' section, where they can archive their favourite programmes and read whenever they wish.
To follow the 'St Helens' page, click 'Explore', then 'Team Index', then simply select 'follow' on the profile.
If you are having trouble accessing or have any feedback, please email [email protected]