Saints take on Leigh Centurions in Betfred Super League Round 5 at Leigh Sports Village on Friday (6pm) and we have all the pre-match news to get you warmed up for the game.
BACKGROUND…
Saints travel to bottom of the table Leigh Centurions looking to make it five wins from five from four following victories over Salford, Hull KR, Wakefield and Huddersfield.
Kristian Woolf's men faced the Leythers in Tommy Makinson's Testimonial fixture and it was Leigh who came out on top after a Ryan Brierley drop goal.
LAST TEN MEETINGS:
St Helens 28, Leigh 6 (SLR12, 28/4/17)
Leigh 24, St Helens 16 (SLR2, 24/2/17)
Leigh 4, St Helens 78 (SLR26, 4/9/05)
Leigh 20, St Helens 27 (SLR22, 22/7/05)
St Helens 60, Leigh 16 (SLR9, 8/4/05)
Leigh 21, St Helens 4 (SBC, 23/1/94)
St Helens 34, Leigh 16 (SBC, 19/9/93)
St Helens 64, Leigh 9 (SBC, 6/1/93)
Leigh 11, St Helens 6 (SBC, 11/11/92)
St Helens 12, Leigh 6 (SBC, 25/3/90)
Super League summary
Leigh won 1
St Helens won 4
Leigh highest score: 24-16 (H, 2017) (also widest margin)
St Helens highest score: 78-4 (A, 2005) (also widest margin)
21 MAN SQUADS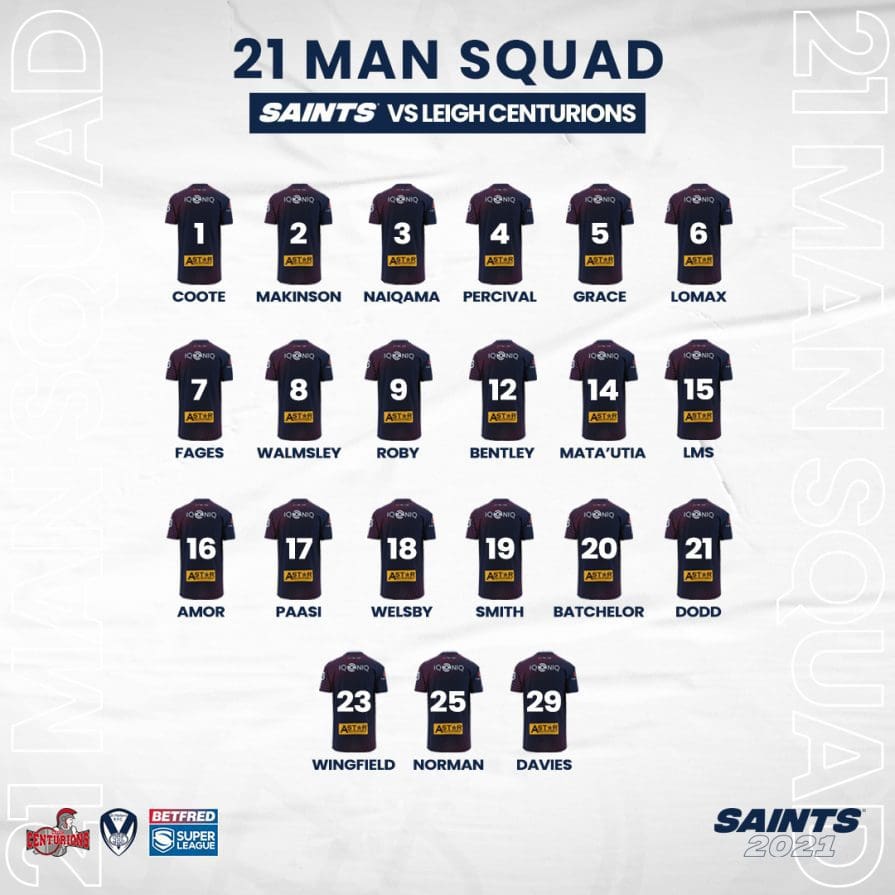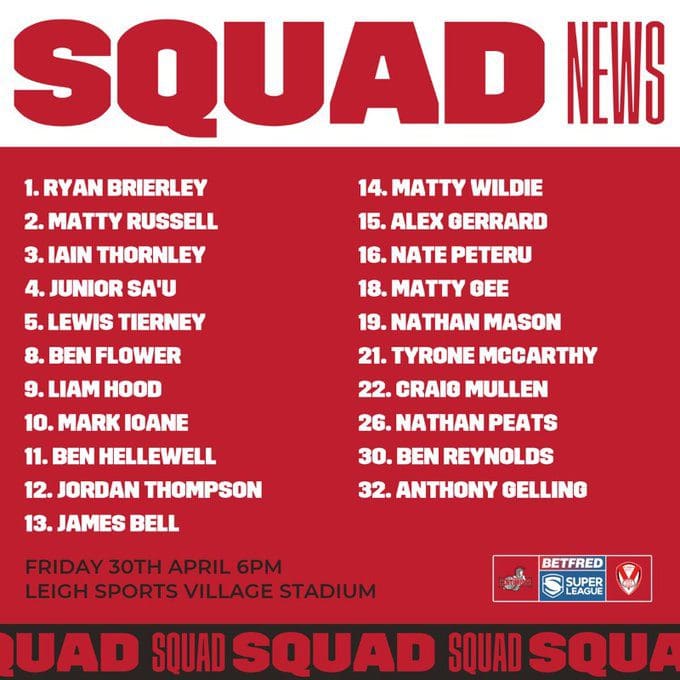 COACHES PREVIEW
Head over to Saints TV to listen to Kristian Woolf as he revealed Tommy Makinson has a chance of returning this week.
Theo Fages, who has impressed in recent weeks, also previewed the game here.
KIT?
Saints are the away team, and so will play in our blue alternative kit.
MAN IN THE MIDDLE?
M. Griffiths will be the referee.
FANS?
Following the Government guidelines the game will again be played behind closed doors.
WHERE CAN I WATCH THE GAME?
The game is only available for 2021 members to watch via a unique code on the RFL's Our League app. Read more here including how to watch on the app. Please note the deadline for codes for this week's game has now passed.
As revealed yesterday, our Club and players will join forces with the Rugby Football League, Super League Europe, Rugby League World Cup 2021 and the Rugby League Players' Association to add further sporting support to the boycott of social media this Bank Holiday Weekend.
The sport's governing body and its leading clubs and players have withdrawn from key social media platforms from 3pm today (Friday) until 11:59pm on Monday 3 May, to show solidarity with other sports and amplify the message that nobody should have to suffer abuse, racism or harassment on social media.
Despite no social media activity during this time, you can however follow all the latest from the game, including the build up, team news and minute by minute updates, in our Match Centre by clicking here.
All post match reaction will be published on saintsrlfc.com and Saints TV as usual.
RIVALS WATCH
Thursday:
Wigan Warriors vs Hull FC – 7.45pm – Sky Sports

Friday:
Wakefield vs Catalans – 6pm 
Leigh vs St Helens – 6pm – Our League
Salford vs Castleford – 7.45pm – Sky Sports

Saturday:
Warrington vs Hull KR – 1pm

Sunday:
Huddersfield vs Leeds – 3pm