Saints travel to Wigan Warriors on Friday (8pm kick off) for a Derby clash which could result in Saints being crowned Super League Leaders'.
BACKGROUND…
Saints travel to the DW Stadium on Friday evening (8pm kick off) to face rivals Wigan for the fourth time this year having faced off twice in Betfred Super League and in the Betfred Challenge Cup Semi Final.
In fact, this week's game will be 100th meeting between the two teams in all competitions in the Super League era and what better occasion to potentially secure the League Leaders' Shield. Kristian Woolf's men need just one point to secure top spot.
LAST TEN MEETINGS:
St Helens 20, Wigan 18 (SLR18, 9/7/22) (at St James' Park, Newcastle)
St Helens 18, Wigan 20 (CCSF, 7/5/22) (at Elland Road, Leeds)
St Helens 22, Wigan 4 (SLR8, 15/4/22)
Wigan 2, St Helens 26 (SLR20, 20/8/21)
St Helens 24, Wigan 6 (SLR13, 4/7/21)
St Helens 8, Wigan 4 (SLGF, 27/11/20) (at KCOM Stadium, Hull)
St Helens 6, Wigan 18 (SLR19, 30/10/20)
Wigan 0, St Helens 42 (SLR14, 29/9/20) (at AJ Bell Stadium, Salford)
St Helens 40, Wigan 10 (SLQSF, 27/9/19)
St Helens 32, Wigan 10 (SLR22, 12/7/19)
SQUADS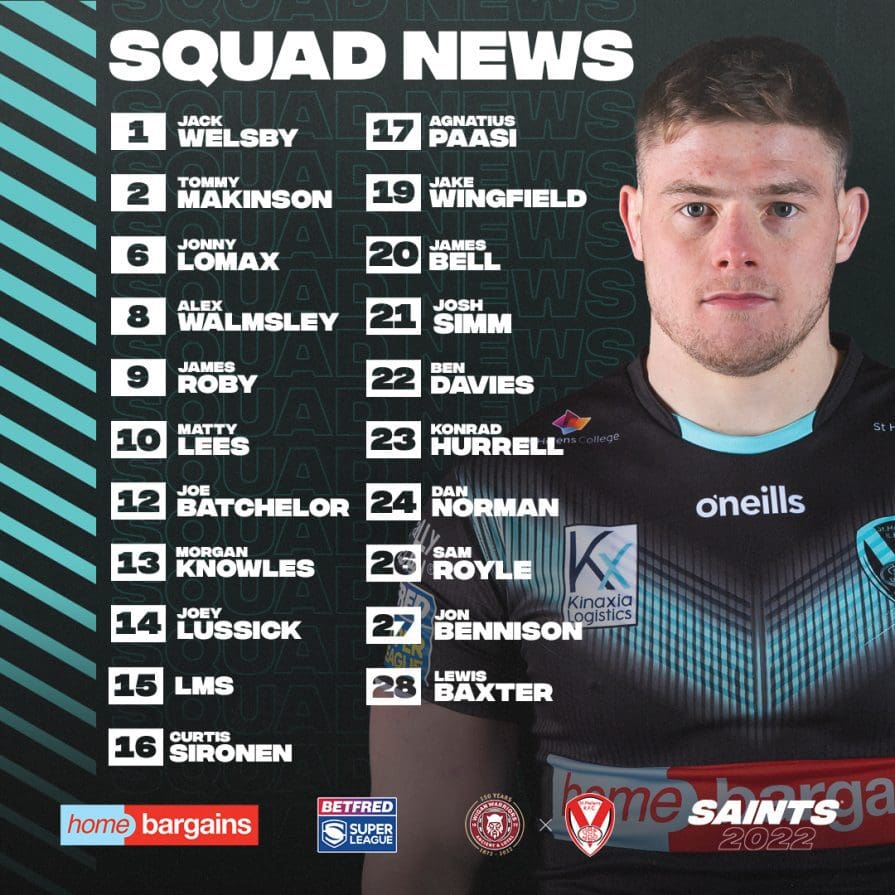 COACHES PREVIEW
Head over to Saints TV to hear Kristian Woolf's thoughts ahead of the game, whilst Curtis Sironen is happy to be back following his suspension and is looking forward to a fierce Derby!
MAN IN THE MIDDLE
Ben Thaler will be the referee and Robert Hicks has been appointed video referee.
KIT?
Saints are the away team and so will will play in our 2022 away kit!
CAN I STILL BUY TICKETS?
We sold out our initial allocation of tickets, but Wigan have now informed us that an additional small allocation of tickets have now been made available on a first come first serve basis.
These must be purchased through
Wigan Warriors
Stadium Ticket office on 01942 311111 from 9am Friday up until kick off. 
WHAT TIME DO THE TURNSTILES OPEN?
Away fans are seated in the North Stand and the turnstiles open at 7pm.
TRAVEL AND PARKING IN WIGAN
Directions
For more information on finding the DW Stadium CLICK HERE.
Parking
For details on where to park CLICK HERE.
I CAN'T ATTEND – WHERE CAN I FOLLOW THE GAME?
The game is televised live on Sky Sports, but supporters can also follow the game on our official Twitter, Facebook and Instagram accounts as well as on our Live Match Centre.
Reaction will follow the Full-Time whistle on our website and social media channels whilst the highlights and the full 80 minute replay will be on Saints TV for subscribers the following day.
RIVALS WATCH
Wednesday 24 August
Leeds vs Huddersfield – 8pm – Sky Sports
Thursday 25 August
Wakefield vs Hull KR – 7.30pm
Salford vs Hull FC – 7.45pm
Warrington vs Castleford – 8pm
Toulouse vs Catalans – 7.30pm (UK Time)
Friday 26 August
Wigan vs Saints – 8pm – Sky Sports