To celebrate the launch of our 2023 Heritage Kit, we have produced a single set of official one-off trading cards that have been split up and given away to fans who have pre-ordered the kit in advance of this week's Magic Weekend fixture.
We have selected ten legendary players to feature on the cards, spanning a huge portion of the Club's 150 year history!
Nine of these players were chosen as part of the Club's 'Top 17' back in 2010, and of course we have added in our new appearance record holder and Club Captain James Roby into the set to make ten in total.
The cards are all individually numbered with each card being completely unique and a 1 of 1 design.
Only these ten cards have been produced in total.
Ten lucky kit pre-orders selected at random will have received their card carefully placed within their pre-order package from the Saints Superstore.
The Heritage Kit will be worn at both the Magic Weekend 2023 which is fast-approaching, and will also be worn in our Heritage Celebration Fixture, in Round 25 Betfred Super League vs Leigh Leopards at Totally Wicked Stadium, Friday 8 September 2023.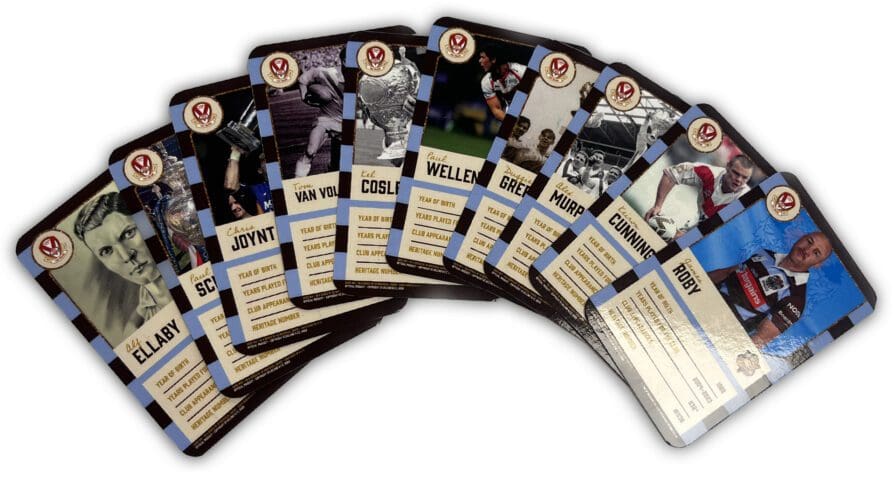 The Story
As we continue to celebrate the Club's approaching 150th Birthday in November 2023, we have gone back in time to acknowledge bygone days, before Saints had ever worn the famous 'Red Vee'.
Inspired by a trading card from the early Knowsley Road era in the early 1890's, which was part of the Baines Trading Card collection – which itself dates back to the time of the Club's founding in 1873.
The trading cards were collected by children and hugely popular in the fledgling days of the Club.
The colour pallete has been inspired by this trading card crest which also features on the lower left hem of the shirt.
The kit blends together a celebration of History, Club and Town into one.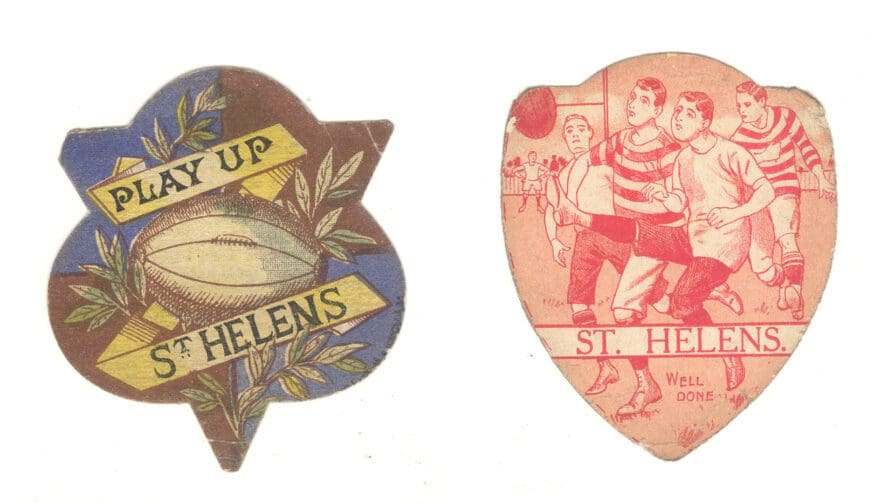 The 'Play Up St.Helens' Crest taken from a Baines Trading card and another of the series from the era of the Club's founding in 1873. 

There is very limited stock left which is now onsale in-store only, and there is also limited stock available from the Super League pop up shop outside St. James' Park, Newcastle. 
When ordering, if you opted for Home Delivery when ordering, you should have recently received an email with a dispatch confirmation including a Royal Mail Tracking Number. If you chose the other option of Collection from the Saints Superstore, you should have received an email confirming your item is ready to be collected, please bring this email with you when collecting. We would advise customers to collect their items as soon as possible.
Please contact the Saints Superstore ASAP if you believe you have placed a pre-order and have not received any contact from the club.
Saints Superstore Opening Times
Monday – Friday 9:00AM-5:00PM
Saturday 10:00AM-4:00PM