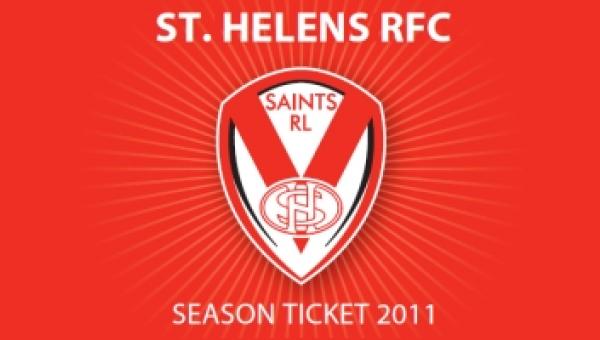 SEASON Tickets for the 2011 season are still available to buy and be collected from Saints' Town Centre outlet.
Fans will receive their ticket booklet for the Super League XVI season 'on the road' at Widnes and also their allocated seat at the New Stadium.
"We have worked hard over the last few weeks to make sure that everyone who has bought a season ticket for the new stadium has been allocated an equivalent seat at the Stobart Stadium in Halton," a club spokesman said. "Everyone at the club is looking forward to an exciting 2011 season and the only guaranteed way to see it all unfold is with a season ticket."
Remember, season ticket holders not only gain guaranteed entry to all Saints home Super League Fixtures next season, but also five per cent off the ISC Leisurewear range, 50 per cent off Magic Weekend tickets, priority on big match tickets and free entry to Saints Challenge Cup Fourth Round match – plus rounds five and six for kids.
And… your ticket price is frozen for 2012 and 2013.
If you've not got yours yet, pop into the Saints Superstore in St Helens Town Centre (Brownlow Arcade).
You can also call 01744 751 419 or log on to www.saintsnewstadium.com    
 

Season Ticket Price (Full)

Club Seat Area

Adult

Concession

Junior

Membership

Season Ticket

North Stand (reserved seating)

£275.74

£190.98

£190.98

n/a

n/a

East Stand (unreserved seating)

£213.45

£131.74

£32.68

n/a

n/a

South Stand (reserved seating)

£292.09

£202.21

£202.21

£900.00

£383.00
Family Season Ticket Pricing

North Stand

(reserved seating)

East Stand

(unreserved seating)

1 Adult & 1 Child

£419.74

£221.62

1 Adult & 2 Children

£592.34

£251.23

1 Adult & 3 Children

£763.91

£280.85

2 Adults & 1 Child

£667.91

£413.62

2 Adults & 2 Children

£840.51

£443.23

2 Adults & 3 Children

£1,012.09

£472.85