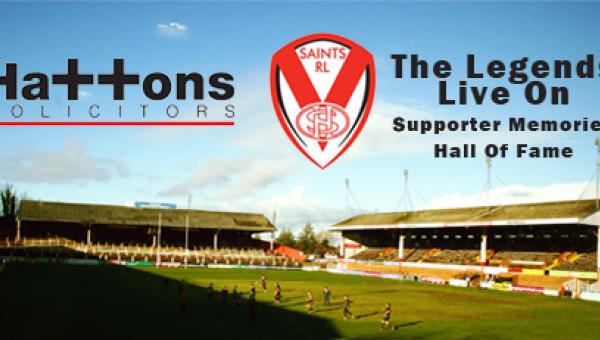 SAINTS fans and past players recently returned to Knowsley Road to reminisce about their memories and special times at the club.
Filmed overlooking the pitch, loyal fans – some that have supported the club since 1939 – looked back over the years and shared their stories.  
It wasn't just supporters who were keen to tell their tales, past players Neil Holding, Peter Harvey and Dave Markey also spoke about their memories, giving an insight into what really happened behind the scenes at one of the most successful rugby league clubs in history.  
Avid Saints supporter and senior partner at Hattons Solicitors, Bruce Hatton commented: "I've been a loyal Saints supporter since I was a child. Looking back at my first trip to the club and the electric atmosphere standing on the terraces, it's not hard to see how I became hooked to this exciting game. My own memories and experience of Saints and Knowsley Road meant that Saints were the natural club for us to sponsor when we opened our first Hattons office almost 10 years ago.  
"We have chosen to create these films along with digital media specialists Trusupporter, as a way of giving back a quality service to the supporters. Every fan has a tale to tell and I believe we have helped to bring these memories to life through our online Supporter Memories Hall of Fame.  
"As we all say goodbye to Knowsley Road we can fondly look back on many happy memories there and now it's time to look forward to the new stadium where many new memories will be created."  
The online Hall of Fame is an interactive website, showing pictures, stories and most importantly seven short films of four supporters and past players talking about their happiest, saddest and funniest memories as a Saints fan. There will be seven more fans films added in the New Year of four more supporters.  
Louise Cuming of Trusupporter said: "Fans have amazing stories – it is an absolute goldmine of surprise, intrigue, shock and warm-hearted human interest. For Hattons we have found a St Helens fan that slept with the Carnegie Rugby League Challenge Cup and the Engage Super League Trophy! We've called that film 'three in a bed' but who could have predicted that? It is just one of many unusual stories we have captured."  
The online Supporter Memories Hall of Fame can be viewed by visiting www.hattonslaw.com/saintshalloffame and entering your email address to log in.