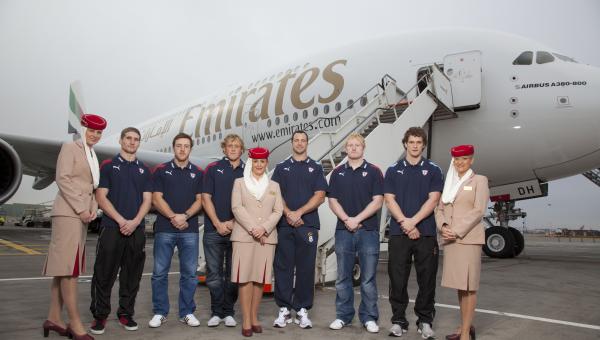 EMIRATES has been named as the Official Airline of the RFL, Super League and the England Rugby League team.
Saints and England players James Graham and James Roby alongside Sean O'Loughlin, Sam Tomkins, Adrian Morley and Ben Westwood helped seal the one-year deal at Manchester Airport.
The players, with a collective weight of more than 90 stones, were challenged by Emirates to pull their 517-seat A380 superjumbo plane on which England flew to New Zealand and Australia last autumn for the Four Nations tournament.
"It's great to have Emirates on board as a sponsor, not only of the RFL and Super League, but also of the England team itself," said England's Four Nations captain James Graham. "The involvement of one of their giant A380s was a really exciting way to announce the sponsorship and we look forward to working together in both our league and international play."
Paul Kimberley, the RFL's Commercial Director, said: "The RFL is delighted to have this partnership with Emirates, a company which shares many of the same core values as our sport.
"I am looking forward to working closely with Emirates to develop our special partnership with the RFL, England and Super League."
With its long-standing commitment to the world of sports, Emirates has been involved with a wide range of sporting events and teams across the globe for more than 20 years.
In 1987, only two years after its inception, Emirates began to build up its impressive sponsorship portfolio, which now includes partnerships with the IRB (International Rugby Board), FIFA and the ICC (International Cricket Council).
"We are very proud to now carry the title of Official Airline of the RFL, the Super League and the England Rugby League team and look forward to a very successful partnership with them," said Emirates' Vice President, UK & Ireland, Laurie Berryman.
"Emirates Airline has been involved in Rugby League as a partner of the Warrington Wolves for a number of years now and we see this as a very important avenue to reach both sports fans and Emirates customers alike in this region."
Emirates is one of the fastest growing airlines in the world and on September 1, 2010, introduced an A380 on one of its two daily services from Manchester, the first scheduled deployment of the double decker aircraft  to a regional airport.
For more information on Emirates' sport sponsorships and non-stop flights to six continents from Dubai, please visit www.emirates.com/uk