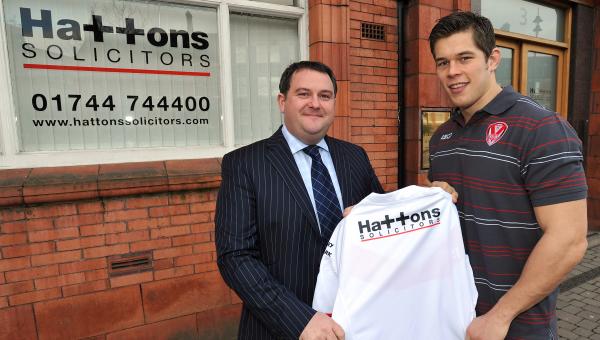 HATTONS Solicitors are delighted to announce their sponsorship of new Saints RLFC player Louie McCarthy-Scarsbrook for the 2011 season.
With an already promising start scoring against Widnes Vikings, Hattons are happy to be sponsoring Louie for the rest of the year, who made close to 100 appearances for Harlequins before heading north.
Louie commented, "I'm so happy to be Hattons sponsored player for the 2011 season. It is a new club, new life and new career for me up here and hopefully I can do the business."
"I want to settle down at Saints and hopefully Hattons can help me do that. Everyone's been so friendly and welcoming and I look forward to getting involved with Hattons 10th anniversary celebrations later on this year."
Bruce Hatton, Senior Partner at Hattons Solicitors and avid Saints supporter, said: "We have sponsored Saints for nearly 10 years now, and are so pleased to be sponsoring Louie this season as well.
"Saints are a club going through a period of transition with exciting times ahead, with a new coach, new training facilities and a new ground. We are glad we have taken the opportunity to sponsor one of their newest players.
"We look forward to working with Louie and helping him to settle in at St Helens. We wish him every success playing for Saints."
Louie will also be writing a blog about his times at the club, starting in February, which will be published through Hattons Solicitors blog available to view at www.hattonslaw.com/blog
If you want a look behind the scenes at one of the most successful clubs of the modern era, make sure you visit Louie's blog, talking about training, life in St Helens and the thrill of playing for Saints during the season.
You can also view seven new Saints fans films on Hattons online Hall of Fame by visiting www.hattonslaw.com/saintshalloffame