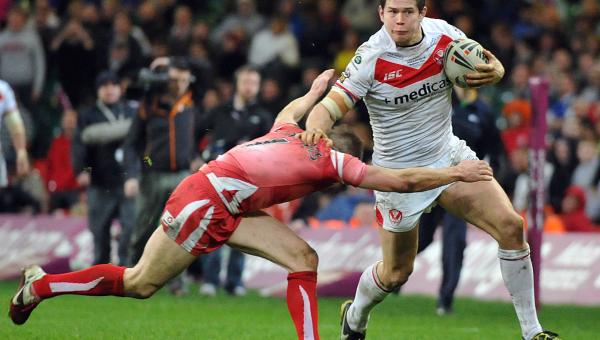 RFL Chief Executive Nigel Wood has hailed Millennium Magic 2011 as the best ever start to an Engage Super League season after Rugby League supporters were treated to a weekend to remember in Cardiff.
Two bumper crowds on Saturday and Sunday witnessed some thrilling action as Rugby League's elite competition kicked off in style beneath the closed roof of the Millennium Stadium.
"Millennium Magic has been a truly uplifting weekend and the best start to a Super League season we have ever had," said Wood.
"The attendance exceeded our expectations and the atmosphere both inside and outside the Millennium Stadium was magnificent.
"The closed roof allowed us to stage seven matches at the same venue in February and helped create a carnival atmosphere for what has become a true highlight of the sport's calendar.
"The supporters were treated to some high quality action on both days, especially on Sunday when the Welsh fans saw Crusaders make a dream start to the season.
"On behalf of the RFL I would like to congratulate all the fans who made the trip to Cardiff. The city and stadium have been a kaleidoscope of colour and the supporters have all contributed to what has been a weekend to remember."
The attendance for the opening day on Saturday, which featured four matches, was 30,891 whilst 29,323 people saw Sunday's three fixtures. The combined attendance of 60,214 is higher than the total for the inaugural Millennium Magic in Cardiff in 2007 (58,831) and an increase on the crowds at the two Magic Weekends staged at Edinburgh's Murrayfield Stadium in 2009 (59,749) and 2010 (52,043).
Nigel Wood said the success of Millennium Magic 2011 was helped by the partnership between Super League, the Welsh Assembly Government, Cardiff City Council, Cardiff and Co and the Millennium Stadium, all of whom had played important roles in a great sporting weekend.
"The support of our partners in Wales has helped make Millennium Magic as successful as it has been," added Wood. "The promotion of the event in and around the city of Cardiff has raised awareness of Millennium Magic and helped create the perfect environment for the supporters of our 14 Engage Super League clubs to have a good time."
The Wales Minister for Heritage, Alun Ffred Jones, said: "I'm delighted this year's Millennium Magic Weekend has exceeded its target attendance of 60,000.
"I'm sure all the fans received a warm Welsh welcome, especially those who experienced our special CWTCH cam. The success of this weekend once again shows that Wales is well equipped to host major events."
Millennium Stadium Manager Gerry Toms said: "It's been a great carnival weekend in Cardiff once again to kick off the Engage Super League season and I'm thrilled that the Millennium Stadium has played a major part in delivering world class sporting action to the bumper crowds that have descended on the capital city.
"With the combination of spectacular rugby action, the lively arena entertainment and the warm welcome in Cardiff I am confident that all the fans have enjoyed a weekend to remember at the home of Welsh sport."