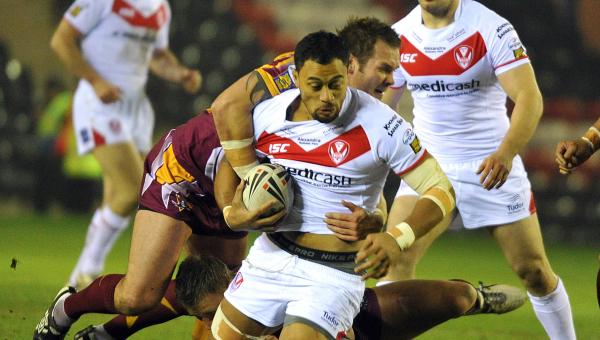 ROYCE Simmons is looking to get off to the best possible start when Saints open their season 'on the road' at the Stobart Stadium on Friday.
His side are unbeaten in their two engage Super League games so far and place their remarkable winning record over Warrington on the line when they take to the field.
"History is just that for me," Royce said. "More important is that we do give a good effort in our home game, especially our first one at Widnes.
"We are trying to say to our fans this is our home ground for 12 months and we want you to come here and support us.
"The fans have to buy into that but it is us that have to lead it, show a lot of energy and commitment early in the game and get them behind us, so they can jump on the back of it."
Warrington have not beaten Saints since 2001 and their winless run on their travels stretches back to 1994.
But Royce thinks they will be an even tougher proposition this time round.
"Warrington have been beaten in the past due to their attitude rather than their class – sometimes they must have been thinking, 'oh no we are going to Knowsley Road where we lose.'
"But I went watching the Warrington v Hull KR at the weekend and it was a good game of football with two big packs going at each other.
"Warrington have got good finishing on the edges. They have got a good attacking kicking game. They hung in there and won the game.
I know Hodgo [Brett Hodgson] – I know him back to front actually – and he was at his best finishing tries down the edges. He provided the final pass for two tries and scored the last one himself and kicked the winning goal.
"Joel Monaghan regularly scores 20 tries in the NRL but half of them come from attacking kicks. He is dangerous and looked so the other day. Westwood terrorises people because he is so tough.
"Warrington are a tough side – sprinkled with internationals and they won two Challenge Cups so we will have to be at our best.
Saints will be without Leon Pryce or Gary Wheeler for the match but the return of Paul Wellens and James Graham looks more likely.
"Leon tried to run in straight lines but he started to feel twinges with his groin injury so we told him to get off," Royce added. "Gary Wheeler could not run in training earlier in the week so neither will play. Wellens got through non-contact training on Tuesday so that is promising. James Graham got through training so the medical staff are happy for him to play."
Tickets for Saints mouthwatering Super League XVI home opener with Warrington Wolves on Friday February 25 (8pm) are still on sale.
This ALL TICKET encounter kicks off Saints' home campaign at their temporary Widnes venue.
The East Stand has sold out whilst Warrington have sold their allocation of West Stand tickets.
Tickets will be available on matchday from the matchday Ticket Office window on Friday – North and South Stand tickets still remain.
Tickets are now on sale from Saints Town Centre Store in the Church Square Shopping Centre and by calling 01744 455 050.
You cannot buy tickets from Widnes' ticket office during the week or via the Stobart Stadium's phoneline.Tickets will be on sale from the Ticket Office from 4.30pm on Friday only at the Stobart.
Please note, you can only enter the stand your ticket corresponds to. For example, if you have an East Stand ticket, you can't use the North Stand turnstiles to access your seat.