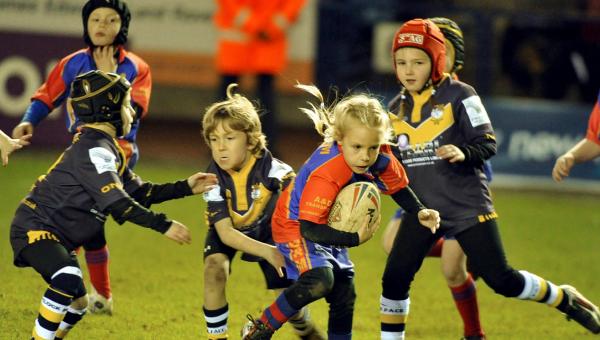 SAINTS are aiming to make u7s participation in Rugby League a priority in the town this season.
The Service Area Management Committee will be helping each Community Club to establish an under 7s side for the start of the next campaign.
Funding has been secured from the Saints Community Development Foundation for one Level 1 Coaching Course per club, which has been earmarked for the new u7s Coach.
And already the fruits of the project have borne fruit with Clock Face Miners u7s playing Newton Storm's u7s during half time at the recent Saints v Harlequins match.
Saints Service Area Co-ordinator, Steve Leonard, said: "The half time game was a great advertisement of what we are trying to achieve, with all the children enjoying their experience.
"Credit must go to the players, coaches, parents and both Community Clubs who produced such a spectacle.
"The evening was only the start of a long summer promoting u7s and Cubs camps all around the Community Clubs.
"We will be working hard with each club to carry on after the Saints Summer Camp to give each child the opportunity to continue playing Rugby League."
He continued: "I'd like to thank Saints for their assistance along with the Widnes Vikings for letting the games go ahead.
"The efforts of the Service Area Management Committee in making this happen alongside the Community Development Team at Saints have also been invaluable."
Negotiations are already underway to secure venues for the Summer Camps and will be publicised on Saints Official Website.