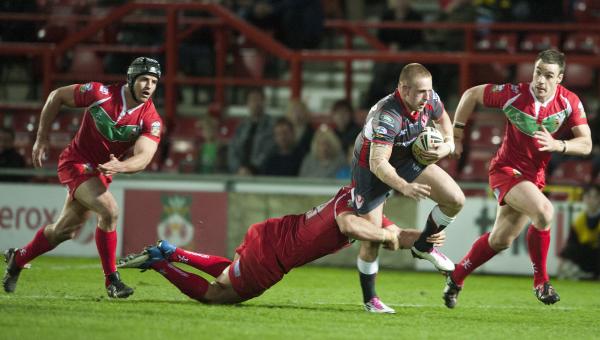 "GOOD for 40, not so good for 40″… that was Royce Simmons' view of the 34-18 win over Crusaders RL on Friday night.
Saints raced to a 30-6 half time lead over their hosts with a breath-taking display of attacking rugby league but fell well short of that benchmark after the break.
"We worked on a few things during the week and they fell together in the first half," Simmons said. "The forwards worked as a unit and the links between the halves and the outside backs was working really well. I was more than pleased at half time but a little worried about our defence as we weren't coming straight up on the Crusaders off our line, we were 'sliding' up.
"In the second half, well… I don't know what we were trying to do in attack and defence. We had built up a lead and perhaps we didn't keep the respect for the Crusaders that we should have.
"We spoke in the week about the fact they had momentum and had new players coming in and settled halves. We talked about if we give them a little bit, they would take a mile and they did that.
"They could have had another try."
He continued: "It is too early to worry about what other teams are doing; just our own form. And quite simply for 40 minutes we were good, and for 40 were weren't so desperate. That has happened more than once this year.
"There's no point talking about what you are doing in the second half if you don't do it, and that's what's happened tonight."
Simmons also explained after the game why Tommy Makinson was left as a non-playing substitute.
"I have done it a few times this season. I carry a young outside back on the bench and often I won't use them. They are there as cover for injuries. A lot of coaches like four forwards but I don't as if you lose a winger, centre, full back or whatever, you don't have cover. Tommy can play three positions."