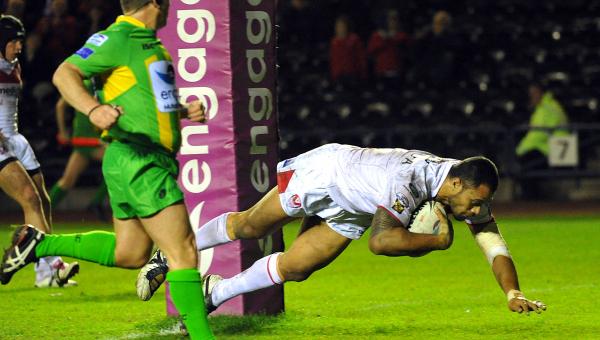 ST HELENS prop Tony Puletua has been named as Brian McClennan's fourth selection for the 22-man Exiles squad that will take on England in the International Origin Match on Friday June 10 at Headingley Carnegie (8.00pm).
The Exiles squad will consist of the best Australian and New Zealand players currently playing in the Engage Super League and Puletua joins Exiles captain and current Leeds Rhinos hooker Danny Buderus, vice captain Thomas Leuluai from Wigan Warriors and Huddersfield Giants' Luke O'Donnell as Brian McClennan's current selections and the new concept is something Puletua is excited to be involved in.
"It is a great honour to be part of something very special," said the St Helens forward. "This is the first Exiles team to be selected to take on England and it is a fantastic opportunity to play alongside some great players.
"I am really excited about the International Origin Match now that I know I have been selected. I am looking forward to playing in a team with other previous NRL players that you wouldn't usually get the chance to play alongside.
"All of the current squad have represented either Australia or New Zealand and it is a great chance to come together and see what we can do.
"I think it is going to be a tough game. I am sure that England will put together a very strong squad so I am expecting a tough challenge."
Puletua becomes the fourth of nine players to be selected by Brian McClennan for the 22-man Exiles squad which will also comprise of 13 players voted for by Rugby League fans and McClennan believes Puletua will be a great asset to the Exiles squad.
"Tony is one of the form props in the Engage Super League," said the Exiles coach. "He has had a good start to the season for St Helens and I feel he is an ideal choice for the Exiles squad.
"TP (Tony Puletua) is such a versatile forward having played most of his career as a back row. He is a big unit and has the ability to offload the ball in heavy traffic. That will be imperative against England as we try to combat their biggest strength, which is their pack of forwards.
"My objective is to build a formidable pack that will add stability and muscle in the middle but will also have dynamic elements in our offensive play. TP is integral to our planning and will compliment the other forwards we are looking at."
In a unique concept to British sport, the final Exiles squad will be chosen in part by the public, with fans having the chance to choose 13 of the 22 squad members to face England. The remaining nine selections will be made by the Exiles coach, Brian McClennan, and his assistant Terry Matterson. Fans can make their selections and collect their £5 discount voucher (redeemable against the cost of a full price adult ticket) online at www.internationalorigin.com
Pre-purchased tickets for the International Origin match start from £19 for adults and £12 concessions and are available at www.rugbyleaguetickets.co.uk or by contacting the RFL Ticket Office on 0844 856 1113. Tickets purchased on the day of the match start from £22 for adults and £15 for concessions.