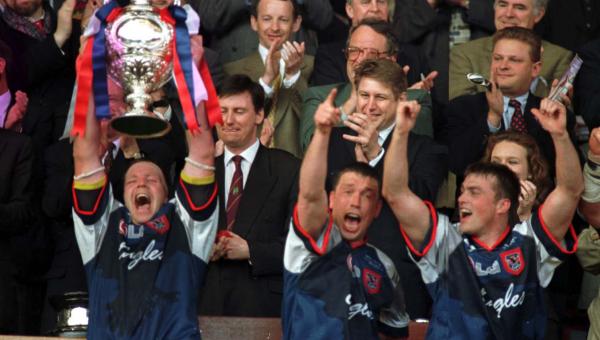 SHEFFIELD Eagles coach Mark Aston says his side are ready to take the fight to St Helens when the two sides come together in a Carnegie Challenge Cup fourth round tie at Stobart Stadium on Saturday (3.00pm).
Aston picked up the Lance Todd Trophy as a player when he inspired Sheffield to a shock Wembley triumph over Wigan Warriors in the 1998 Challenge Cup final and he says the class of 2011 won't fear their Super League opponents.
"Underdogs win games in every sport," said Aston. "We proved that in '98 and that game should have been the catalyst for this club but it's all about progression and victory against Saints would be another great chapter in the history of Sheffield Eagles
"There are always ways to win a game and we don't go into any fixture thinking we'll get beat so I can assure you we'll take to the field against St Helens believing we can win.
"Obviously it will be tough, they're full-time and probably get more training in one day then we get in a week but we'll put in a performance we can be proud of and look to win the small battles.
"If we do that, the result will look after itself."
The Eagles came close to pulling off a shock victory during the fourth round stage of the competition last season against St Helens' major rivals Wigan, eventually losing out 50-34, and Aston says that performance will give his side the belief that they can make life just as difficult for St Helens.
"We'll look after our own game and go out there and enjoy it and ensure we play the game with a smile on our face," said Aston. "We always challenge ourselves to compete.
"It's a simple game when you break it down. If you can keep hold of the ball then you make life hard for the other teams to score, if we can put together a good kick and chase and compete in all the different sections then we have a good chance.
"We went to-to-toe with Wigan in the Cup last season and they were THE team in the competition. We set ourselves little benchmarks and small objectives and we were close to causing a huge upset so there's no reason we can't repeat that this season.
"If you break the game down from 80 minutes to small segments, it gives the players clear objectives to aim for and we'll have a week off before the Saints game to prepare and study them and concentrate on breaking down their attack and exploiting their weaknesses."
Tickets for the Carnegie Challenge Cup fourth round contest between St Helens and Sheffield Eagles at the Stobart Stadium Widnes cost £10 adult and £5 concessions.
St Helens season ticket holders can gain free entry as can Sheffield's Junior Season Ticket Holders.