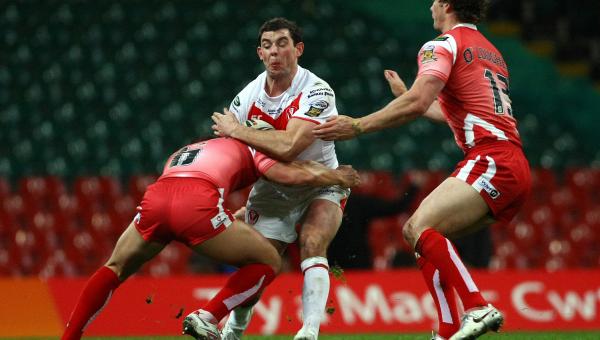 SAINTS have announced their 19-man squad for Saturday's Engage Super League trip to Huddersfield Giants.
Paul Wellens and Tommy Makinson return to the side for top of the table match but Kyle Eastmond, Tony Puletua and Chris Flannery miss out.
The squad is:
1. Paul Wellens, 2. Ade Gardner, 3. Michael Shenton, 4. Sia Soliola, 5. Francis Meli, 8. Josh Perry, 9. James Roby, 10. James Graham, 12. Jon Wilkin, 15. Louie McCarthy-Scarsbrook, 18. Matty Ashurst, 21. Shaun Magennis, 22. Jamie Foster, 24. Tom Armstrong, 27. Nathan Ashe, 28. Thomas Makinson, 29. Scott Hale, 32. Joe Greenwood, 33. Warren Thompson.
Nathan Brown, Giants' Head Coach, will choose from:
1. Scott Grix, 2. Michael Lawrence, 3. Leroy Cudjoe, 4. Lee Gilmour, 5. David Hodgson, 6. Kevin Brown, 7. Danny Brough, 8. Eorl Crabtree, 9. Luke Robinson, 10. Darrell Griffin, 11. Luke O'Donnell, 13. David Faiumu, 14. Shaun Lunt, 17. Danny Kirmond, 18. Larne Patrick, 19. Greame Horne, 20. Jermaine McGillvary, 29. Joe Wardle, 37. Dale Ferguson.
The match kicks off at 5pm and the referee is Thierry Alibert.
If you can't make the match, it will be covered extensively in the new look Match Centre as well as on Saints' Official Twitter and Official Facebook sites.
It will also be broadcast on Wish FM.
Stats:
Saturday's televised clash is the first meeting between the sides since St Helens ended Huddersfield's hopes of a first Super League Grand Final in last season's play-offs.
St Helens have won their last five meetings with Huddersfield. The Giants' last win was 24-14 in the semi-final of the Challenge Cup in 2009. Their last Super League win was a 28-26 home victory on 24 March, 2008 – the Saints have won the last three games between the sides at the Galpharm Stadium since then.
All of Huddersfield's three Super League wins against St Helens have come at home.
Last 10 meetings:
St Helens 42, Huddersfield 22 (SLQSF, 24/9/10)
St Helens 30, Huddersfield 22 (SLR17, 11/6/10)
Huddersfield 6, St Helens 24 (SLR8, 28/3/10)
St Helens 15, Huddersfield 2 (SLQPO, 19/9/09)
St Helens 12, Huddersfield 10 (SLR25, 21/8/09)
Huddersfield 24, St Helens 14 (CCSF, 9/8/09) (@ Warrington)
Huddersfield 6, St Helens 23 (SLR2, 22/2/09)
Huddersfield 22, St Helens 40 (SLR26, 24/8/08)
St Helens 46, Huddersfield 16 (SLR18, 29/6/08)
Huddersfield 28, St Helens 26 (SLR8, 24/3/08)
Super League Summary:
Huddersfield won 3
St Helens won 26 (includes wins in 2009 and 2010 play-offs)
Huddersfield highest score: 36-22 (H, 2003) (also widest margin)
St Helens highest score: 68-18 (H, 1998) (Widest margin: 68-18, H, 1998; 54-4, H, 2007)