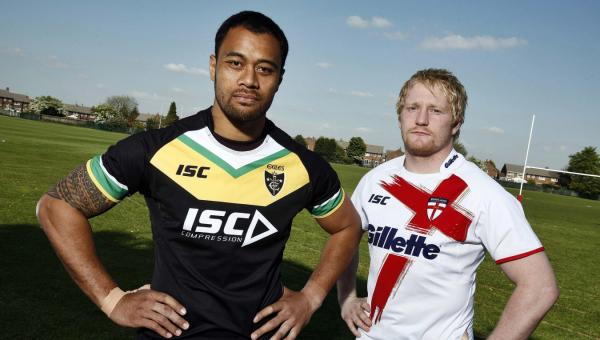 THEY may be separated by 12,000 miles but rival coaches the Steve McNamara and Brian McClennan are united by one shared emotion: the thrill of seeing 34 of the world's most exciting players go head to head in the International Origin Match next month.
For England coach McNamara, his experiences with his 32-strong Elite Training Squad at their recent camp at Loughborough University has heightened his sense of anticipation ahead of the titanic clash at Headingley Carnegie Stadium, Leeds, on Friday June 10 (8.00).
And for McClennan, who will fly in from his home in Auckland later this month to lead the Exiles, the opportunity to coach a team drawn from the elite Australian and New Zealand players in Engage Super League is becoming all consuming.
"The camp went really well and it was clear from all we did that the players are fired up for this game. None of them want to miss the chance to play against the Exiles," said McNamara.
"The players like playing for England and especially playing for England in games that are a genuine test and this is certainly going to be one of them. There has been a lot spoken about how strong the Exiles team is but the England team is a very strong team as well and I'm really looking forward to it."
McClennan, who famously led New Zealand to Tri Nations glory before coaching Leeds Rhinos to two Grand Final victories at Old Trafford, is scheduled to arrive in this country in late May and has no doubts about what the International Origin Match means to Super League's overseas stars.
"I'm receiving calls virtually every day from squad members telling me how much they are looking forward to having a crack at England," said McClennan.
"This match has given a number of players a new lease of live and offered them an alternative outlet to focus their minds away from the rigours of the Engage Super League.
"It will be a pleasure to coach some of the best talent on offer in Super League. The players never thought they would have the opportunity of playing representative football when they came to Europe so to be part of the first International Origin match is very rewarding.
"We expect a real test from England – the match has the makings of being a classic and should be firmly part of the calendar for many years to come.
"I know Steve McNamara will have his players fired up and they will leave nothing to chance. England needs this game so Steve can expose his players against the best.
"From an Exiles point of view, we want to win the game. There is tremendous pride representing your nation and when Australia and New Zealand come together it provides a very powerful and emotive combination."
Whilst the make-up of the Exiles team is becoming clear through the revolutionary selection process, which has allowed fans to help McClennan pick his team, McNamara is giving nothing away about who will feature in his 17 man squad in less than a month's time.
England were boosted recently by the return to fitness of captain Jamie Peacock and Danny McGuire, both of whom missed the 2010 Four Nations after undergoing knee surgery, and injuries will inevitably play a part in McNamara's thinking.
However the national coach has no doubts that the pool of talent at his disposal has what it takes to meet the Exiles' challenge head on.
"If you take a group of players at the mid-point of the season there are going to be injuries and that's the nature of the beast, but every player contributed in different ways to the camp and they're all integrated into what we're doing," he said.
"Lots of the guys are performing well so it will be interesting come selection time. We have a lot of competitive places and there will be a lot of hard decision to be made before we go into the game against The Exiles."
Pre-purchased tickets for the International Origin match start from £19 for adults and £12 for concessions and are available at www.rugbyleaguetickets.co.uk or by contacting the RFL Ticket Office on 0844 856 1113. Tickets purchased on the day of the match start from £22 for adults and £15 for concessions.