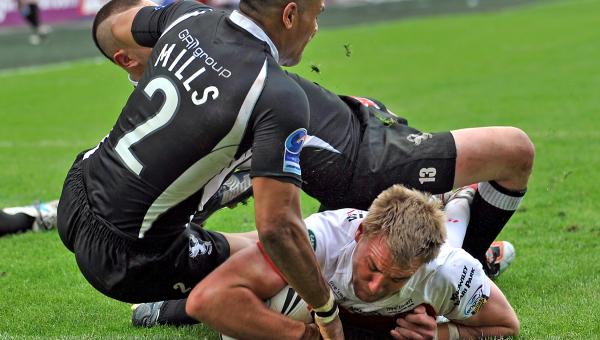 SAINTS will be in no doubt about what the Carnegie Challenge Cup means to their Fifth Round opponents Featherstone Rovers when the two sides meet at the Stobart Stadium – Michael Shenton has made sure of that.
The England centre, who joined the Club from Super League rivals Castleford Tigers at the end of last season, is acutely aware of Featherstone's Cup pedigree and has warned his team-mates that they take Rovers lightly at their peril.
"Featherstone have a great Challenge Cup tradition and they will see this game as their chance to grab another place in Cup folklore," said Shenton. "They'll be fired up at the chance to play against Super League opposition and this is a massive game for them.
"I've played in Cas teams beaten by Championship opposition and it's not a good feeling. It's also something I don't want to experience again.
"We got a real fright in the fourth round when Sheffield Eagles gave us a big challenge and Featherstone are going to be even tougher.
"I spent some time with their coach, Daryl Powell, at the recent Elite Training Squad camp and I know from what he said that they're not going to be overawed.
"Daryl played at the highest level and is a top quality coach – he wouldn't be on the England staff if he wasn't – so we're expecting them to be very well prepared.
"They will have seen what happened to us at Huddersfield last week and fancy they can do the same. We know we have to improve and have trained accordingly. This tie is something I'm looking forward to. So are all the boys.
"One of the reasons for me leaving Castleford was to have more chances to win major honours and there aren't many teams with a better Challenge Cup record than St Helens.
"The club has been in the last five Grand Finals but they've missed out on Wembley in the last couple of years and that's something we want to put right.
"A good win on Sunday would take us nearer a return to Wembley and also give us the momentum we've been looking for in Super League."
Tickets for the game at Halton Stadium on Sunday May 22 cost from £15 (£9 concessions, £3 juniors) payable on the day or in advance by calling 01744 455 052 or visiting www.saintssuperstore.com