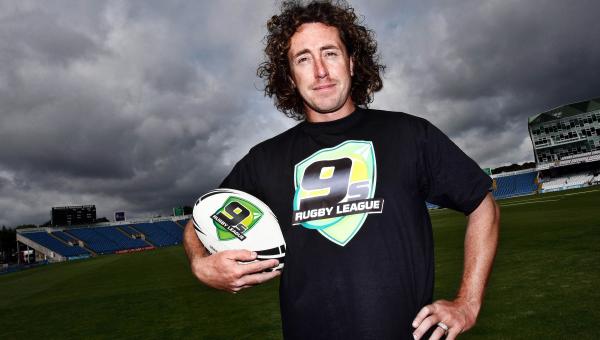 ELEVEN Engage Super League sides will compete against Halifax, Widnes Vikings, Featherstone Rovers, the British Police and Cumbria in an exciting new Rugby League 9s series this summer.
Supporters can expect a variety of entertainment for all the family throughout the 9s tournament, which kicks off on Tuesday June 7 and features four weekly rounds of festival-style fixtures played at multiple venues every Tuesday night in June.
The Rugby League 9s Grand Final will be held on Tuesday July 5 at Headingley Carnegie Stadium, Leeds, a fitting venue for a version of the sport that England cricketer Ryan Sidebottom sees as Rugby League's answer to his sport's popular twenty20 derivative.
Ryan Sidebottom said: "I think 9s is a great format – it's going to be the equivalent of twenty20 in cricket, it's fast and furious and players have to be really fit and on the boil because one mistake and you could lose the game.
"I think it will be great and the fans will love the shortened format.
"I was about 11 when my dad took me to my first game of Rugby League; Bradford Bulls against Wigan, and I've been in love with the sport ever since.
"I love the game and it's a great spectacle, watching what the guys do on the field putting their bodies on the line, it's exciting and edge of the seat stuff. I've always enjoyed it.
"Players are getting bigger, the skill factor is getting better and better, there's a good mix of excellent overseas players and a crop of young England stars that are coming through and it bodes well for Rugby League.
"One of the reasons I came back to Yorkshire is to watch Rugby League. I didn't get to watch much down in Nottingham and now I'm back here I can pop over to the Rhinos whenever I can.
"I'm hoping to be around to watch the 9s depending on cricket commitments. I love the game and when it's on I'll drag some of the other Yorkshire lads along as they love Rugby League also."
All Engage Super League clubs apart from Crusaders, Catalan Dragons and Harlequins RL are involved and each individual festival will involve four teams meaning that each team will play three matches on a competition evening with each game lasting 15 minutes.
There are a number of rule variations from the 13-a-side game including the option for teams to run a 'powerplay' after scoring a try which gives them one opportunity to score an additional three point try from the 10-metre line instead of kicking the goal.
There are also no scrums in Rugby League 9s.
The RFL's Chief Operating Officer Ralph Rimmer said: "Rugby League 9s is a fast and action-packed version of the sport which provides fantastic entertainment for supporters.
"It's an excellent opportunity for fans to get a midweek fix of Rugby League and see teams and players that they wouldn't normally get to watch in the league.
"The Rugby League 9s series will also provide a great arena for some of the very best young players in the country to develop and shine."
One of the most eagerly anticipated aspects of the competition is the participation of a joint Cumbrian side comprised of players from both Workington Town and Whitehaven.
Workington Town Chairman Dave Bowden said: "Rugby League 9s is an exciting concept and it seemed sensible to share resources so we were able to enter a very strong side.
"We got our first taste in the Northern Rail 9s, it's a fast and furious version of the sport and it's certainly an intense spectacle.
"We're looking forward to mixing with Super League clubs in the competition and welcome the opportunity to compete with them and play against some of the rising stars of the future.
"For fans of the West Cumbrian clubs it's a great opportunity to come down and see some of the best Rugby League players in the competition and it fits in well with the idea of summer Rugby League.
"It's great that the two clubs are working together so that Cumbria can be well represented in this competition."
For more details about the Rugby League 9s series visit www.therfl.co.uk
Saints Fixtures:
Tuesday June 7:
Cumbria @ Derwent Park 7.30pm
Warrington @ Derwent Park 8.20pm
British Police @ Derwent Park 9.10pm
Tuesday June 14:
Wigan @ TBC 7.50pm
British Police @ TBC 8.40pm
Salford @ TBC 9.10pm
Tuesday June 21:
Warrington @ Co-Operative Community Stadium 7.20pm
Wigan @ Co-Operative Community Stadium 8.10pm
Widnes @ Co-Operative Community Stadium 8.40pm
Tuesday June 28:
British Police @ Stobart Stadium 7.50pm
Huddersfield @ Stobart Stadium 8.20pm
Widnes @ Stobart Stadium 9.30pm