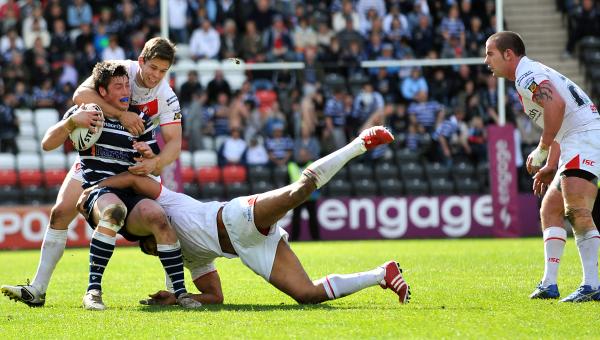 ROYCE Simmons wants Saints to carry on the good habits of last weekend's Cup win when they face Crusaders tonight.
Michael Shenton and Tom Makinson ran in a brace apiece in a 12-try romp with the defence as mean as it could possibly be.
"Defensively I'd like to carry on the good habits but we need to be wary," Simmons said. "Sometimes you can win a game as comfortable as that and then take that into the next game.
"But you have to remember to do all the hard work that let gain that sort of win in the first place.
"You can look at the 70-0 and take that free flowing game into it – well, if you do that you can get caught early. Wins like that can give you some momentum to build, but they can also give you some bad habits too."
He continued: "The Crusaders have had a week off and would have been getting ready for us when we were playing Featherstone. They will be coming into the game not carrying any bumps or bruises and will be near to full strength. And they will be coming at us.
"You can generally judge how a side is doing depth-wise in terms of their bench and you can see it will be very strong. The likes of O-Hara, Martin, Sammut could be coming off it and there is a lot of strike there.
"They will be strong and fit and we will have to be ready to play."
Saints welcome back Kyle Eastmond, Andrew Dixon, Jonny Lomax, Lee Gaskell and Josh Perry for the game after injury and Simmons expects them to hit the ground running.
"We have a tough old June coming up and we play a lot of good sides. These lads won't be able to just come back in and ease themselves into the match.
"The senior players can't think because there is some experience coming back they can lower their game by one per cent. That can be a bit of a habit when you think players are coming back.
"Likewise, the players who are coming back have to whack at it at 100mph and be right on their game. That's what good players and internationals do. I have confidence to put them back in so they have to have confidence that they are good to go.
"Some of the younger players will now go back into the under 20s and work on some of the things we have talked about. They have had a taste and it's important they go back and become the best player in the 20s. They have to show their teammates why they got the opportunities in the first place."
Tickets for tonight's match are still on sale with cash turnstiles available on the night. Turnstiles open at 6.30pm.