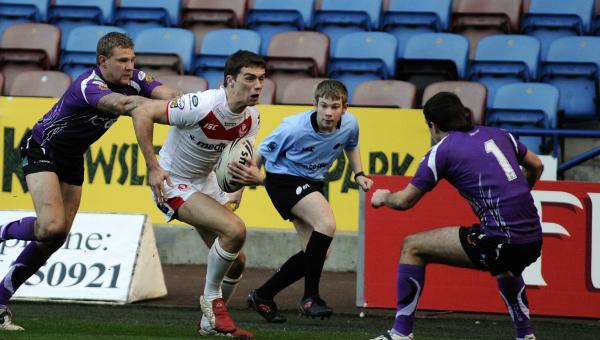 WHAT a difference a week can make.
Last week the Reserves showed resolution and character to beat the League Leaders on their own patch, this week Leeds take them apart in an 16-58 hammering.
There is little to say about the first half except that the Rhinos starved the Saints of possession by completing their sets and scoring. When the Reserves had the ball they did fairly well in getting to the end of their sets but too often turned possession over in poor field position finding themselves immediately on the back foot.
The second half started much better. Matty Ashe's wide miss pass down the left found Tommy Johnson whose quick ball put Dan Brotherton (pictured) over.
Joe Greenwood and Ste Yates put their hand up in defence forcing a Rhinos knock on with a driving tackle and the Saints completion rate was 100% through 20 minutes.
However, the Saints then errored in four of the next five possessions and were punished in exactly the same way as earlier.
Saints rallied with two tries in the final 10 minutes to Brotherton again from Matty Ashe's chip and Alex Trumper after Simon Atherton had done well to regain possession from a short kick off.
Best for the Saints on the day was Alex Trumper fresh from his exploits in last week's National Conference League Grand Final winning Thatto Heath Crusaders side but in truth all were poor. Much work will be have to be done on the tackle bags over the 4 week break to give the Saints any chance of making the play offs.
Match Summary:
St Helens:
Tries: Alex Trumper, Dan Brotherton 2.
Goals: Matty Ashe 2.
Leeds Rhinos:
Tries: Jimmy Watson 2, George Elliott, Jamel Chisholm 2, Matty Syron, Liam Hood 2, Luke Burgess 2, Jack Carvill
Goals: Sean Casey 4, Liam Hood 3
Half Time: 0-36
Full Time: 16-58
Teams:
Saints:
1. Nathan Ashe, 2. Simon Atherton, 3. Ste Yates, 4. Alex Trumper, 5. Dan Brotherton, 6. Matty Ashe, 7. Ben Karalius, 8. Jordan Hand, 9. Aaron Lloyd, 10. Anthony Walker, 11. Scott Hale, 12. Joe Greenwood, 13. Danny Jones.
Subs: 14. Marcus Baines, 15. Tommy Johnson, 16. Josh Greaves, 17. Samir Tahrouai.
Leeds:
1. Jimmy Watson, 2. George Elliott, 3. Jake Normington, 4. Jay Pitts, 5. Jamel Chisholm, 6. Aaron Brown, 7. Sean Casey, 8. Matty Syron, 9. Liam Hood, 10. Luke Burgess, 11. Danny Bravo, 12. Chris Clarkson, 13. Jack Carvill.
Subs: 14. Tom Carroll, 15. Gareth Morgan, 16. Clayton Stott, 17. Matty Nicholson.