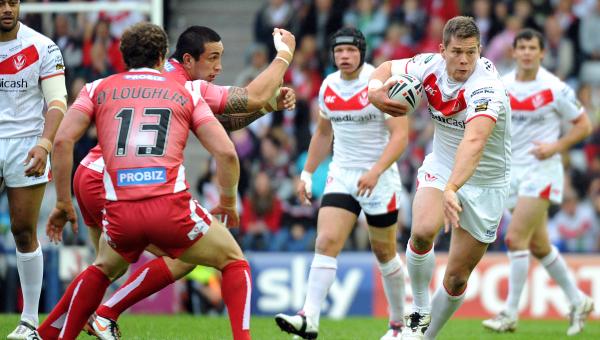 ROYCE Simmons has called on his side to show better ball control as they head into this Friday's clash with Warrington at the Halliwell Jones Stadium.
Saints' head coach pin-pointed this facet of the game as being the main reason they were defeated by Wigan last week.
"What have we got to do?" he said… "We have just got to control the ball better. We made 400 tackles in that match and if you have to make that many you'll never win.
"Wigan would beat most sides by 60 or 70 with that much ball. They forced us in goal and the bounces of the ball went their way too. But you make your own luck and we simply weren't good enough on the day.
"I know that if the oppo completes 95 per cent and you make 400 tackles, you're going to get caned.
"We're also conceding too many tries from kicks. Sides aren't carrying the ball over the line that much against us, but defending kicks hasn't been a strong part of our game. We have worked hard on kick and catch, but it is happening too much at the moment.
"Repeat sets are an important part of the game as is defending from kicks. If it isn't good enough you get fatigued and then you start to run one out in the tackle.
"If you do that against Wigan they stick 28 blokes in the tackle and you can't get a quick play the ball. Wilko made 60 tackles, Robes 58 and TP 44; that's three attacking weapons who aren't going to give you anything are they?
"The response has been good this week though and that is what I want to see. Training has been intense and there has been plenty of contact."
Saints expect Josh Perry and Scott Moore to come back into the reckoning this week and there is good news on Paul Clough who has been sat on the sidelines since the win at Leeds in March.
"The specialist is saying four weeks with Cloughie, but Royce Simmons isn't saying four weeks!" he continued. "He looks like he'd rip the head off a donkey tomorrow. He's strapped up and ready to go. We could possibly have him back there two weeks early and I'd be surprised if this wasn't the case. He's in training and belting people at 100mph.
"Cloughie is super professional. You have to throw him out of the gym at night. He's put in hours of training. He'll be stretching and treating his injuries before anyone else and then back inside eating right and recovering. He works hard with what he has got and that is why he does so well."
Michael Shenton will be out for two weeks though with an ankle injury whilst Gary Wheeler and Leon Pryce are around three weeks away.
Shenton's loss is a blow – especially as he's been solid in defence and Saints face the League's top scorers in Warrington on Friday.
"Outside the odd game here and there they have been fantastic and their defence has been good," Simmons added. "They are at the peak of their game. It doesn't worry me coming out of the Wigan game though. We go into the game confident.
"It is a bonus to come out of an intensive game and roll into another one. But we need to crank it up a level. Our ball control has to be better and we need to push up around the play the ball too.
"It is a good opportunity for us really; we can get better and we know that."